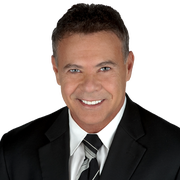 Five-time Emmy award winner Randy Wallace graduated from Eastern Kentucky University with a B.A. in Broadcasting. After being told he had "no future in radio" by station managers in several markets, Randy came to Houston where he was quickly hired by KPRC Radio. He spent several years there, making a name for himself as a competitive reporter covering the police beat. In December of 1989, Randy was offered a job at KRIV FOX 26, and became one of the first reporters to appear on the station's highly acclaimed City Under Siege program. Even before FOX 26 News launched its first investigative unit, Wallace was "kicking up dust" around town in Houston. In fact, his extensive coverage of the prison system's controversial "mandatory release" program earned him the prestigious Edward R. Morrow Award in 1996. From 2001 to 2005, Randy was nominated nine times for regional Emmy awards, winning six times for his investigative reports. In 2005, he and photographer Jim Dunham were the first FOX 26 News employees to be nominated for a National Emmy. That same year, he was named Television Reporter of the Year by the Houston Press Club, becoming the first FOX 26 News reporter to win that award. Over the years, Randy's First on FOX investigations continued to "kick up dust" in the community. Few can forget his 2001 report on an elderly widow's eviction by her homeowner's association. His series of reports not only helped Wenonah Blevins get her house back… they also prompted lawmakers to give homeowners more legal rights when dealing with homeowner associations. In 2003, Randy was the first in the nation to report on Medicare wheelchair fraud. He found Houston to be a hotbed for schemes involving motorized wheelchairs and scooters… schemes that were taking place throughout the United States. However, Randy is most proud of his reports on a local, state-funded halfway house that's home to hundreds of convicted sex offenders and other violent criminals. Through his Emmy award winning undercover investigations, Randy showed FOX 26 News viewers how criminals were openly smoking crack and dealing drugs in a facility that touts drug and alcohol treatment. Randy loves exposing "bad guys" and tax-payer waste. If you know of any wrong doing that needs to be exposed, give Wallace a call … he'd love to hear from you!
The latest from Randy Wallace
Here is a list street closures and parking instructions for the 2019 World Series.
Mayor Turner and his two closest rivals Tony Buzbee and Bill King pretty much gave the same answers which were also the ones the Metropolitan Organization wanted to hear.
Geovany Canizalez, 30, a documented gang member, was granted parole in December of 2028. Documents indicate he repeatedly violated his parole and on three occasions issued warrants for his arrest only to turn around and withdraw them.
WHERE IS VERDI? For almost four decades, the most constant thing in Wirsing's life has been this double yellow Amazon parrot named Verdi. But all of that changed last Sunday in the parking lot of this Walmart at 150 West Eldorado.
Officials say Dean who was charged with murder Monday night failed to identify himself as a police officer before firing the fatal shot.