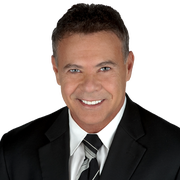 Five-time Emmy award winner Randy Wallace graduated from Eastern Kentucky University with a B.A. in Broadcasting. After being told he had "no future in radio" by station managers in several markets, Randy came to Houston where he was quickly hired by KPRC Radio. He spent several years there, making a name for himself as a competitive reporter covering the police beat. In December of 1989, Randy was offered a job at KRIV FOX 26, and became one of the first reporters to appear on the station's highly acclaimed City Under Siege program. Even before FOX 26 News launched its first investigative unit, Wallace was "kicking up dust" around town in Houston. In fact, his extensive coverage of the prison system's controversial "mandatory release" program earned him the prestigious Edward R. Morrow Award in 1996. From 2001 to 2005, Randy was nominated nine times for regional Emmy awards, winning six times for his investigative reports. In 2005, he and photographer Jim Dunham were the first FOX 26 News employees to be nominated for a National Emmy. That same year, he was named Television Reporter of the Year by the Houston Press Club, becoming the first FOX 26 News reporter to win that award. Over the years, Randy's First on FOX investigations continued to "kick up dust" in the community. Few can forget his 2001 report on an elderly widow's eviction by her homeowner's association. His series of reports not only helped Wenonah Blevins get her house back… they also prompted lawmakers to give homeowners more legal rights when dealing with homeowner associations. In 2003, Randy was the first in the nation to report on Medicare wheelchair fraud. He found Houston to be a hotbed for schemes involving motorized wheelchairs and scooters… schemes that were taking place throughout the United States. However, Randy is most proud of his reports on a local, state-funded halfway house that's home to hundreds of convicted sex offenders and other violent criminals. Through his Emmy award winning undercover investigations, Randy showed FOX 26 News viewers how criminals were openly smoking crack and dealing drugs in a facility that touts drug and alcohol treatment. Randy loves exposing "bad guys" and tax-payer waste. If you know of any wrong doing that needs to be exposed, give Wallace a call … he'd love to hear from you!
The latest from Randy Wallace
A man has been sentenced to six years in prison after he killed his girlfriend's cat because she wanted to leave him.
The missing cloned puppy for which a Friendswood man was offering a $4,000 reward has been found and is safe back at home.
Jack is no ordinary dog. He is a clone of an abused dog Baker found at the Friendswood Animal Shelter.
Many gathered on Friday at Otabek Oblakulov's home in Missouri City to mourn and try to make sense of the deadly plane crash.
Officials say they are making progress at the TPC Group refinery in Port Neches.
Last May, Little Man's big curiosity got the best of him. He slipped through the fence while no one was looking. It took going to court and a DNA test to bring him back home.
Who is Patricia Ann Garcia, and why did she allegedly make false 911 calls about the two killed in the botched drug raid?
The two former Houston police officers involved in the deadly Harding Street raid have been hit with federal charges from the FBI. A 911 caller was also charged for making several fake calls.
The stray animal crisis has even become a big issue in the mayoral race.