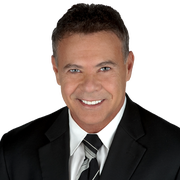 Five-time Emmy award winner Randy Wallace graduated from Eastern Kentucky University with a B.A. in Broadcasting. After being told he had "no future in radio" by station managers in several markets, Randy came to Houston where he was quickly hired by KPRC Radio. He spent several years there, making a name for himself as a competitive reporter covering the police beat. In December of 1989, Randy was offered a job at KRIV FOX 26, and became one of the first reporters to appear on the station's highly acclaimed City Under Siege program. Even before FOX 26 News launched its first investigative unit, Wallace was "kicking up dust" around town in Houston. In fact, his extensive coverage of the prison system's controversial "mandatory release" program earned him the prestigious Edward R. Morrow Award in 1996. From 2001 to 2005, Randy was nominated nine times for regional Emmy awards, winning six times for his investigative reports. In 2005, he and photographer Jim Dunham were the first FOX 26 News employees to be nominated for a National Emmy. That same year, he was named Television Reporter of the Year by the Houston Press Club, becoming the first FOX 26 News reporter to win that award. Over the years, Randy's First on FOX investigations continued to "kick up dust" in the community. Few can forget his 2001 report on an elderly widow's eviction by her homeowner's association. His series of reports not only helped Wenonah Blevins get her house back… they also prompted lawmakers to give homeowners more legal rights when dealing with homeowner associations. In 2003, Randy was the first in the nation to report on Medicare wheelchair fraud. He found Houston to be a hotbed for schemes involving motorized wheelchairs and scooters… schemes that were taking place throughout the United States. However, Randy is most proud of his reports on a local, state-funded halfway house that's home to hundreds of convicted sex offenders and other violent criminals. Through his Emmy award winning undercover investigations, Randy showed FOX 26 News viewers how criminals were openly smoking crack and dealing drugs in a facility that touts drug and alcohol treatment. Randy loves exposing "bad guys" and tax-payer waste. If you know of any wrong doing that needs to be exposed, give Wallace a call … he'd love to hear from you!
The latest from Randy Wallace
During the game, parents and players say Tomball High students were yelling obscenities and making obscene gestures. Those we interviewed say school officials did not intervene.
Even though thousands of passengers all over the world pass through Bush Airport's Terminal E, officials say there are currently no screenings for the Coronavirus
During the Friday afternoon rally, students called for transparency from district officials and a seat at the table when improving security is discussed.
Harris County's criminal justice system has given 19-year-old Vincent Cannady break after break, and authorities believe he is responsible for some high profile crimes. 
Residents of West Bayou Oaks Townhomes spend hundreds of dollars a month on their homeowner's association fees and they say part of that goes for insurance. The insurance is supposed to cover a catastrophe like what happened with Hurricane Harvey.
Dozens of teachers, parents, and students made their thoughts known about the possible TEA takeover.
Last month, Jerry and Linda Flowers say some of NFL star Trent Williams' dogs attacked and killed their dog, Sandy. The couple claims the dogs are dangerous.
Residents who live in building 13 at the Oaks at Ashford Point Apartments believe a family of skunks is living underneath their building.
Briittanie Thomas says her son threatened to kill his teacher, but her choice to discipline him led to felony child abuse charges.