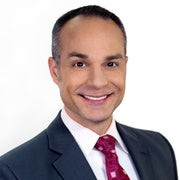 Mike Iscovitz
Chief Meteorologist
Mike Iscovitz is the Chief Meteorologist at FOX 26 Houston, working FOX 26 News morning shows from 4 a.m. through 10 a.m. on "WakeUp! With Sally Mac and Lina" and "Houston's Morning Show," as well as the "FOX 26 News @ Noon." 
Mike also hosts "Mondays with Mike," a weekly livestream on the station's website and social platforms where he discusses various weather topics, from unique cloud formations, to wildfire risks and the threat of drought in Texas.
In more than two decades at the station, Mike has taken us through multiple life-threatening Hurricanes and tropical storms, such as Harvey in 2017 and Nicholas last year, to deadly Tropical Storm Allison in 2001 and Texas' Big Freeze when the power grid failed in 2021.
Originally from Fort Lauderdale, Fla., Mike graduated magna cum laude with a Bachelors Degree in meteorology from Florida State University. He earned the American Meteorological Society Seal of Approval in 2001, and was the 69th person in the United States to be recognized as an AMS-certified broadcast meteorologist.
Mike began his career in meteorology as a weather intern at WSVN-TV in Miami and then as a student meteorologist at Florida State University. In 1999, Mike went to work as the weekend weather anchor at KLFY-TV in Lafayette, La., until joining the FOX 26 Houston weather team in September 2000. Mike spends nearly all of his free time with his wife and daughters. And with the few remaining minutes he has free, he tries to exercise and practice his guitar.
The latest from Mike Iscovitz