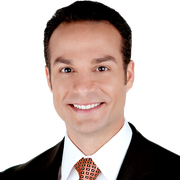 Mike Iscovitz
Meteorologist
Mike Iscovitz is the weekday meteorologist on FOX 26 Morning News from 4 a.m. to 10 a.m. Originally from Fort Lauderdale, Fla., Mike graduated magna cum laude with a Bachelors Degree in meteorology from Florida State University. He earned the American Meteorological Society Seal of Approval in 2001, and was the 69th person in the United States to be recognized as an AMS. certified broadcast meteorologist. Mike began his career in meteorology as a weather intern at WSVN-TV in Miami and then as a student meteorologist at Florida State University. In 1999 Mike went to work as the weekend weather anchor at KLFY-TV in Lafayette, La., until joining the FOX 26 weather team in September 2000. Mike spends nearly all of his free time with his wife and daughters. And with the few remaining minutes he has free, he tries to exercise and practice his guitar.
The latest from Mike Iscovitz
Tropical Storm Iota has formed in the Caribbean and it looks to become a major hurricane. It also seems to be staying away from the Gulf of Mexico and could head straight for the Pacific Ocean. It poses no threat to Texas.
Tropical Storm Delta has formed in the Caribbean near Jamaica and is expected to become a hurricane in the Gulf. Southeast Texas is not in the cone, but elevated tides and coastal flooding will be possible later in the week.