Sunshine returns to southeast Texas, but another freeze likely
HOUSTON - Sunshine is returning to southeast Texas, but some counties north and west of Houston will be under a hard freeze warning again Friday night.
After lows fell to the low and mid 20s Friday morning, sunshine will help temperatures warm into the mid 40s with very low humidity.
DOWNLOAD THE FOX 26 WEATHER APP FOR LATEST ALERTS IN YOUR AREA
That dry air is likely to cool off quickly Friday night with a hard freeze warning in effect for counties north and west, but not including Harris County. 
Beyond that, a nice warming trend will kick in with seasonably mild afternoons and cool, but not frigid nights.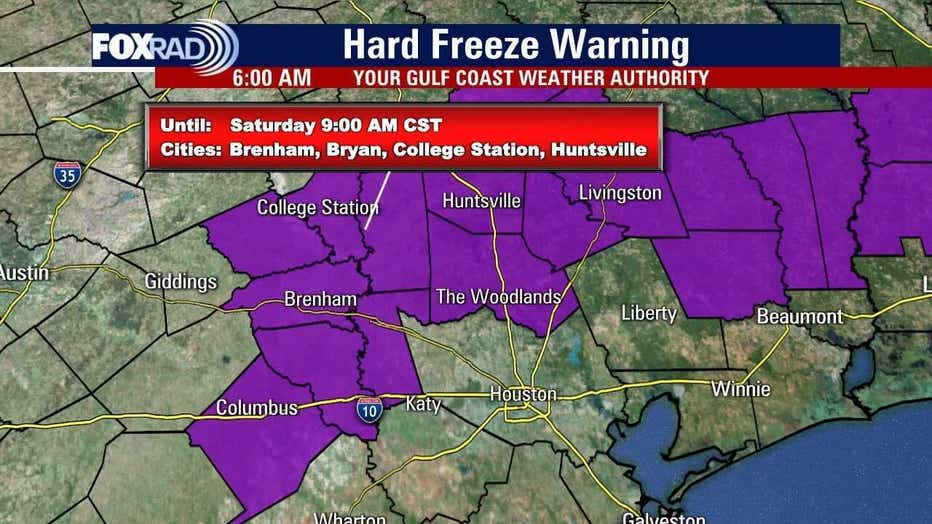 Residents across the Houston area and Texas have been dealing with the impacts of winter weather since the beginning of the week. Roads were icy and dangerous, and millions of Texans were without power – some for days.
Some conditions have improved. Less than 30 icy spots were reported on Houston area roadways Friday morning, down from the more than 100 locations earlier this week. The number of Texans without power on Friday was below 180,000, a significant improvement from the more than 4 million outages reported on Tuesday.
Still, Houston and many surrounding cities and neighborhoods are now dealing with water issues.
HOUSTON-AREA SUFFERS WATER PROBLEMS
A boil water notice was issued for the City of Houston on Wednesday after water pressure dropped below the Texas Commission on Environmental Quality's required minimum of 20 PSI during the winter weather.
Mayor Turner said Thursday that the water pressure had gone back above 20 PSI, but the city was still working to stabilize it and build up the pressure.
Residents must continue to boil their water until the notice is lifted. Mayor Turner said it could be until Monday before that happens.
Houstonians aren't the only residents under a boil water notice. Dozens of cities and municipal utility districts issued boil water notices as well. Click here for a list.
Harris County Public Health said as of 11 a.m. Friday there were 241 areas under a boil water notice, and it is estimated that more than 3.4 million residents have been impacted within these area.
Water distribution sites are being set up around the Houston area. Click here for a list of sites that have been announced.
POWER OUTAGES
On Friday afternoon, Utility tracker PowerOutage reported less than 171,000 Texans remained without power, down from more than 4 million outages reported on Tuesday.
On Monday, the Electric Reliability Council of Texas issued an Emergency Energy Alert Level 3 because electric demand was high and supplies could not keep up. ERCOT ordered transmission companies to reduce demand on the system.
ERCOT said controlled outages were occurring to protect the electric grid from uncontrolled, cascading outages.
"While the grid operator was already contending with frozen wind turbines and limited gas supplies to generating units on Feb. 14, a significant number of additional generating units tripped offline when the weather worsened overnight," ERCOT said in a statement on Monday. "Approximately 34,000 MW of generation has been forced off the system during this event."
Some Texans were left without power for days.
On Thursday, ERCOT tweeted that the majority of customers could have their power restored by electric companies in the field. The number of outages in Texas dropped below half a million for the first time in days.
Before noon Friday, ERCOT said operations had returned to normal, and they were no longer asking for energy conservation.
MORE: ERCOT ends emergency conditions and says it's back to normal operations
Gov. Abbott says reforming ERCOT will be a priority for his administration. He says the CEO of ERCOT told the state of Texas that they were ready for the cold temperatures heading to the state. According to Gov. Abbott, ERCOT assured the public there would be enough power to meet demand this winter.
RELATED: Abbott blames Texas' power crisis on ERCOT, calls for investigation
Gov. Abbott says ERCOT failed and Texans will get answers why. He is making sure emergency items are being sent to the state legislature during their next legislative session. Those emergency items will kickstart an investigation into the ERCOT debacle. He will also be asking that the legislature mandate winterization of generators are complete every year. He's also calling for funding to make that happen.
CARBON MONOXIDE DANGERS
On Thursday, Houston Fire Chief Sam Pena said the department had over 250 call for carbon monoxide incidents over three days.
"We've been stressing this point, I know people are taking whatever necessary steps they believe they need to in order to stay warm, but do not bring charcoal grills, propane heaters, generators inside your home. Do not run your vehicle inside your garage even with the doors open," Chief Pena said. "That's very dangerous and it can accumulate carbon monoxide. It does not take much for those levels to be lethal."
Sadly, Houston-area authorities did report deaths and illnesses from carbon monoxide as people tried to stay warm.
The Cy-Fair Fire Department said six people, including four children, were taken to the hospital with carbon monoxide poisoning on Monday night. Officials said the family was reportedly using a charcoal grill to heat their apartment unit.
A few hours later, Houston police said a woman and a girl died due to carbon monoxide poisoning after a car was left running in the garage to try to create heat when the power was out. A man and a boy were also taken to the hospital.
MONDAY'S RECORD-SETTING TEMPERATURES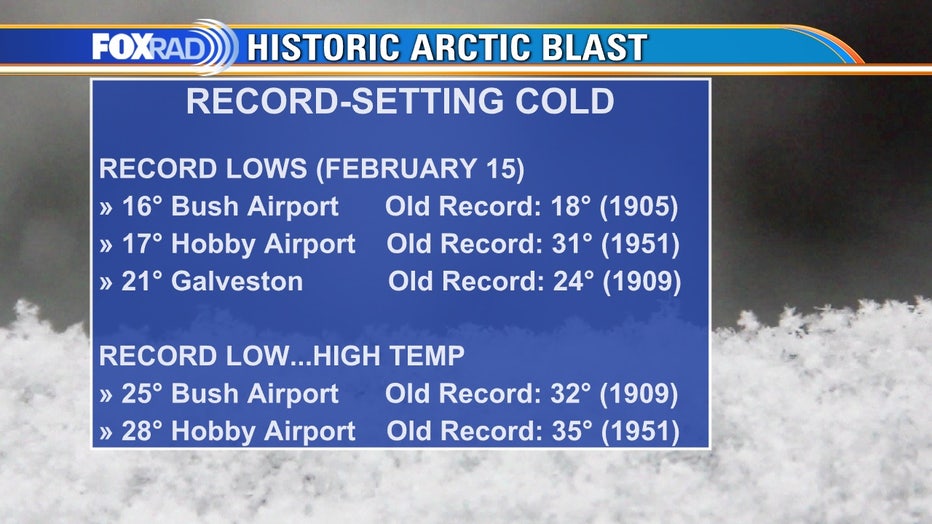 The Houston area experienced record-breaking temperatures, which had been set in the early 1900s, during Monday's historic winter storm.
Both George Bush Intercontinental and Hobby Airports set new low and low-high temperatures. At Bush Airport the old low record was 18° set in 1905 and the old low high temperature was 32° set in 1909. On Monday, we saw a 16° low and 25° high.
At Hobby Airport, the old low records were set in 1951 with a 31° low and 35° high. On Monday, they experienced 17° low and 28° high.
Galveston also set a new low record, dropping three degrees from the old record set in 1909 to 21°.