Houston family says they've received suspicious calls from missing teen's cell phone
HOUSTON - FOUND: Aisha was located by the Harris County Sheriff's Office who confirmed to FOX26 on Thursday, April 21st, 2022 that she was found safe in Duncanville, Texas, just south of Dallas.
A Houston family is asking for volunteers to help look for their daughter, who hasn't been seen since Sunday, April 3rd.
Parents of Aisha Bethune, 19, spoke to FOX 26 as they were out searching for her near Trinity Gardens in North Houston. They say the last time she was seen is after coming home from a shift at Whataburger. 
"She had just got off a work at three o'clock in the morning," says Derrick Bethune, Aisha's father, speaking to FOX26 anchor Kaitlin Monte from his car while searching for her. "She woke up about 11:30, and I say, 'babe I'm going to go wash clothes,' and she asked me if I had her work pants and stuff like that. I know she told me she had an appointment at 4:30 in the evening to go to a shop, which is off North Sam Houston Parkway."
Derric says he gave Aisha some money for the appointment and told her to call if she needed anything. He left to do errands. When he came home, he says Aisha was not home and was not answering his calls or texts.
MORE COVERAGE FROM THE MISSING SERIES
The last person to speak to Aisha was her mother, Teresa Bethune, who says it was a typical conversation.
"We like to have fun and laugh," says Teresa. "She said, 'mom I need some gas.' and I said okay and CashApp'd her fourth bucks. We talked for a minute more. She said 'ooh, this gas is so high I'm going to need a bicycle,' so, we laugh and I told her I have to get ready for work."
Teresa recalls hearing Aisha begin pumping gas. She tells FOX26 it was a gas station in Greenspoint. Teresa says she asked her daughter to call later on. 
"I never heard from her," she explained. "But you know that's not unusual for 19-year-old, so I'm just thinking she was on the phone with her best friend or cousin and just didn't call me."
Monday night, Derric called. "It was right at five o'clock, and he was like, 'have you heard from baby?' I said not since yesterday because at my second I would get off at midnight in my second I go at 7 am, so I'm not going to call and wake her up, so I sent her our usual text, which is, 'Good morning love muffin, I love you, have a great day.'"
Neither of Aisha's parents recall anything unusual about Aisha's behavior or activities prior to her disappearance.
Aisha's parents note she moved to Houston from out of state and had only three friends of whom the family was aware: a cousin, a classmate here, and another friend. When none of them had heard from her since Sunday, and Aisha had still not come home, the family says they contacted the Harris County Sheriff's Office on Tuesday.
"They asked me, 'do you think she laid up with some dude?' I said, 'why she got be laid up with some dude?'" asks Derric, frustrated by the question. 
The family visited Aisha's job to learn she had not shown up for her shift nor picked up her paycheck. They have been continuing to call and text Aisha's phone. Then, they got a call from her number.
FOX26 obtained the audio of a voicemail left by the person calling from Aisha's number. A mysterious male voice states: 
"Hey dog, check it out. You can (explicit) up a family, I will (explicit) up one, too.  So you wanna [muffled words] pick your battles, bro. Don't play with me, dog. (explicit) find somebody to play with, I ain't the one. You better leave her alone before I pop your top (explicit), peeeeace!"
The family does not recognize the voice. 
Derric has since been out posting flyers for Aisha. Soon, they got a tip.
"It's a guy, who said he was sleeping in his car because his car broke down and his wife was coming to get him in the morning. My nephew handed him a flyer, and he said 'I've seen her! She's with some tall light-skinned dude with some braids, and they're in Trinity Gardens," says Derric.
That's the area Derric and Teresa were driving around in when they interviewed with FOX26 anchor Kaitlin Monte, inviting anyone who can help look for Aisha to contact them.
"I don't know how to feel," says Teresa, holding back tears. "I'm sad because that is my only living child. The only one we have. I miss her. I feel like I'm losing my mind because my daughter has never been away from me like this, and we talk every day. It's strange that I'm not getting anything from her, and so I am texting her every day saying, 'I love you, and I'm not giving up on looking for you.' If someone has her and is holding her against her will, and has her on some drug, I want her to know that she's still loved, and she's going to be looked for, and it doesn't matter how long it takes we are never giving up."
They asked law enforcement to ping her phone, and have attempted to obtain information about her cell phone record directly. "Cricket Wireless will not allow us. They say due to privacy laws we can't get our own phone log. We have to have a subpoena from the police."
The family says they are working on having law enforcement request the records, but are still waiting to hear back from the investigator on the case. "There are so many missing people here in Houston and her caseload is great. I feel bad for every parent who has a missing child."
When asked if there is anyone in Aisha's life who they suspected may have been involved in, or have information on, Aisha's disappearance, her parents said yes. They said those details are part of what they will share with the investigator once they are contacted.
Want to help the family look for Aisha? Have a tip on where she is? Contact the family using the phone number on the flyer below.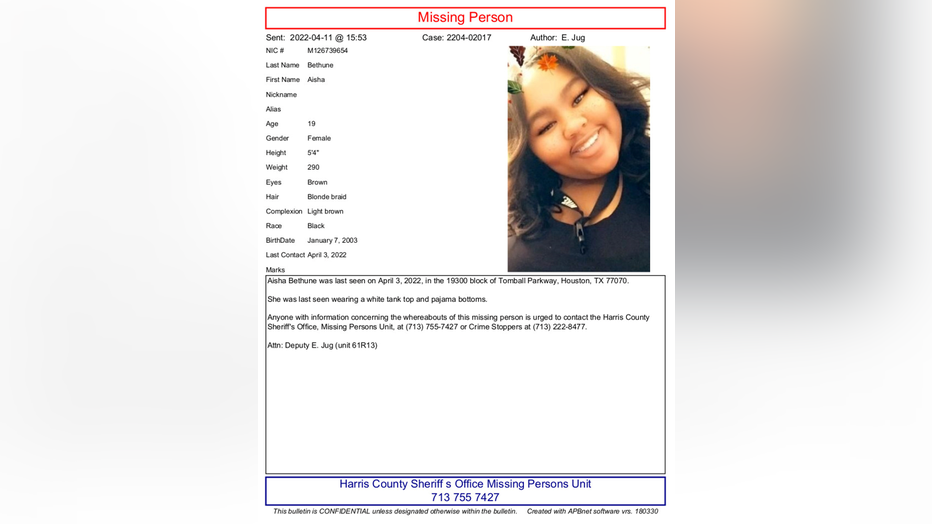 If you have any information about Aisha's whereabouts call The Harris County Sheriff's Missing Persons Unit or Houston Crime Stoppers at 713-222-TIPS.