Manpreet Singh makes history as first Sikh female judge elected in Harris County
HOUSTON - Houston recently made history by electing its first Sikh female judge. 
Manpreet "Monica" Singh, was sworn in early January, and she will be serving in the Harris County Civil County Court at Law No. 4.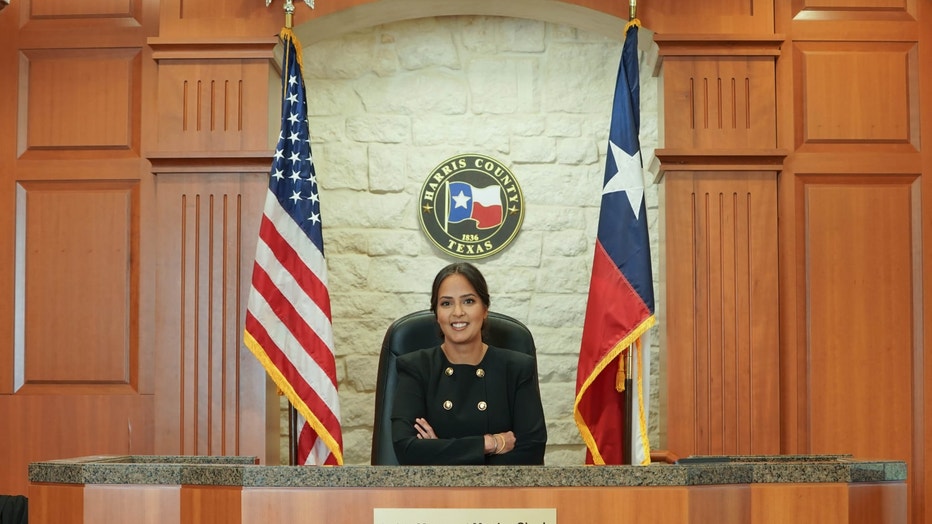 Judge Manpreet Monica Singh behind the bench after more than 20 years in front (Photo courtesy of M. Singh) Judge Singh
Born and raised in northwest Houston, Singh tells FOX 26 how faith was a pillar in her upbringing as well as recognizing the need for strong representation in her community. She particularly noticed this gap while she was a student at South Texas College of Law. 
"When I was in law school, I realized that everybody had somebody to look to, or a mentor, or a network, or somewhere they could kind of fall back on," she said. "They had the African American Society of law, the Hispanic Society of law, every place had somewhere for someone to go, but South Asians didn't have it." 
SUGGESTED: Houston Public Library celebrates Asian American experience with grand opening exhibit
From there, she helped set up the South Asian Law Student Association, which initially consisted of her with three or four other students. 
"We were kind of banding together to say like, how do we navigate this world, in which we don't have the network or people that look like us, for us to rely on to talk to," she explained. 
ALSO MAKING HER-STORY: Miss Universe 2022: R'Bonney Gabriel, Miss USA, from Houston crowned winner
After passing the Bar Exam and becoming a lawyer in 2001, around the same time the Twin Towers fell in New York City, Singh noted how the incident became such a pivotal moment for South Asians like herself.  Especially as more people, including those in the Sikh community, were confused for Muslims and became targets of racist attacks. 
"I was waiting for my bar results when that happened," Singh said. "I think what was really important for our community here in Houston and across America really was after 9\11, how the first hit very first hate crime happened to Sikh Americans and, and it was one of the wakening moments for us to say, 'oh, wow, very many people don't know about us and we need to we're kind of busy assimilating and being a part of American culture that we forgot to educate people as to who we are,' because hates just not a good look for anyone."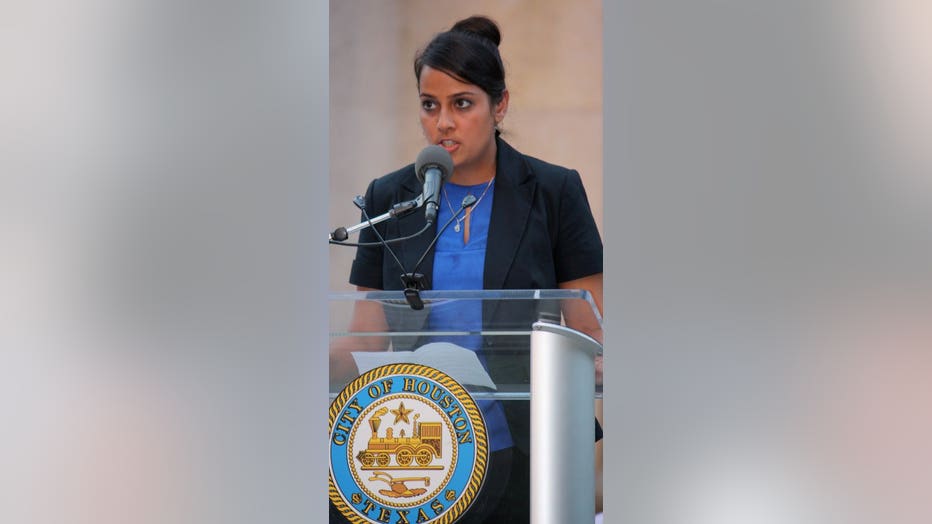 (Photo courtesy of M. Singh)
Singh's position as an attorney in Houston allowed her to serve as a representative for the SIkh community and catapult movements to help raise awareness and educate residents not just in Harris County, but across Texas. 
"One of the main things I actually really, not only enjoy doing but something that was very important to me, as we changed the Texas textbooks to add in Sikhism for 6th graders and 10th graders," Singh said. "And the reason that that's important is, Texas is the largest buyer of textbooks. And so we knew if we could change the textbooks in Texas, it would impact how students across the nation would learn."
Additionally, Singh was able to assist in getting accommodations like permitting a turban and beards for Sikh officers in the military as well as the Harris County Sheriff's Office like the late Sandeep Dhaliwal.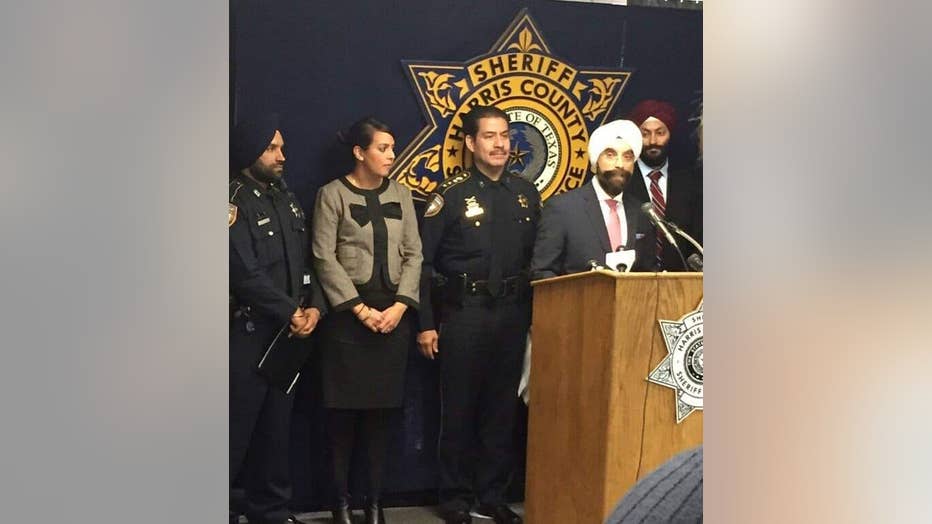 Deputy Sandeep Dhaliwal (L) pictured along with Manpreet Singh with then-Harris County Sheriff Adrian Garcia (Photo courtesy of M. Singh)
For those that don't know, it's obligatory for Sikhs to wear a turban and men to maintain beards. Adorning these (just to name a few) symbolize strength, equality, and the mission of protecting people. In other words, those in distress can look to a person wearing a turban and beard as their protector. 
"We are looked at in that way because our value system is on fighting for injustice," Singh said. "And that means exactly what we've done, so all the accommodations that we've tried to make or, you know, I've also spoken out for many other disenfranchised minorities, because to me, equality is equality."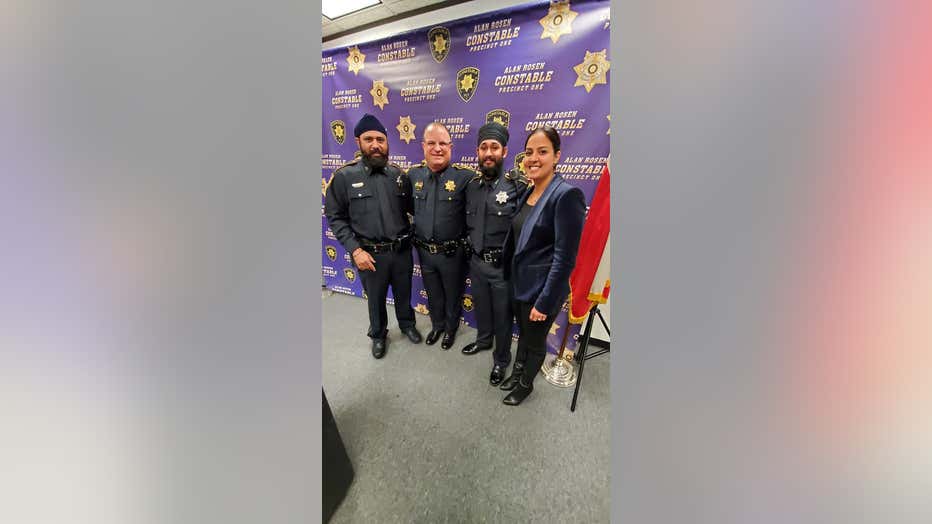 (Photo courtesy of M. Singh)
"It doesn't matter if it's fighting for my people or some other people," she continued. "So even when the Equal Rights Ordinance came up here at City Hall, I went and testified before them a few times because that's our value system. So yes, that is absolutely right, that when there is an injustice happening, it's important for, you know, us as a Sikh community to engage to help right that injustice."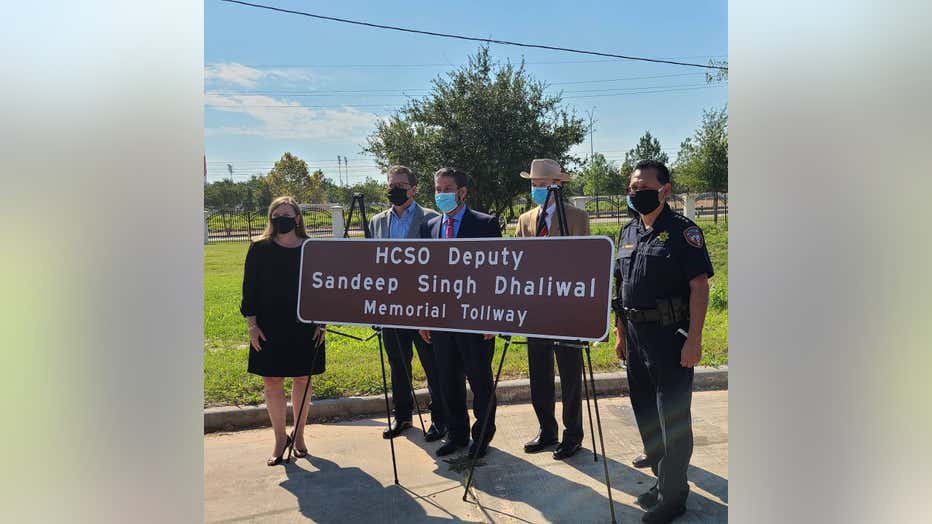 Memorial for Sandeep Dhaliwal (Photo courtesy of M. Singh)
Singh's investiture as a judge earlier this year was symbolic then as a literal arbiter for all of Harris County, where she would be a representative for those even outside of her community. 
"I really think it's important that having my struggles or watching my parents struggle as a first-generation immigrant, it doesn't just account for the Sikh community, it counts for every community," she explained.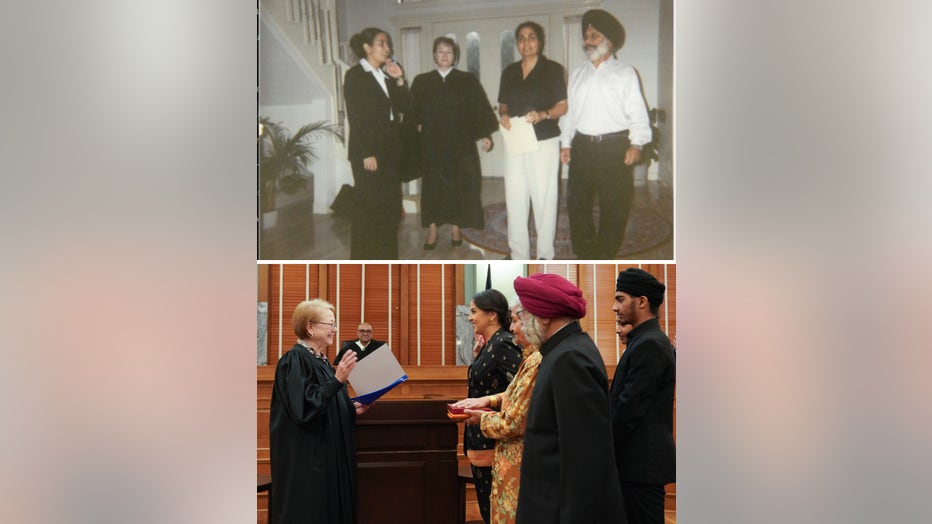 (Photo courtesy of M. Singh) 
Even during the swearing-in ceremony, which was attended by several dignitaries including Judge Ravi Sandill, who was elected Harris County's first South Asian judge in 2008. 
"I've been wanting to push her to run for quite some time," he said in an interview. "She's such a dynamic individual, involved in so many things and making her community and our community better."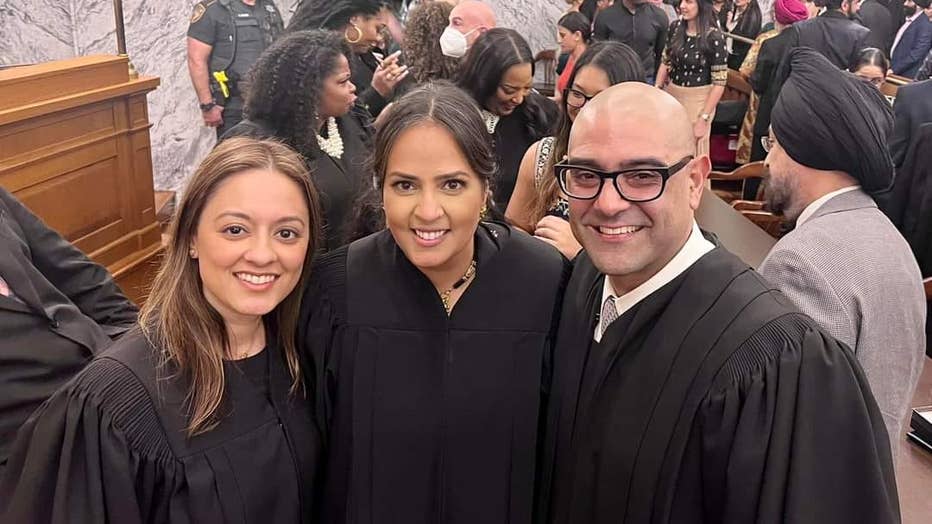 Judge M. Singh pictured with Judge Ravi Sandill (R)
"I'm really excited for her because I think, you know, going, you know, she's been a practicing trial lawyer for 20 years," Sandill added. "I think, she can put into practice what she'd learned on the trial side, on the bench side… tweaking processes and procedures to better enable lawyers and people to have access to justice is I think, something she'll be great at, and something that she'll benefit from her experience on the bench."
What she has learned is definitely something Singh looks forward to in the next four years but also hopes her story will serve as an inspiration for others.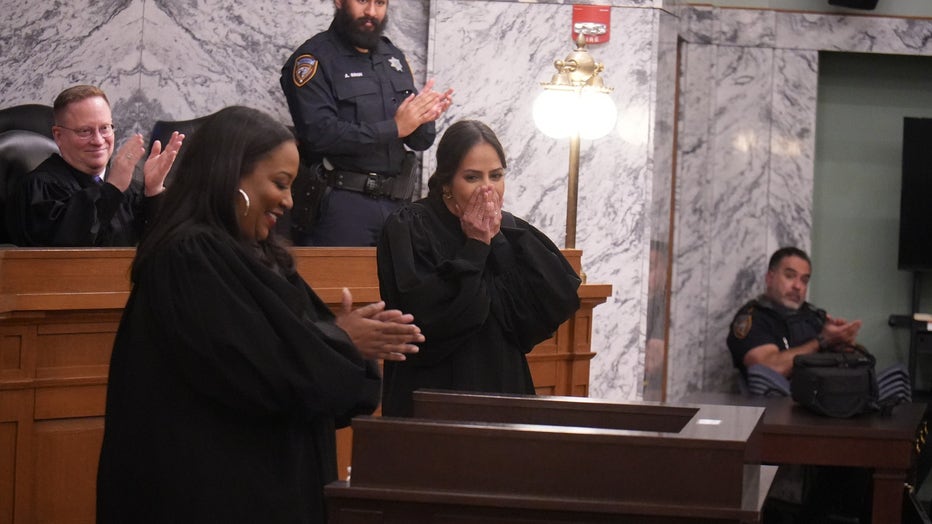 (Photo courtesy of M. Singh) 
As a member of the South Asian community as well, the three of us were able to relate to similar struggles and navigate in worlds where there aren't too many people that look like us. 
For Singh, it's now the hope to be seen, not only as a symbol of justice but as someone who had their dreams brought to life. 
"Growing up South Asian here, we kind of just kept our head down and worked hard and just wanted to make it in our society, and so I'm very proud to be in this position, and I'm also very proud of you being in your position to be able to give us these voices," Singh concluded. "Even if I don't touch another Sikh person, if I touch somebody in the Hispanic community or the African American community or the Caucasian community, any community where they see somebody, and they say, 'hey, I relate to that, and I can be that,' that matters, and so I appreciate the platform for it."