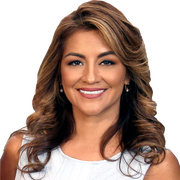 With years of experience in radio broadcasting and 4 years in television broadcasting, CoCo Dominguez is a bilingual On-Air Talent whose passion for entertainment and music has landed her some amazing television and radio hosting opportunities. She began her radio career in 2000 in her hometown of Houston, Texas at Univision's House Party 100.7 midday shift, followed by co-hosting the morning show on Party 104.9 in Houston. She went on to do middays in San Francisco and San Jose, California at Univision's La Kalle, Latin Urban bilingual station for 3 years. CoCo then moved back to Houston and began covering the afternoon drive for CBS Radio's KKHH HOT 95.7 and also weekends for CBS's sister Spanish Pop station KLOL Mega 101. CoCo has interviewed some of the biggest names in music from past and present such as Cardi B, Ice Cube, Mary J Blige, Jonas Brothers, George Foreman, 50 Cent, James Harden, Juan Luis Guerra, Diddy, DJ Quik, Usher, Eric B & Rakim, Prince Royce and many more.
In addition, CoCo Dominguez has now also expanded her aspirations to television and is currently working with KRIV-FOX 26 News Houston as a nightly Entertainment Reporter for The News Edge at 10pm as well as the 5PM Traffic Reporter. CoCo has also recently co-hosted weekly Empire Show Recaps and previously American Idol Recaps during the morning, noon and evening news.
The latest from Coco Dominguez
Texas ranks seventh in child food insecurity. On any given day there are 66,000 who are at risk of hunger.
Losing a loved one can be difficult. Dia de los Muertos, also known as Day of the Dead, is a way to remember them.