Police searching for 2 men seen on video holding rideshare driver at gunpoint
HOUSTON - Authorities need your help finding two men seen on video trying to carjack and rob a rideshare driver at gunpoint in west Houston. 
SIMILAR STORY: Uber driver recalls scary moment while picking up passenger in Fort Bend County
The Houston Police Department's Robbery Division shared the shocking video Tuesday, but the actual incident happened on Tuesday, October 18, 2022, around 11 a.m. That's when investigators said an unidentified driver with a rideshare company received a request to pick up a man (and his friend) only identified as "MJ" at a restaurant in the 7600 block of Westheimer Rd. 
Once the driver arrived, officials said one of the two men he picked up changed the drop-off location to an apartment in the 2900 block of Dunvale. When they got to that location, dashcam video shows one of the men getting out of the rear passenger door, while another held the driver at gunpoint demanding he get out of the car. 
"Get the (expletive) out the car before I kill you," the robber is heard saying.
ALSO: 2 people attack Uber driver in wild video, 1 arrested, another on the run
The other robber meanwhile, police said, opened the driver's side door and tried to take the driver's cell phone and a struggle ensued. During the scuffle, the driver caused one of the robbers to fall while trying to grab his phone. 
When he fell, the driver stepped on the acceleration while still struggling with the other robber, who was holding the driver at gunpoint and told him to stop the car and threatened to shoot.
"I'ma kill you. I'ma shoot you. Stop the car. I'm trying to give you a chance to live," he said. "Stop the (expletive) car before I kill you." 
SUGGESTED: Houston Uber driver shot outside gas station on Quitman St, police say
The driver, however, kept on going and the robber wound up jumping out of the moving car. Once he got to a more secure location, the driver called police.
The two robbers were described only by investigators as two Black men in their 20s standing at 5'8 or 5'9 with black hair with a skinny build wearing hoodies and wearing surgical masks.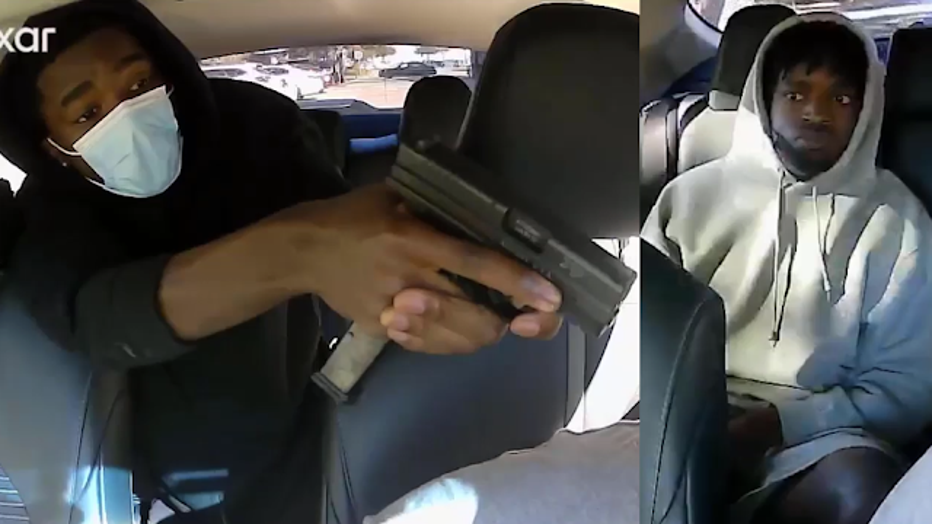 (Photo courtesy of Houston PD Robbery Division)
If you have any information that may help lead to their arrest, Crime Stoppers of Houston is offering a cash payment of up to $5,000. To do so, you can call their hotline at 713-222-TIPS or go online.