Houston murder suspect arrested in Bellville after attempted abduction, chase: police
HOUSTON - A man accused of killing his wife in Houston was arrested about 70 miles away after allegedly trying to abduct a woman at a gas station and then leading authorities on a chase, police say.
Houston police say Ausencio Garcia, 44, is charged with murder. He is facing additional charges in Bellville.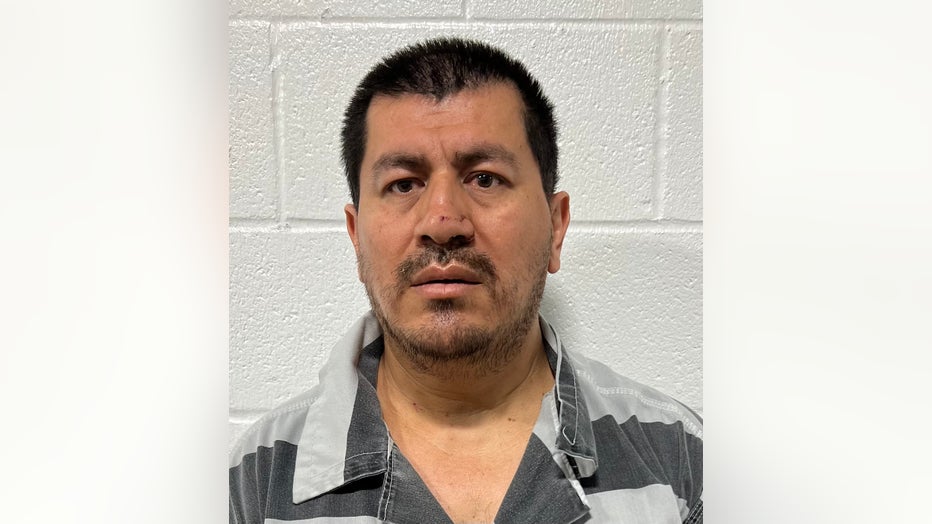 Ausencio Garcia (Photo: Bellville Police Department)
CLICK HERE TO DOWNLOAD THE FOX 26 NEWS APP
According to HPD, Julia Picazo Carranza, 40, was found dead with multiple stab wounds at a home in the 14100 block of Del Papa Street in Houston around 5:45 p.m. Wednesday. It's unclear what time the stabbing actually occurred.
Detectives identified her husband, Garcia, as the suspect. 
According to the Bellville Police Department, their officers encountered Garcia around 1:30 p.m. that day in the parking lot of a gas station in their city.
MORE: Suspect accused of killing man his ex-girlfriend was with
BPD says a woman was walking to her vehicle when the suspect got out of his truck and grabbed her, but was unsuccessful.
An officer was reportedly driving by at the time. Police believe the suspect saw the officer and quickly got into his vehicle to try to get away.
According to BPD, a pursuit began, going through Bellville onto SH 36 North before ending on Kenny Hall Road.
When the suspect's vehicle came to a stop, police say the suspect was seen snorting a large amount of a substance that they believe to have been cocaine. He was transported to the hospital to be treated for a possible reaction.
SUGGESTED: 1 killed, 1 injured in Houston shooting
Police initially identified him in a Facebook post on Wednesday as Jesus Duarte Ramirez. In a follow-up Facebook post, they said they learned that that name was an alias, and he was actually Garcia. BPD confirmed that he was the same suspect wanted for murder in Houston.
BPD says he was charged on Friday with attempted kidnapping, evading arrest/detention, tampering with evidence, and possession of a controlled substance, in addition to the murder charge in Houston.
HPD says Garcia is in custody in Bellville and will eventually be transported back to the Harris County Jail.