AJ Armstrong case: 'Drop the charges' banner goes up across U.S. 59 in Houston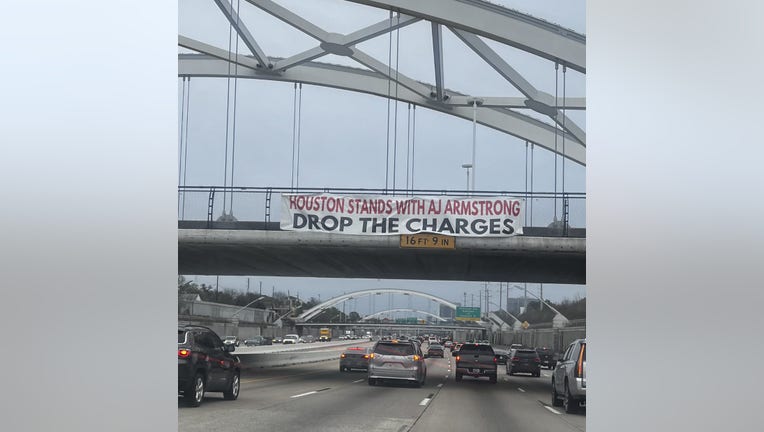 article
HOUSTON - There is a new banner across U.S. 59 in Houston calling to "drop the charges" against AJ Armstrong, who is accused of murdering his parents as a teenager in 2016.
Drivers traveling north toward Downtown Houston on Monday morning could see the banner hanging from a bridge near Main Street.
MORE: Will AJ Armstrong's next retrial be moved out of Harris County?
It's not clear who put up the banner that reads "HOUSTON STANDS WITH AJ ARMSTRONG" and "DROP THE CHARGES".
Armstrong has had two trials for the murder of his parents, and both trials have ended in hung juries.
PREVIOUS: Mistrial declared in AJ Armstrong retrial for capital murder of Bellaire parents
Jury selection is scheduled to begin in less than a month for his third trial. However, a hearing is scheduled for Monday to determine if Armstrong's trial should be moved out of Harris County.
AJ Armstrong's defense lawyers have an uphill battle ahead of them as it is ultimately the judge's decision whether or not to move the trial outside Harris County. She has already made her stance clear in her initial filing less than two weeks ago saying if it stays put, she believes the publicity surrounding the case would not allow for a fair and impartial trial.
MORE: AJ Armstrong's third trial: Hearing set to consider change of venue for retrial
Armstrong's lawyers have the task of changing her mind. In a 10-page objection filing, they bring up multiple arguments such as the fact that Harris County has a jury pool of 2.7 million people. They add that it's entirely possible to find just 12 impartial juror, and there were no issues in the last two jury selections.
MORE: A.J. Armstrong third murder trial set for February after mistrial in October
They also point to the 14th amendment, saying a change in venue would violate Armstrong's equal protection, as Harris County is vastly more diverse than the surrounding counties.
There is no mention of where it would be held if taken out of Harris County.