Deadly Cypress grassfire 100% contained, firefighters to remain on scene to handle hot spots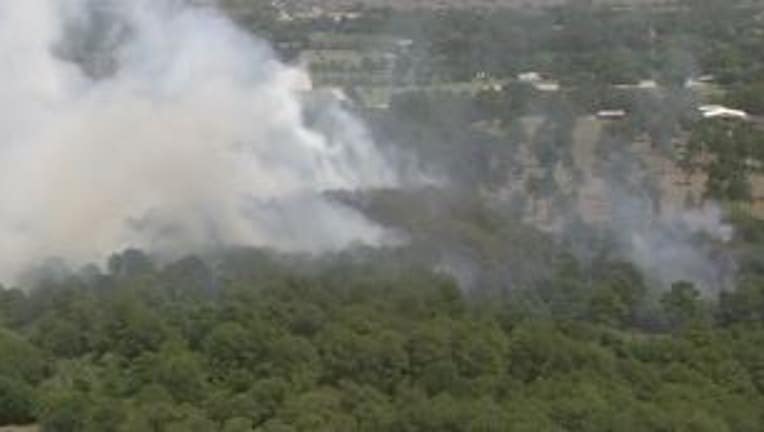 CYPRESS, Texas - A deadly grassfire that sparked up on Thursday afternoon is now 100% contained, according to officials. 
Officials responded to the fire located in the 16600 block of Bobcat Trail. 
Over 80 firefighters from six different departments responded to the scene to battle the grassfire. 
Officials said 27 acres were burned in the area. 
One elderly male was killed as a result of the fire, and a firefighter was taken to the hospital for heat exhaustion. 
The elderly man has not yet been identified. 
The number of outside fires in July has officials concerned. 
"In the month of July we had 597 outside fires," said Harris County Fire Marshall Laurie Christensen. "I don't have the numbers of what we had last year, but I can tell you it's probably about tripled."
No nearby homes were damaged or evacuated. 
RELATED: Drought situation in Texas becoming dire
Fire officials are hoping this blaze will remind everyone about the dangers brought on when we are in a drought.
The last serious drought Harris County experienced was in 2011.
"I want to remind people, we are out here near the new 99 Tollway, this wasn't here then. So think about all the new residences that are out here, and the schools and all the properties that are out here now," Christensen said.
RELATED: Drought leaves crops struggling for Houston area farmers
"There's a variety of different things residents can do around their homes to help firefighters if a wildfire situation were to happen," said Matthew Ford with the Texas Forest Service. "Good example of that would be brushing the needles out of their gutters, sweeping their decks."
An investigation into the cause of the fire is ongoing.