'We're not out of the woods,' Harris Co. Judge lowers COVID-19 threat level to second-highest level, 'Orange'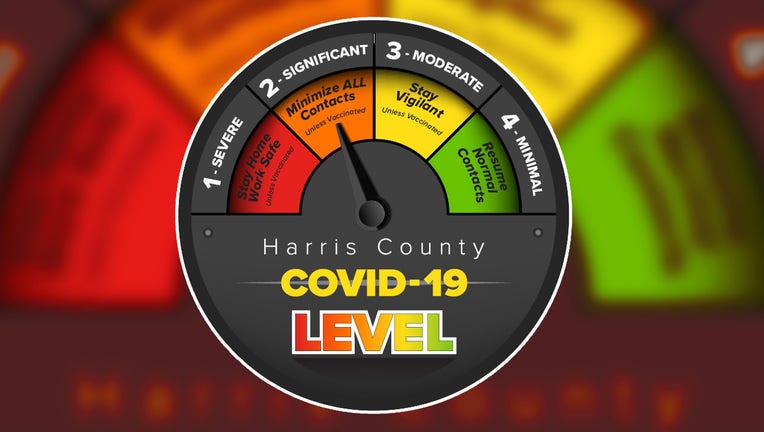 HOUSTON - It's been nearly three months since the COVID-19 threat level in Harris County was raised to its highest. 
PREVIOUS: 'Outbreaks are present and worse,' Harris County Judge raises COVID-19 threat level to highest category 'Red'
On Wednesday however, Harris Co. Judge Lina Hidalgo announced she would be lowering the threat level from 'red,' to 'orange,' its second-highest. This means unvaccinated residents are encouraged to keep wearing masks, avoid large or medium gatherings and only visit businesses that follow proper health guidelines.
RELATED: Houston-area nurses experiencing 'compassion fatigue' amid spike in hospitalizations, staff shortages
Judge Hidalgo said in a press release that this is the result of several weeks of progress including a decrease in cases and coronavirus-related hospitalizations. 
"Over the past several weeks, we've seen an encouraging drop in the number of new COVID-19 cases and our hospital population," said Judge Hidalgo. "This didn't happen by coincidence - it happened because of our community's hard work to step up and increase our vaccination rates."
MORE: Kids' COVID-19 vaccine: Pharmacies now taking appointments for ages 5 to 11
However, the county judge says this positive news does not absolve us from the overall threat of COVID-19 and encouraged residents who have not been vaccinated, to do so. 
"We're not out of the woods," she said. "The decreases in our trends are slowing down while other communities are starting to see spikes, and as we learn to coexist with this virus over the long term, we can't grow complacent. As the holidays begin to approach, we must stay vigilant to avoid another spike. The only way to do that is to get vaccinated." 
RELATED: Will 'compassion fatigue' and surge in COVID-19 cases discourage aspiring nursing students?