Volunteers build porch, ramp for 93-year-old's Third Ward home
HOUSTON - Tap, tap, tap. That was the sound of Martin Luther King's vision at work in Houston's Third Ward on Monday.
Volunteers were hammering away on this Day of Service, building a new porch to help a 93-year-old woman stay in her home.
SUGGESTED: Third Ward residents supporting change while helping the neighborhood
Reliant Energy and Rebuilding Together Houston have been working together for 20 years, volunteering to help people in need.
They're not just preserving Hattie Jones' home, they're helping preserve the legacy of homeownership in a historic, Black community. With every nail, this community is built a bit stronger.
"We strive to be a positive influence in the communities that we serve and that we ourselves live in," said Rolando Salinas with Reliant Energy.  
It's just what Martin Luther King, Jr. envisioned for a day of service.  
"Reliant employees are treating the holiday as a day 'on' versus a day off," said Salinas. "We are here with Rebuilding Together."
RELATED: New mural celebrates democracy in Houston's Third Ward
And together they're building a porch and wheelchair ramp so Hattie Jones, 93, can stay in her home.
"It really puts people like Ms. Jones at risk of being displaced and even homelessness, if her home deteriorates to a point that she can't safely live in it," said Christine Holland, CEO of Rebuilding Together Houston.  
So they shored up her life inside, too.
"We have stabilized the structure, we have upgraded the electrical system, we have pulled out the bathtub and put in a low curb shower," lists Holland.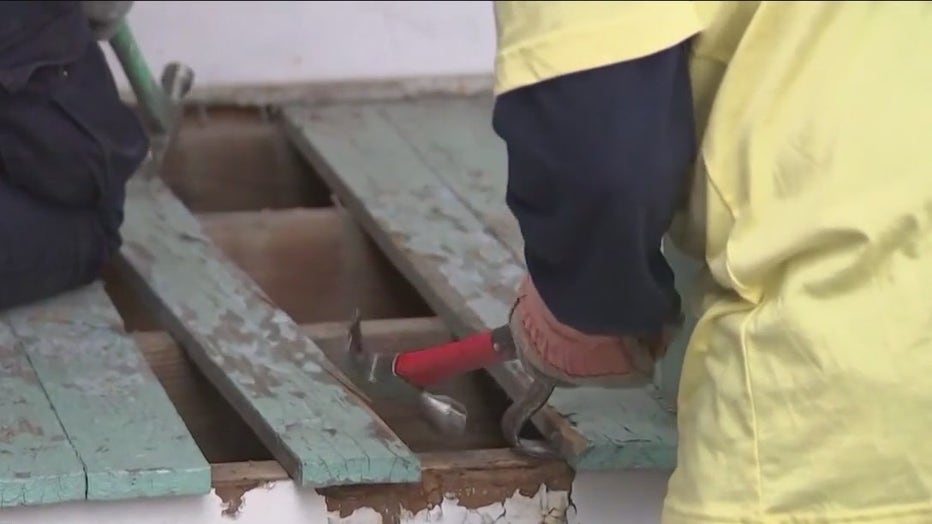 These are changes that not only impact the homeowner but the heritage of the Third Ward, a landmark African American community since the 1870s.
"When she passes, she can pass the home to the next generation of their family," said Holland. "Homeownership is decreasing in Houston among Hispanic families and Black families, so it means a lot to keep the house in the family."
MORE STORIES OUT OF THIRD WARD
It's a labor of love for these volunteers.
"We've been doing these with Rebuilding Together for over 20 years," said Salinas. "In that time frame, we've been able to make repairs to over 85 homes."
Rebuilding Together Houston says it has repaired nearly 15,000 Houston area homes over the past 40 years. 
However, they say 100,000 more low-income homes would qualify for repairs. They hope more people will donate or volunteer to help. The organization helps low-income seniors, veterans, and working families in need.