Self-defense? Customer fired 9-shots, killed man robbing patrons in Houston taqueria
HOUSTON - **EDITOR'S NOTE: This story has since been updated as Houston police are now arranging to meet with the patron who shot the would-be robber**
Police are asking a bystander who shot and killed a man who was in the act of robbing people inside a Houston restaurant to come forward for questioning.
UPDATE: Houston taqueria shooting: Arrangements being made to speak with customer, police say
The incident happened around 11:30 p.m. Thursday night. The video showed the masked man walking into a taqueria in the 6800 block of South Gessner Rd. 
BACKGROUND: Houston robbery suspect shot to death by customer in taqueria on Gessner, police say
He then points a gun at patrons and demands money.
One customer pulled out his firearm and fired nine shots at the robber. Once the robber hit the ground, the customer continued firing as he approached the suspect and took his gun, after he took that gun video showed the customer let off a final shot in the direction of the robber's head, and he died at the scene.
After the robber was down, the shooter realized the gun he was brandishing was fake and angrily tossed it against a wall.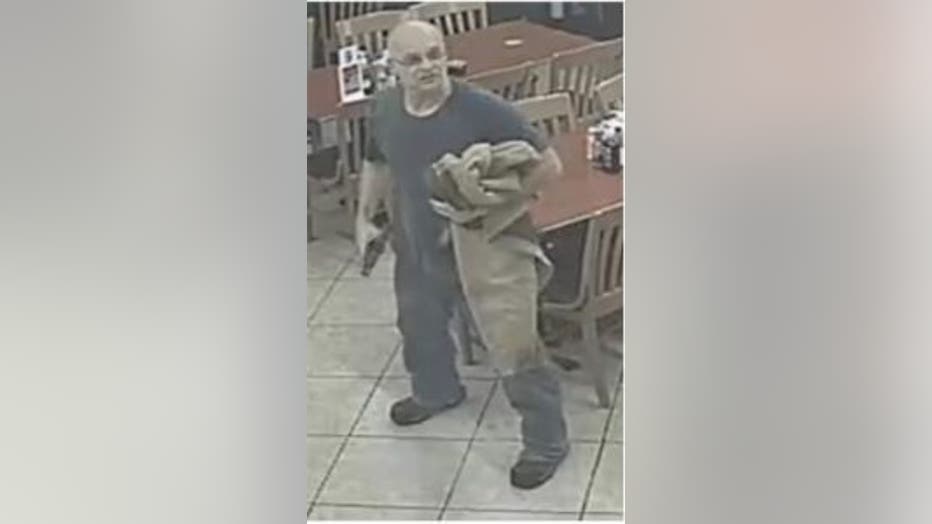 Surveillance photo of a man wanted for questioning in a fatal shooting of a robbery suspect. He has not been charged. (Photo: Houston Police Department)
We spoke with local criminal defense attorney Price Brown.
"I was not able to tell that was not a real weapon; and just by taking out that weapon and pointing it at people, especially in a situation where you're robbing people it establishes that person is willing to use it," Brown said
MORE IN CRIME AND PUBLIC SAFETY
He tells FOX 26 that from a legal standpoint until the threat is neutralized, the customer had every right to keep firing.
Customers who had been robbed retrieved their money and belongings and left. The customer who shot him threw a coffee mug at the robber as he left the restaurant and no one attempted to render aid. As of right now, the police would only like the shooter to come forward for questioning.
Attorney Brown says it's unlikely a grand jury will indict him and says if the shooter is indicted, it would be an easy case of self-defense.
MORE: Domestic violence suspect barricaded inside Spring home sets house on fire
"The individual who used lethal force to end the situation was well within his right to do so," Brown said.
Police say the customer was driving a 1970s or 80s model pickup truck with no bed. Authorities also want the other customers involved to come forward as well. As of Sunday mid-morning, officials with HPD confirmed with FOX 26 they have been contacted by an attorney, who is making arrangements for him to speak with investigators. 
Meanwhile, as of this writing, we're waiting on the Harris County Medical Examiner's Office to release the identity of the robber who was shot and killed.