Neglected Horse Herd Stripped From Owners in Montgomery County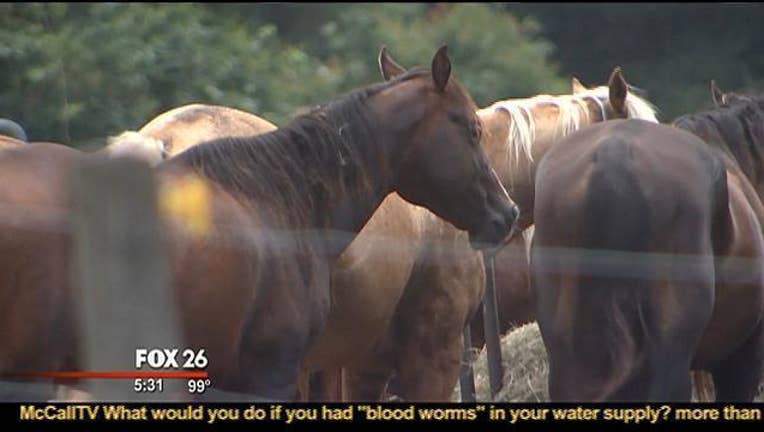 article
Poorly fed and badly neglected - that's how law officers, animal advocates and veterinarians described a herd of more than 200 mostly registered quarter horses seized from a Montgomery County breeder.
Since the June 24th raid the animals have been in the custody of the Houston SPCA receiving restorative care at a staggering cost.
"The boarding, the veterinary supplies the cost is close to $12,000 a day. It's a true undue burden on the organization," said Kathryn Mahoney of the SPCA.
Four of the horses could not rehabilitated and have been euthanized to end their suffering.
Today in a  Montgomery County Courtroom Herman and Kathleen Hoffman sought return of the horses despite overwhelming evidence 75 percent of the animals were chronically underfed and all lacked the fundamental hoof care that's needed to prevent crippling injury and pain.
  Montgomery County Attorney J.D. Lambright says the Hoffman's ignored multiple warnings and rejected offers of aid.
"They laid out plans for them to follow and try to get the horses in shape, but then the situation deteriorated to such an extent, especially when they doubled the number of horses on the property from 100 to over 200 hundred horses," said J.D. Lambright, Montgomery County Attorney.
207 horses on a little more than 40 barren acres.
The evidence of willful neglect was simply too much to warrant a second chance from Judge Michael Seiler who severed the Hoffman's rights to the herd and awarded permanent custody to the SPCA.
"Whether you have one horse or 200 horses you just need to do the right thing and take care of them, give them the right food and shelter they need and we won't be involved," said Lambright.
In addition to stripping the Hoffman's of their herd Judge Seiler held the couple responsible for the cost horses care since the seizure. Total cost $480,000.