Houston strawberry picking: Where to get fresh berries, fruit, flowers in SE Texas this spring, summer
HOUSTON - Spring and summer mean fresh berries and flower blooms in the Houston area.
If you want fresh strawberries, blueberries or blackberries, they won't get any fresher than picking them yourself.
MORE: Spring Break 2023: Family-friendly Things to Do in Houston
Some Houston-area farms offer pick-your-own produce throughout the year.
Availability will vary by season, and quantities may be limited on certain days. Be sure to check with the farms before heading out.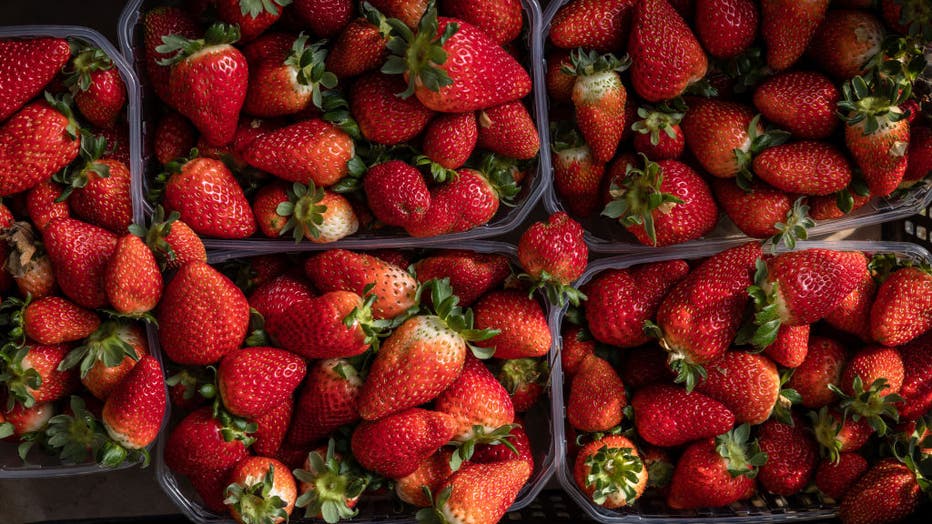 FILE PHOTO. (Photographer: Angel Garcia/Bloomberg via Getty Images)
Atkinson Farms
3217 Spring Cypress Road, Spring, TX, 77388
Atkinson Farms opened their You-Pick strawberry patch on March 10. Berry supply is limited, and picking is on a first come, first served basis. Picking is only available on certain days when supply is available. Keep an eye on their Facebook page for updates. 
Click here for more information.
Froberg Farms
3601 W Highway 6, Alvin, TX, United States, Texas
Froberg Farms says their pick-your-own strawberry season typically runs from January through mid-May. Dates vary, so check their Facebook page or call ahead before going.
They also offer pick-your-own blackberries in the summer. They say it typically begins May through the end of July, depending on the weather.
Click here for more information.
Wood Duck Farms
270 Pine Valley Rd, Cleveland, TX, United States, Texas
You can go strawberry picking at Wood Duck Farms. It is open on select days now through April or early May, dependent on the weather. Check their Facebook page or call 713-876-8645 for updates before you go.
Click here for more information.
Blessington Farms
510 Chisolm Trail, Simonton, TX 77476
Blessington Farms no longer has a strawberry patch, but they do still have berries to pick. They say blueberry picking season usually runs from April through May, and blackberry picking season starts in May and ends later that month. Check their Facebook page or website for updates on when berry picking starts.
Click here for more information.
Neal's Berry Farm
21104 Binford Rd, Waller, TX 77484
Neal's Berry Farm is expected to open in May, but an exact date has not been set. In the past, they have offered a variety of pick-your-own produce including blackberries, peaches, figs, grapes and more. They have also had U-pick zinnias and sunflowers in the past. Check their Facebook page to see what is available for picking before you go.
Click here for more information.
P-6 Farms
9963 Poole's Road, Montgomery, Texas 77356
The farm offers pick-your-own blackberries and sunflowers during the summer. Dates for 2023 have not yet been announced.