Suspected robber shot during chase with police in west Houston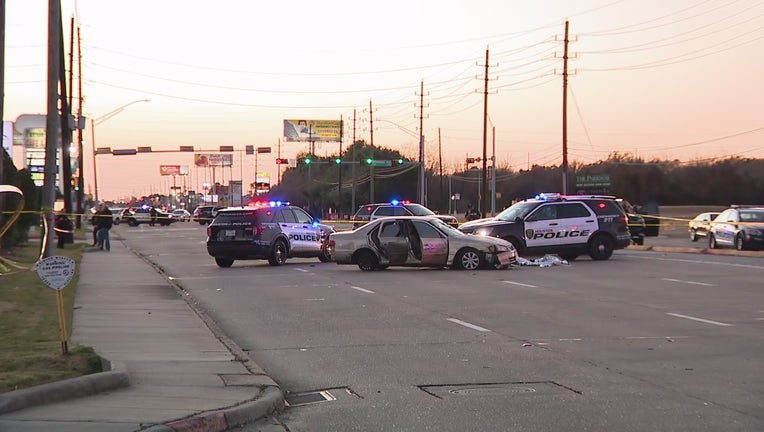 HOUSTON - Officials say a brief chase in west Houston Sunday afternoon ended with a man, believed to be a robber, shot. 
DEADLY START TO 2022: Houston leads Chicago, NYC, and LA in homicides so far this year
Details are still in the preliminary stage, but it all started after police received a call about a citizen "following a robbery suspect." Initially, we were told shots were fired after an unidentified man led officers on a chase that ended in the 13400 block of Westheimer Rd. 
However, during a press conference, Chief Troy Finner says it's unconfirmed if the suspect shot at police first (or even if he had a gun) and are investigating what events led up to that moment. 
Instead, the chief said police responded to the alleged robbery call in the 13000 block of Richmond to meet with the initial caller. Shortly afterward, officers spotted a vehicle matching their suspect's description on Amblewood at Stancliff and a chase ensued with officers reportedly firing on the man's car, but not before a female passenger got out of the car. 
SIGN UP FOR FOX 26 HOUSTON EMAIL ALERTS
The chase lasted about 15-20 minutes until they got to Westheimer, where the driver, an unidentified man in his 40s, reportedly hit two vehicles after losing control and crashed into a median.
Emergency crews airlifted the man to the hospital via Lifeflight, where he is said to be in serious condition, undergoing surgery but is expected to survive.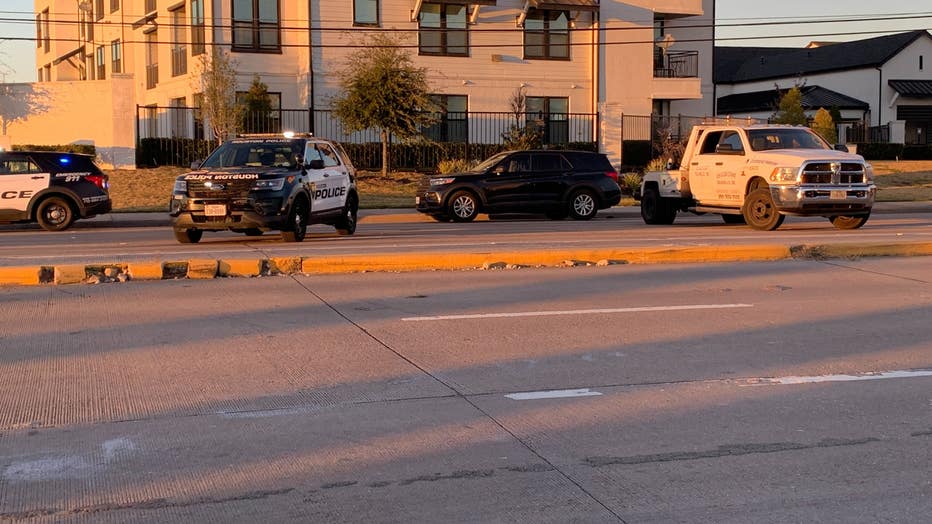 As a result of the incident, the lanes of Westheimer Rd were closed in both directions from Eldridge Parkway to Woodchase Blvd. for several hours. 
There were five officers who fired at the suspect, one is a sergeant with 13 years of service to the HPD, while four other officers have 2-3 years of experience. Per policy, the officers will be placed on administrative leave while an investigation remains underway. 
Charges have not been filed on the man yet, which is why they were not releasing his identity, but Chief Finner confirmed he has a previous criminal history with robbery. However, it's unclear when the robbery occurred, that led a caller to bring that attention to police, but that will also be part of the ongoing investigation. 
VIOLENT WEEK FOR LAW ENFORCEMENT: 'No more excuses,' Houston PD Chief Troy Finner calls for more action against gun violence
Authorities are expected to return to the scene Monday morning as well to get surveillance videos from nearby businesses and review body camera footage. 
As for the female passenger, Chief Finner said she may not be charged and reportedly was not a victim of a crime and left the car on her own free will. 
FOR THE LATEST NEWS UPDATES, DOWNLOAD THE FOX 26 NEWS APP
FOX 26 will continue to update this story as more information becomes available.