COVID-19 testing in greater Houston area: how and where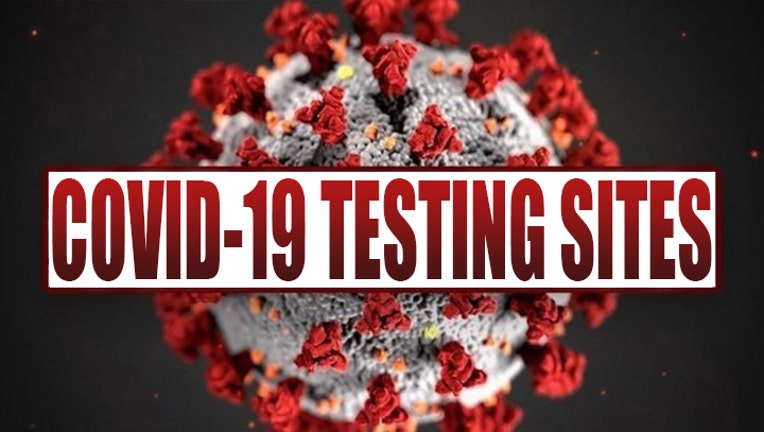 The greater Houston area has several operating coronavirus COVID-19 testing sites. But many people with symptoms still do not know the process to get tested.
There are public testing sites and private sites. Some are free of charge, others cost a fee or bill a patient's insurance.
THE LATEST: COVID-19 cases in the greater Houston area
No matter what, people with COVID-19 symptoms should first contact their family doctor and/or take a pre-screening test before heading to a testing site.
Typical symptoms include fever, cough or difficulty breathing. If you are experiencing a health emergency, and not just symptoms, you should call 911.
High-risk people are defined as those who are older adults and people of any age who have serious underlying medical conditions.
Many testing sites only cater to high-risk symptomatic people.
Local health departments, medical communities, including members of the Texas Medical Center, and clinics operate free or at-a-cost COVID-19 testing sites for high-risk symptomatic people.
FREE
Here are the free coronavirus testing sites that do NOT require you to call and get screened first:
United Memorial Medical Center
United Memorial Medical Center offers free COVID-19 drive-thru testing at seven different locations. Find more information at ummcscreening.com or call 1-866-333-COVID.
Locations: 
 • UMMC Main Campus
   510 West Tidwell
   Houston, Texas
   Monday-Friday 9 a.m.-4p.m.

 • Forest Brook Middle School
   7525 Tidwell Rd
   Houston, Texas
   Open: Monday-Friday 10 a.m.-5 p.m.
• Cullen Middle School
   6900 Scott St
   Houston, Texas
   Open: Monday-Friday 10 a.m.- 5 p.m.
• Griggs School
   801 Regional Park Dr.
   Houston, TX
   Monday-Friday 10 a.m.-5 p.m.
• Southwest Multi-Service Center
   6400 High Star Dr.,
   Houston, TX
   Monday-Friday 9 a.m.- 4 p.m.
•  HCC Eastside Campus (Parking Garage)
   6815 Rustic St., Building B
   Houston, Texas
   Monday-Friday - 9 a.m.-4 p.m.
The following locations offer free coronavirus testing but require that you call ahead to get screened before showing up to test:
Harris County / City of Houston
Texas Division of Emergency Management
The Texas Division of Emergency Management and the Houston Health Department will open drive-thru test sites the week of July 6. TDEM sites require appointments, available by calling 512-883-2400 or visiting txcovidtest.org.
These testing sites are open Monday through Saturday:
•  Eden Event Center, 7450 N. Wayside Dr.,
•  NRG Park, Green Lot, 1 Reliant Park.,
•  HCC - Northeast Campus, 555 Community College Dr., and
•  HCC - South Campus, 1990 Airport Blvd.
TDEM and the department will also operate a site at the Merfish Teen Center, 9000 S Rice Ave, Sunday through Saturday. 
Houston Health Department & Community-Based Sites
The department operates two free drive-thru COVID-19 community-based testing sites open to anyone, regardless of symptoms. Each site has capacity for 500 tests per day. New days of operation for the sites are Monday through Saturday. People can call the department's COVID-19 Call Center at 832-393-4220 between 7 a.m. to 4 p.m. to receive an access code and directions to the nearest community-based site.
Residents can get tested in Fort Bend County for free, but appointments are required. Current testing sites are in Richmond, Rosenberg, Sugar Land, Katy and Missouri City. The tests are being done weekdays from 8:00 a.m. to 5:00 p.m. and Saturdays from 10:00 a.m. to 2:00 p.m.  To schedule an appointment for either site, click on this link and fill out your information. If you do not have internet access, you can call (281) 238-2363 weekdays from 8 a.m to 5 p.m. and Saturday from 8 a.m. to noon.
Galveston County is partnering with UTMB to offer free COVID-19 testing for Galveston County residents. Testing is available by appointment only and free to the public at three different sites in Galveston, League City and Texas City. County residents may schedule an appointment by calling 832-632-6731. A government issued form of identification will be required at the time of testing to verify residency.
AT-A-COST
Beyond the free testing, there are quite a few other coronavirus testing locations that will charge a fee that may be covered by insurance.
Next Level Urgent Care offers testing for COVID-19. They are testing symptomatic patients for COVID-19 upon the recommendation of one of their healthcare providers. To be evaluated for testing, you can make an appointment for a virtual visit or get in line at a clinics.
UTMB Health
Patients with symptoms of respiratory illness, including cough, fever or shortness of breath, should contact the UTMB Health Access Center at 800-917-8906 to speak with our 24/7 nurse hotline. The nurse hotline will advise the patient on what to do next, including the most appropriate clinic location for evaluation, if needed. Once a patient arrives at the recommended location, they will be seen by a provider and likely given a flu test. If the flu test is positive, the patient will be treated for flu as appropriate. If the flu test is negative, the provider will recommend whether a COVID-19 test is warranted.
Memorial Hermann
Memorial Hermann eVisit provides two easy ways to connect online 24/7 with a Memorial Hermann Urgent Care provider to receive diagnoses and treatment plans. Visit website for screening: memorialhermann.org/virtual-care/evisit/ Within 30 minutes, a provider will review your answers and respond with a diagnosis and treatment plan. The cost is $25. If you are told to take a COVID-19 test, they will tell you where to go. Your COVID-19 test results should be available within 7-14 days. Memorial Hermann will call you if your test is positive.
HOUSTON
Federally Qualified Health Centers
The health department is providing test kits, lab access and equipment to four local Federally Qualified Health Centers (FQHC) so they can expand their COVID-19 testing capacity. The centers and phone numbers people can call to set up testing appointments are: 
•  Spring Branch Community Health Center, 713-462-6565
•  El Centro de Corazon, 713-660-1880
•  Avenue 360 Health and Wellness, 713-426-0027
•  Lone Star Circle of Care at the University of Houston, 346-348-1200 and
•  Community Health Network, 281-816-3317.
FQHC patients pay what they can afford, based on income and family size, and are not denied services due to inability to pay or lack of insurance.
Legacy Community Health in Houston 
All nine Legacy Community Health offer COVID-19 testing for symptomatic people determined to be at-risk. People may visit legacycommunityhealth.org or call 832-548-5000 to be screened. Legacy offers testing on a sliding fee scale, and the clinic bills insurance companies for those who are covered.
 •  Legacy Bissonnet, 12667 Bissonnet
 •  Legacy Fifth Ward, 3811 Lyons Ave.
 •  Legacy Mapleridge, 6550 Mapleridge St.
 •  Legacy Montrose, 1415 California St.
 •  Legacy Northline, 5598-A1 North Freeway
 •  Legacy San Jacinto, 4301 Garth Suite 400, Baytown
 •  Legacy Santa Clara (East End), 5616 Lawndale St.
 •  Legacy Sharpstown, 6677 Rookin
 •  Legacy Southwest, 6441 High Star Dr. 
My Family Doctor
My Family Doctor has a drive-thru testing site at 6430 Hillcroft Street open Monday through Friday between 9:00 a.m. and 4:00 p.m. This site is currently cash-only and limited to high-risk people with symptoms. People can visit the My Family Doctor website at covid19drivethru.com for more information.
MD Medical Group
Clinicas Mi Doctor and MD Kids Pediatrics, two Houston MD Medical Group clinics, offer drive-thru COVID-19 testing by appointment. People can request an appointment by calling or texting 888-776-5252, or visiting mdmedicalgroup.us.
FORT BEND COUNTY
OakBend Medical Group
The initial criteria for the COVID-19 testing will require a Telehealth visit. People should call 281-238-7870. Patients will be screened for criteria that suggest a possible positive COVID-19.
BRAZORIA COUNTY
Care Prime Clinic
15030 Hwy 6, Rosharon, Texas 77583
832-400-2050
Options Urgent Care
208 Oak Dr. S., Lake Jackson, Texas 77566
979-285-2273 
Houston Methodist Emergency Care Center Pearland
11525 Broadway St, Pearland, TX 77584
713-363-8020 
Next Level Urgent Care Pearland
281-783-8162
8325 Broadway St, Suite 220, Pearland, Texas 77581
UTMB Health Access Center
136 E Hospital Dr., Angleton 77515
979-849-6467
After hours: 409-772-2222 
Community Health Network
The locations are income based and you must be pre-screened before you can be tested. For prescreening call 281-824-1480 (Press 2).
Locations:
•  Freeport Community Health Center 905 N. Gulf Blvd., Freeport, Texas 77541
•  Adoue Family Health Center 1111 W. Adoue, Alvin, Texas 77511
•  Scarsdale Family Health Center 10851 Scarsdale Blvd. Suite 160, Houston, TX 77089
•  Brazoria County Fairgrounds 901 S. Downing St., Angleton, Texas 77515