Cold front brings heavy storms to Houston area, leaves thousands without power
HOUSTON - A cold front that moved into the Houston area on Monday afternoon produced scattered heavy storms and even a couple of severe storms. It also left thousands without power in the area.
By 6:30 p.m. Monday, some areas had already seen between 2 and 4 inches of rain. Walker County recorded more than 4 inches of rain by late Monday afternoon.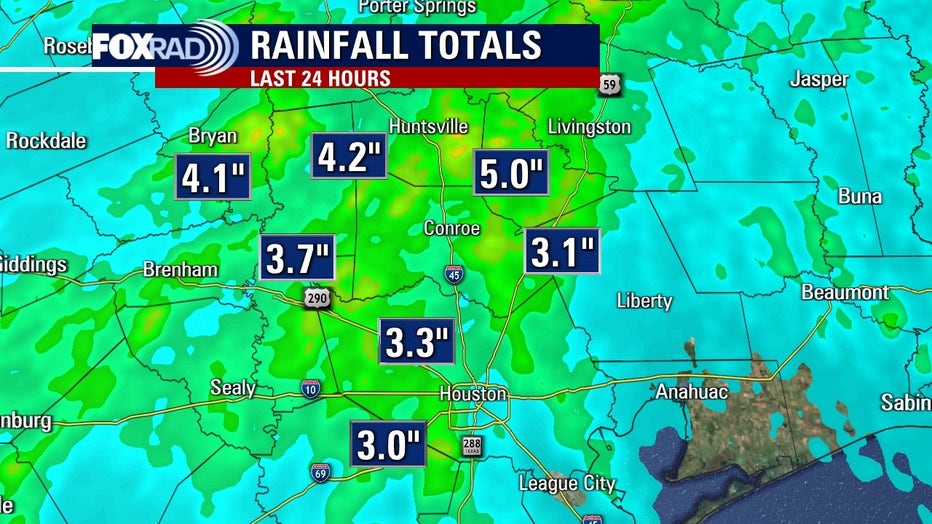 Radar estimated rainfall totals through 6:30 p.m. Monday.
The weather prompted both Houston-area airports to issue a ground stop, which was later fully lifted.
CenterPoint Energy reported more than 3,000 customers without power by 10:30 p.m. as the storms started moving out of the area. As of 6:40 a.m. Tuesday, 1,796 customers were without power.
LIVE: Interactive weather radar
On Tuesday, the area will get to enjoy cooler air and slightly less humidity. Look for highs to remain in the mid to upper 70s Tuesday afternoon. We'll have two more pleasant mornings with lows in the 50s and 60s before hot and humid air surges back late this week.
Track the weather on our FOX 26 Weather App. In addition to tracking the storms, you will be alerted to any advisories that might be issued for your area.