Caught on Cam: Man brutally beaten by bouncer at LGBTQ event in Houston
Houston - A shocking video shows bouncers brutally assaulting a man during an LGBTQ event at a Houston establishment. 
The video shows one club bouncer holding ​Norman Reggie Houston Jr. in a choke hold. 
"It's hard to even think about," Houston said. 
MORE: LQBTQ STORIES FROM AROUND HOUSTON
While he was being choked, another bouncer punches him in the face at least 11 times.
"Just take a look at what you've done, this could be your brother, your cousin," said Houston. 
The altercation happened at Hamburger Mary's in Downtown Houston.
Houston is a local wedding planner and party promoter. He says this past Saturday he and his friends went to the club, and when they tried to leave, security told them they had to wait. So, he says he jokingly picked up a bottle of alcohol by the bar and said he needed a drink for the wait time. He says he never took a drink from the bottle, and he put it right back down. 
Lawsuit: Transgender Wells Fargo teller says managers 'laughed' as customers mocked her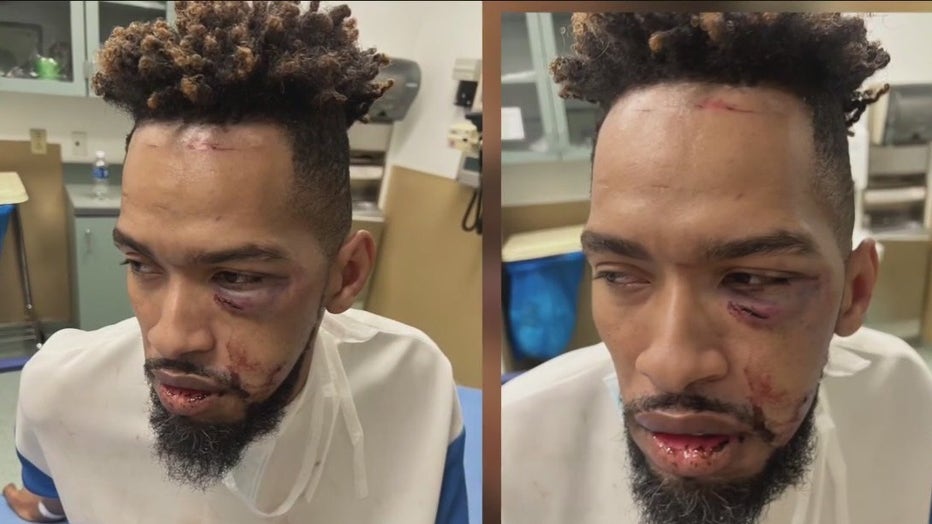 "Probably not even a few minutes later I saw an African American male…really buff with long hair coming at me with two other guys. The only thing I remember, the words he said were you said something to my sister? Then he hit me and that's all I remember," Houston explained. 
The aftermath left Houston with an injured throat, bloody and bruised eyes, and a broken leg. FOX 26 asked him if he was at all aggressive with the security guards. 
"Anyone there can tell you that's just not what happened at all like they came charging with an agenda," he replied. 
His attorney Carl A. Moore says the video was gruesome and that nothing excuses such brutality. Moore says he's been reaching out to Hamburger Mary's repeatedly but has not received a response. FOX 26 also reached out numerous times, calling their main line and the cell phones of the general manager and the owner, but we still haven't heard back. 
Moore says he plans to work closely with HPD and the DA's office to ensure criminal charges are filed in addition to civil charges. 
Houston says overly aggressive security guards at LGBTQ events are becoming a pattern that needs to be addressed.