Houston tornado: NWS confirms Deer Park/Pasadena tornado preliminarily rated as EF3
DEER PARK, Texas - A strong tornado left a trail of damage from southeast Houston to Baytown as it traveled more than 18 miles across southeast Harris County on Tuesday afternoon, according to the National Weather Service. At its widest, the tornado was just over a half-mile wide.
The agency released their first detailed update of ongoing preliminary damage surveys for the tornado that ripped roofs from homes and businesses and left thousands without power.
RELATED: Pasadena residents describe how they felt when a tornado hit
The report rates the tornado as an EF3 at its strongest with an estimated peak wind of 140 mph.
According to the survey, the tornado touched down near El Franco Lee Park, just northeast of Pearland, around 2:15 p.m. and traveled northeast from there. There was damage across parts of southeast Houston, Pasadena, Deer Park and Baytown.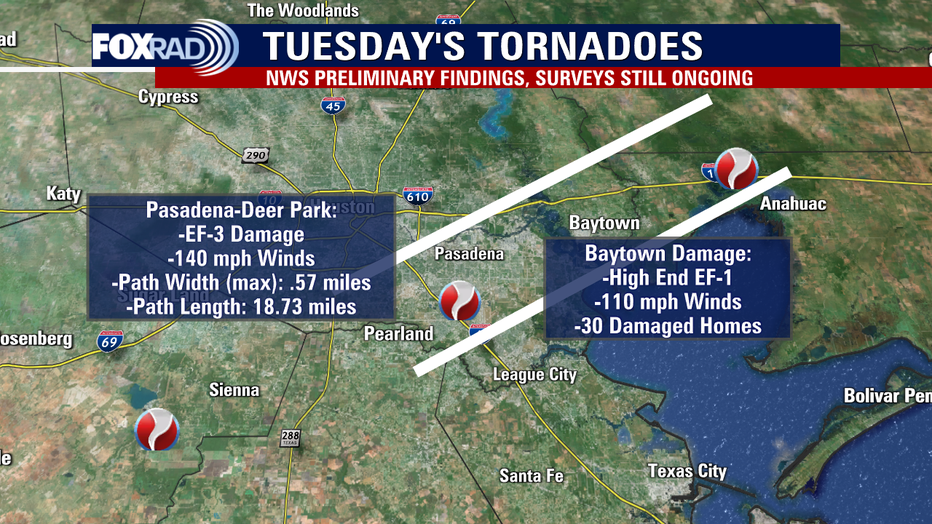 The report states that the tornado was on the ground for 35 minutes, weakening near Baytown where damage estimates were assessed at EF-1 and 110mph winds.
The NWS lists most of the damage between EF0 and EF1 ratings with tree, fence and minor roof damage; however, other spots were rated with more severe EF2 damage like the Beamer Apartments in Houston, some homes in Pasadena, and a church in Deer Park.
The survey showed that the worst of the damage was between Pasadena and Deer Park. The NWS says an aerial survey showed three high tension electoral towers flattened northeast of Deer Park, suggesting EF3 damage.
A mobile home and a single family home were destroyed along Weaver Street in Baytown, the report states.
The agency says the damage became spotty and less intense from there as far north as I-10, but no damage was seen north of the interstate.
RELATED: Texans impacted by severe storms urged to self-report property damages
THE DAMAGE LEFT BEHIND
Mother Nature certainly left her fury behind after the EF3 tornado leveled homes and businesses across the Deer Park and Pasadena area. 
The Pasadena Animal Shelter sustained major damage as a result of the tornado, displacing numerous animals who were inside the shelter during the tornado. 
Residents in the area are cleaning up the debris left behind with some residents being displaced from their homes. 
THE CLEANUP BEGINS
As the communities of Deer Park and Pasadena begin the process of cleaning up and restoring power to homes and businesses, there are some other things you should consider. 
One of those is if you are planning to start self-cleaning, be sure to take pictures of anything that you clean up and be sure to keep all of your receipts for anything that's done to file with your insurance company. 
If your home is unlivable due to the fury that was left behind by Mother Nature, be sure to reach out to your insurance company about any other possible accommodations while work is done to fix your home. 
FOX 26 will continue to follow the latest on the damage as well as the report that will be released by the National Weather Service. To stay up-to-date with the very latest, be sure to download the FOX 26 Weather App and FOX 26 News App.