Winter Storm Warning issued for southeast Texas: What you need to know
HOUSTON - A winter storm will impact southeast Texas on Valentine's Day evening and last through Monday with frigid temperatures expected to filter in behind the storm.
The entire state of Texas is under a winter storm warning.
A Wind Chill Warning is posted for Sunday night through Tuesday at noon. The combination of strong winds and very cold air will create dangerously low wind chill values. This will result in frostbite and lead to hypothermia or death if precautions are not taken.              
RELATED: Road crews across Texas prepare for arctic blast of freezing rain, sleet, and snow
As we remain close to the freezing mark this morning, areas north of Houston have reported icy overpasses and bridges and that threat will continue through the morning.
Moisture will build in this evening with rain, freezing rain, and sleet all expected to last until Monday afternoon or early evening.
Monday night is when temperatures are expected to drop into the teens, if not lower.
Wind chill values could drop below freezing by Tuesday morning. Colder air will remain in place and on Wednesday, another system may move through and bring additional wintry precipitation.
LIST: Houston-area school closures
WHAT'S HAPPENING NOW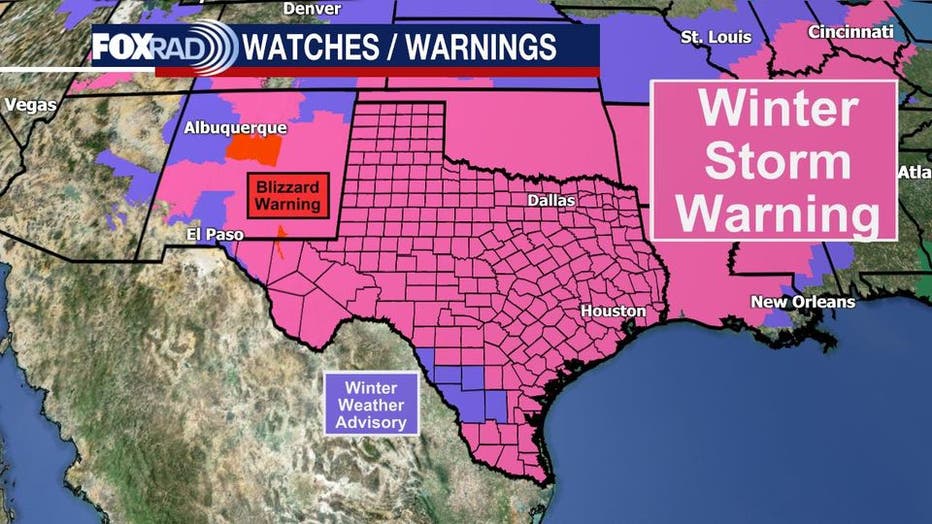 Ice was reported on roadways in some spots in Montgomery County and northwest Harris County starting Friday morning. There may be a few patches of ice near Brenham, Navasota, Huntsville, and College Station, and more substantial ice is expected between here and Dallas, Waco, and Austin.
CLICK HERE FOR THE LATEST WEATHER RADAR & FORECAST
There are only a few hours left to head to the grocery store for food, batteries, pet food, baby supplies,  etc., before it gets nastier. Be sure you have an adequate supply of prescription drugs.  Bundle up and drive safely as conditions will go downhill quickly Sunday night and Monday with freezing temps, wind, and ice. Monday night and Tuesday morning still looks extremely cold.
THE DANGERS OF ICE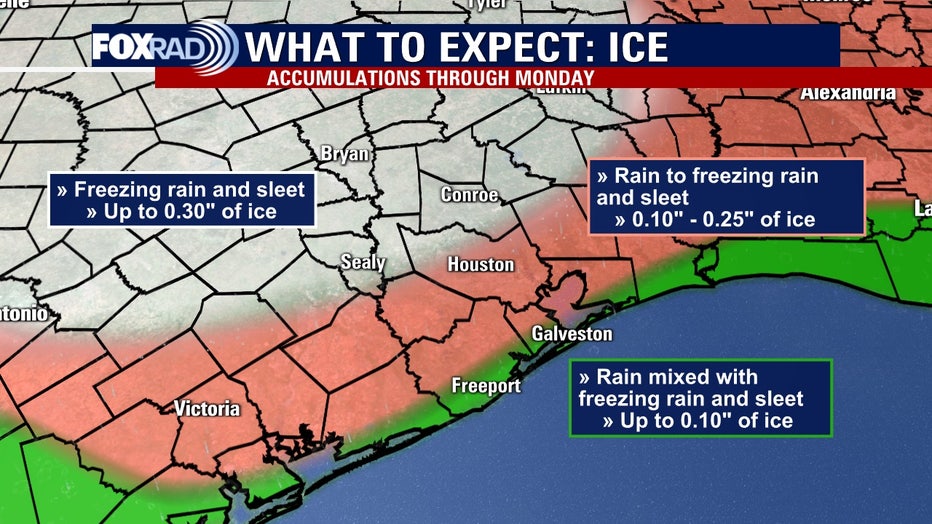 The threat of accumulating ice will make traveling hazardous on area roads, especially on bridges and overpasses.
If we see ice accretion on elevated surfaces, notably power lines, that could lead to power outages.
When freezing rain accumulates on elevated surfaces, that adds additional weight to the objects it's falling on, like trees. Tree limbs could also snap as winds pick up on Monday if ice accumulations are greater than 0.25".
Ice accumulations up to 0.30" will be possible north of Houston with 0.10"-0.25" possible in the city.
The freezing rain and sleet are expected to transition to all snow by Monday with accumulations possible, especially north of Houston.
RELATED: 10 vehicles involved in crash on overpass in Magnolia
WILL THERE BE SNOW?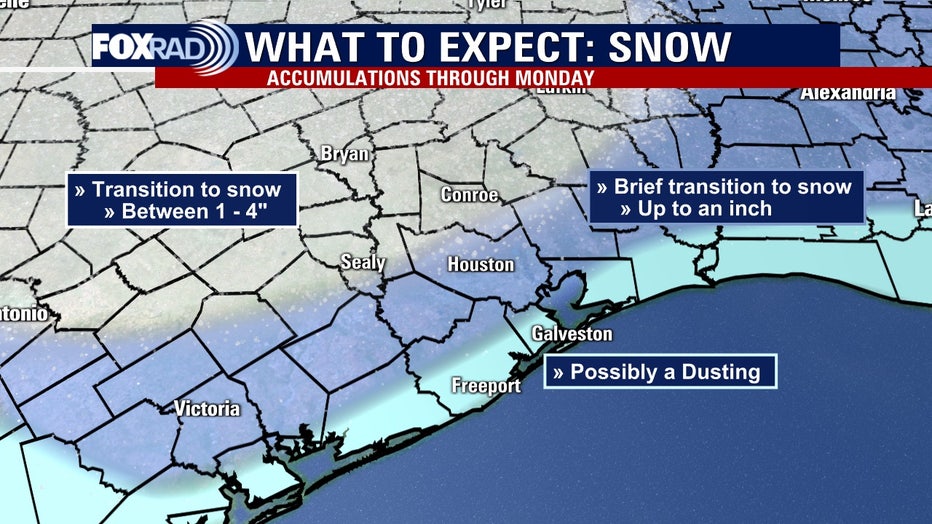 Some areas will see temperatures drop to freezing by Saturday night.
Temperatures will then drop further from Sunday through Tuesday morning with some areas seeing lows in the low 20s, possibly teens.
A possible winter storm will affect Texas, including the greater Houston area, beginning late Sunday night, Feb. 14 or early Monday, Feb. 15.
There is increased confidence for winter precipitation like freezing rain, sleet, and snow Sunday night into Monday, according to the National Weather Service.
Forecast uncertainty remains on the possibility of winter precipitation towards the middle of next week.
Monday evening looks to be the coldest night of the upcoming stretch, with most spots dropping into the teens to lower 20s. The stretch of below-freezing temperatures is likely to continue through next Wednesday.
WHEN WILL IT BE COLDEST?
The forecast low for Monday night in Houston is 15° and that is the coldest since 1989. The record low for Houston is 5° set way back on Jan.18, 1930.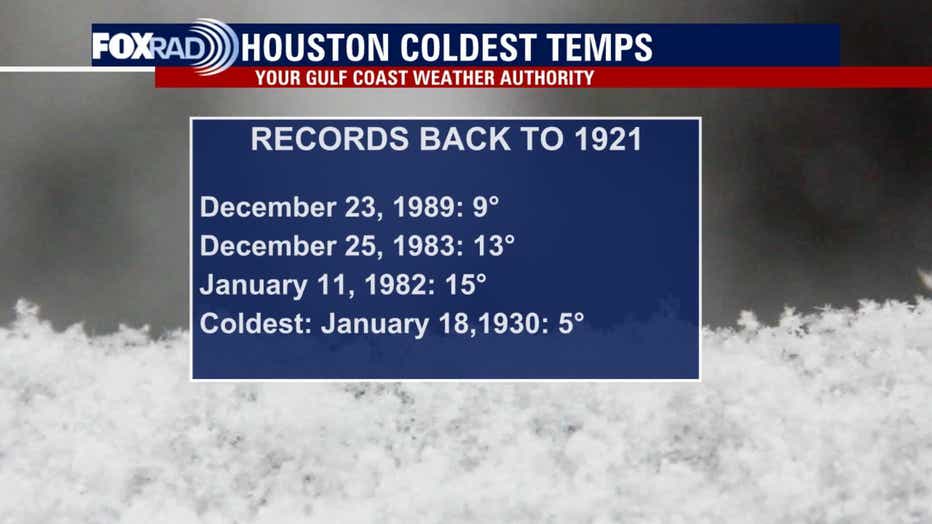 We run the risk of experiencing a hard freeze area-wide. This could be a significant freeze; one we haven't seen in years.
The last major freeze in Houston was Jan. 16-18, 2018, when the low temperatures dropped to 25, 19, and 21 degrees, respectively.
FOR THE LATEST ALERTS DOWNLOAD THE FOX 26 WEATHER APP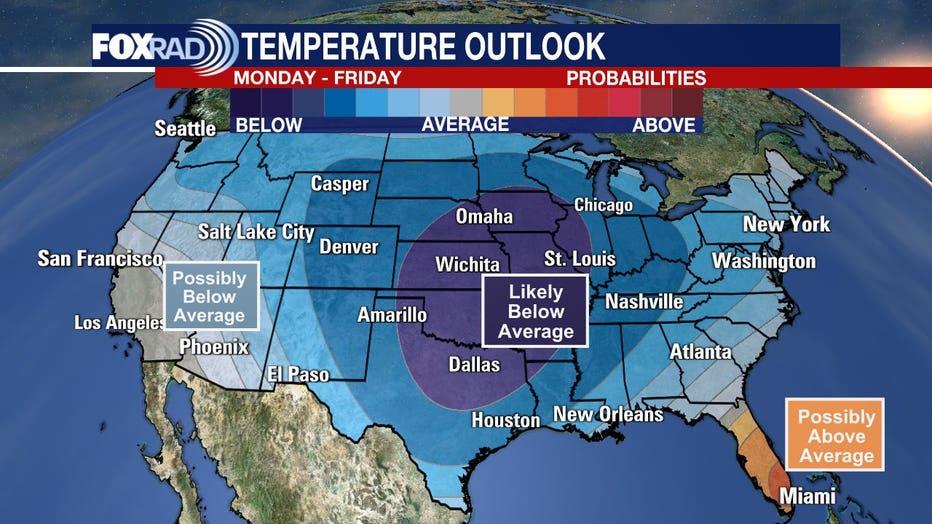 POTENTIAL DANGERS
There are several potential dangers when winter weather hits. Long periods of below-freezing weather can be hazardous for people, pets, plants, and pipes.
People and pets should stay warm and indoors. Water pipes are likely to freeze and burst, so should be treated to prevent serious damage.
Plants that aren't cold-hardy could suffer and die.
The roadways could be potentially dangerous Sunday night through Tuesday. During icy conditions, roads, bridges and elevated structures will likely be impacted.
DPS urges motorists to pay attention to quickly changing weather conditions and prepare for possible road and bridge closures.
If you must hit the roadways, there are steps you can take now to prepare your vehicle to drive in snow and ice.
On Thursday morning, winter weather in the Dallas-Fort Worth area led to the deaths of at least six people after 133 vehicles were involved in a massive ice-related wreck on Interstate 35W in Fort Worth, police said.
The pileup crash stretched for nearly a mile.
READ MORE: 6 deaths, dozens of injuries from icy wreck on I-35W in Fort Worth involving 133 vehicles
RADAR IN MY AREA