Jose Altuve returns to the Astros lineup Friday after missing first 43 games of the season
HOUSTON - Houston Astros second baseman Jose Altuve is expected to return to the lineup on Friday night against the Oakland Athletics after missing 43 games with a fractured right thumb.
Altuve was injured when he was hit by the 95.9 mph pitch in the fifth inning of a World Baseball Classic game. He underwent surgery and was placed on the injured list for two months.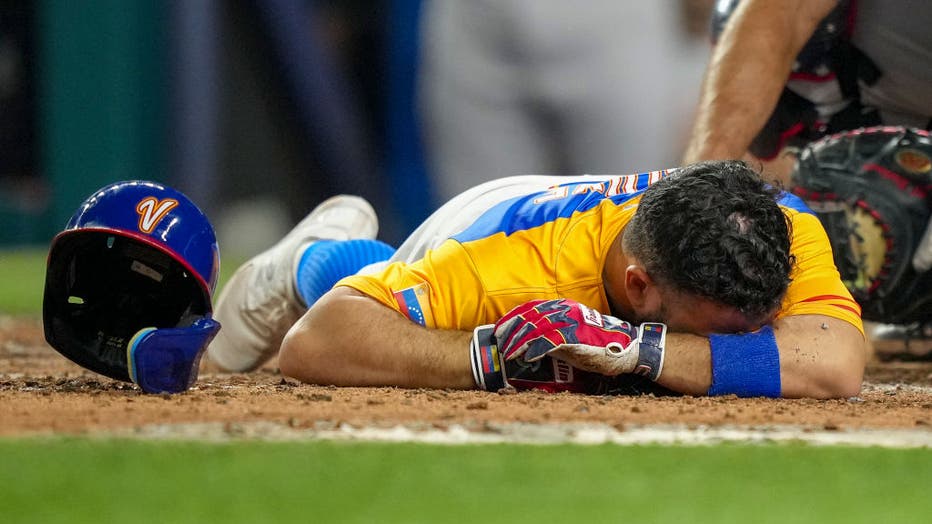 MIAMI, FLORIDA - MARCH 18: Jose Altuve #27 of Venezuela lies on the ground after being hit by a pitch during the fifth inning during a 2023 World Baseball Classic Quarterfinal game against the United States at loanDepot park on March 18, 2023 in Miam
Astros' Altuve undergoes thumb surgery after getting hit by pitch during WBC
The 2017 American League MVP hit .300 with 28 home runs and 57 RBIs in 141 games last season. He is an eight-time All-Star and a 2015 Gold Glove winner.
The reigning World Series champion Astros are currently in second place in the American League West, 2 games behind the first-place Texas Rangers. They have won 7 of their last 10 games and are currently on a 4-game win streak.
Altuve's return will be a major boost for the Astros, who are looking to make a run at the playoffs and defend their title. He is one of the best players in baseball and his presence in the lineup will be a big factor in the Astros' success.
Altuve is expected to bat second in the lineup and play second base on Friday night. He is expected to be a full-time player for the rest of the season.
DOWNLOAD THE FOX 26 HOUSTON APP BY CLICKING HERE
The Astros are excited to have Altuve back in the lineup. He is a leader on the field and in the clubhouse and his presence will be a big boost for the team.