Yordan Alvarez hits walk-off homerun to win ALDS Game 1, fan celebrating 26th birthday catches it
HOUSTON - Astros fan Dillon Harrell had a birthday he'll likely remember forever. 
Harrell's family bought tickets to Game 1 of the American League Divisional Series to celebrate his 26th birthday.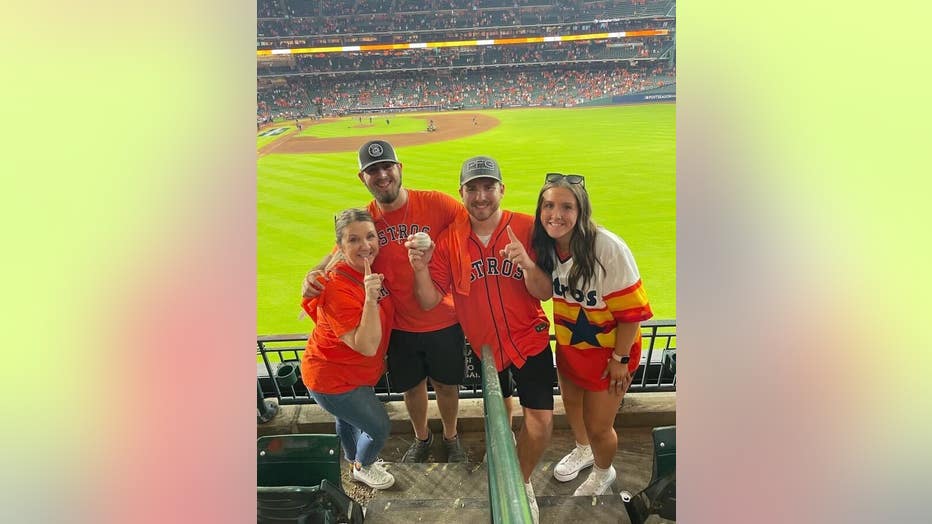 After trailing the whole game, the bats for the Astros came alive in the 8th and 9th innings. 
Alvarez hits 3-run HR vs Mariners in 9th, Astros jolt M's in ALDS
Trailing 7-5, Yordan Alvarez stepped to the plate with runners on first and second and two outs. 
On the second pitch of the at-bat, Alvarez drove a fastball deep to right field for a walk-off homerun! And guess who was right there…Dillion Harrell. 
Harrell dove on Alvarez's walk-off home run baseball. 
Harrell and his family bought seats where they thought Alvarez typically hits home runs. Turns out, they were right.
FOX 26's Matthew Seedorff caught up with Harrell, and he says that this birthday would be hard to top. 
"The guys right next to me left the inning before," said Dillon Harrell. "I feel so bad, because it hit their seat. I put my hand down like this hoping it would hit the meat of my hand. It nicked it and hit the seat. That's when I grabbed it and pulled it in."
Harrell says his sister surprised him with the tickets for his 26th birthday. She selected section 253 because she thought Yordan Alvarez might hit a home run there.
"She told me the reason she bought the tickets in the spot she did, quoting her, is because that's where Yordan likes to hit the big homers," said Harrell. "She knew."
FOLLOW THE LATEST HOUSTON SPORTS NEWS
Harrell says he plans to keep the baseball unless Alvarez chooses to take it back. If that's the case, he says he'll give the baseball back to Alvarez for free. So far, he hasn't heard from Alvarez or the Astros.
"I would love nothing more than to keep the ball and have [Alvarez] sign it," said Harrell. "But, it's his baseball. If he wants it, it's his.  I'd be open to offers, but I don't expect anything in return. Just being able to hold this ball and look at it, knowing this is a piece of Astros postseason baseball history."
Harrell says he'd offer to buy the fan who left early a beer, or lunch, if he were to find him.
"I hope you enjoyed our conversations, but man I'm glad you left," said Harrell. "Don't count the Astros out in the 9th, no matter how many outs or strikes they've got. It's not over until it's over."
Harrell also says he wasn't able to get much sleep after the game due to the excitement he still felt. 
The Astros return to action on Thursday for Game 2 of the ALDS. First pitch is scheduled for 2:30 p.m.