Travis Scott rents two screenings of 'Black Panther' in Stafford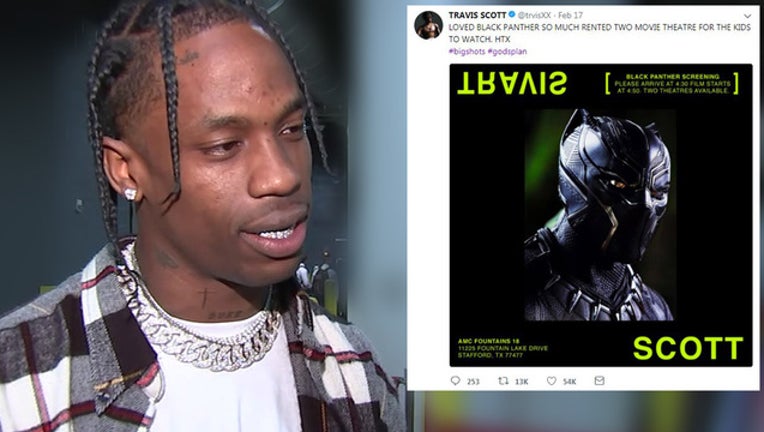 article
STAFFORD, Texas (FOX 26/AP) - Houston rapper Travis Scott enjoyed the new Marvel movie "Black Panther" so much, he rented out two movie screening in Stafford on Saturday evening so kids could watch the film.
"LOVED BLACK PANTHER SO MUCH RENTED TWO MOVIE THEATRE FOR THE KIDS TO WATCH..." Scott tweeted Saturday afternoon.
Scott shared an invitation on Twitter to the two screenings at an AMC movie theater in Stafford.
"Black Panther" reached a record-setting $192 million debut in U.S. and Canada theaters, firmly establishing the superhero sensation as a box-office landmark.
The Marvel film from the Walt Disney Co. blew past expectations to become the fifth-highest-grossing debut ever, not adjusting for inflation, following only "Star Wars: The Force Awakens," ''Star Wars: The Last Jedi," ''Jurassic World" and "The Avengers."
In estimates Sunday, Disney predicted a four-day holiday weekend of $218 million domestically and a global debut of $361 million.
Though the film's international footprint doesn't include several of the largest markets - China, Russia and Japan - it still ranks among the top 15 global debuts ever. It's also the highest-grossing February opening weekend.
The Associated Press contributed to this report.