Suspect killed in officer-involved shooting at Metro Transit Center in Houston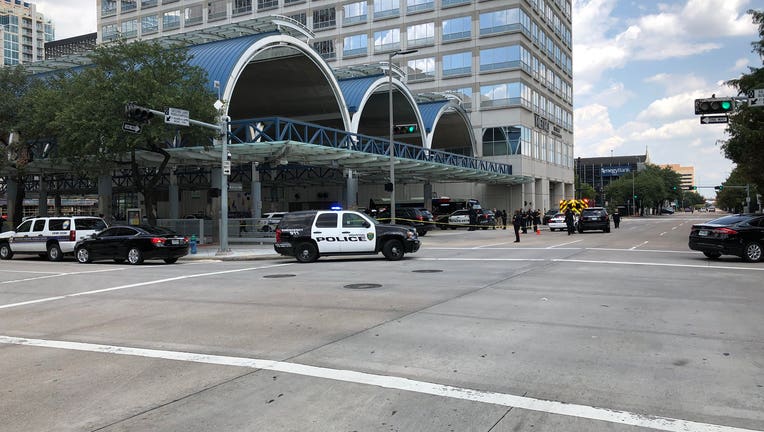 HOUSTON - A Houston police sergeant shot and killed a suspect Tuesday afternoon at the Metro Transit Center in downtown.
Police say a female security guard was taking pictures of a nightclub when a man punched her and stole her semi-automatic pistol. The man, identified as 30-year-old Ashton Broussard, ran away with the security officer's gun.
The security guard was able to flag down and alert Houston Police Sergeant G. Welch, who was walking to the bus station while off duty and in full uniform, near the 2500 block of Main Street.
Both of them chased Broussard on foot, but lost him at the Metro Transit Authority station at 1900 Travis Street.
While searching for the suspect, a witness on a bicycle told Sgt. Welch and the security guard that Broussard had gotten on a parked bus at the station and pointed him out.
The security guard entered the bus and pointed out Broussard to Sergeant Welch. The passengers were told to exit the bus and Sergeant Welch began talking to Broussard, who stated the weapon was his.
Sgt. Welch gave Broussard verbal commands not to touch the gun, which he ignored. Broussard got up, drew the weapon, and pointed it at the sergeant. That's when Welch discharged his duty weapon and struck Broussard.
Houston Fire Department paramedics responded to the scene within minutes to render aid and pronounced Broussard deceased. He was positively identified and was determined to be out on bond for escape and criminal mischief, and was wanted for felony assault on a public servant.
The shooting is being investigated by the HPD Special Investigations Unit, the Internal Affairs Division, and the Harris County District Attorney's Office.  
FOR THE LATEST NEWS & WEATHER UPDATES DOWNLOAD THE FOX 26 APPS