$75,000 reward in search for gunman who ambushed 3 deputies, killing 1
HOUSTON - A $75,000 reward is being offered for information leading to the identity, arrest, and charges of a suspect who ambushed three Precinct 4 Harris County Constables deputies, killing one of them.
Houston Police Department made the announcement on Wednesday.
Crime Stoppers is offering $10,000, Tilman Fertitta added another $40,000 and an anonymous donor gave $25,000.
MORE DETAILS: 3 officers shot, 1 killed during apparent ambush in north Harris Co.
The shooting over the weekend took the life of Deputy Kareem Atkins and injured Deputies Darrell Garrett and Juqaim Barthen.
The three constable deputies were working extra jobs at 45 Bar and Lounge on the North Fwy when a witness told them of a possible robbery.
The officers then tried to intervene in the alleged robbery when they were ambushed and shot from behind by a suspect armed with an AR-15 rifle.
RELATED: Manhunt continues for gunman that shot 3 deputies, killing one of them
Deputy Barthen, a 2-year veteran, was released from the hospital on Wednesday after being treated for a gunshot wound in the foot and non-life-threatening injuries.
Meanwhile, Deputy Darrell Garrett, 28, remains hospitalized after being shot in the back.
Precinct 4 asks the public to "continue to keep Deputy Darryl Garrett and his family in your prayers as he remains hospitalized and the family and loved ones of Fallen Deputy Kareem Atkins."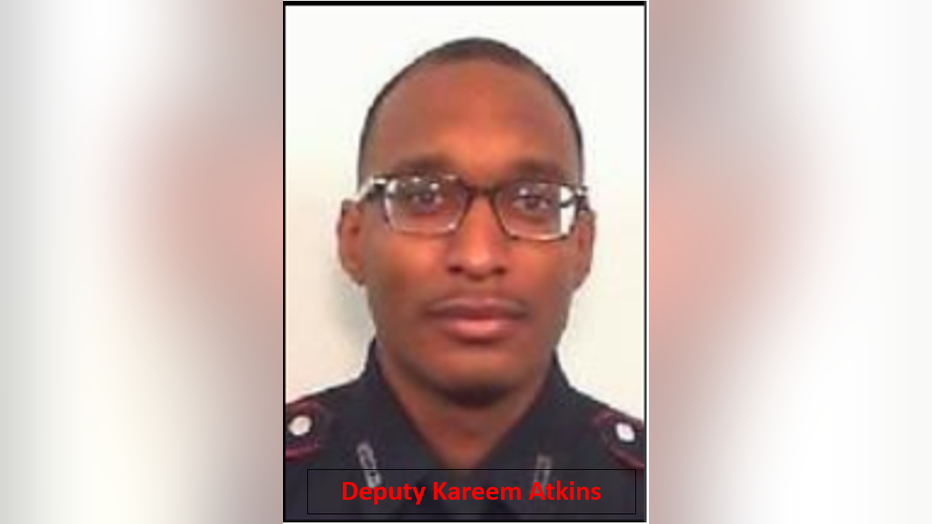 Deputy Kareem Atkins (Photo: Harris Co. Pct. 4 Constable) 
RELATED: Visitation, funeral services scheduled for Constable Deputy Kareem Atkins