Pup who suffered burn injuries now K-9 for State Fire Marshal's Office
Talk about turning tragedy into triumph, a dog who suffered burn injuries as a pup now works with the State Fire Marshal's Office as an arson investigator. 
It was almost like fate for Harley, according to the Texas Department of Insurance (TDI) to become a K-9. Her story started when she was just 3 weeks old and a heat lamp burst into flames in her kennel.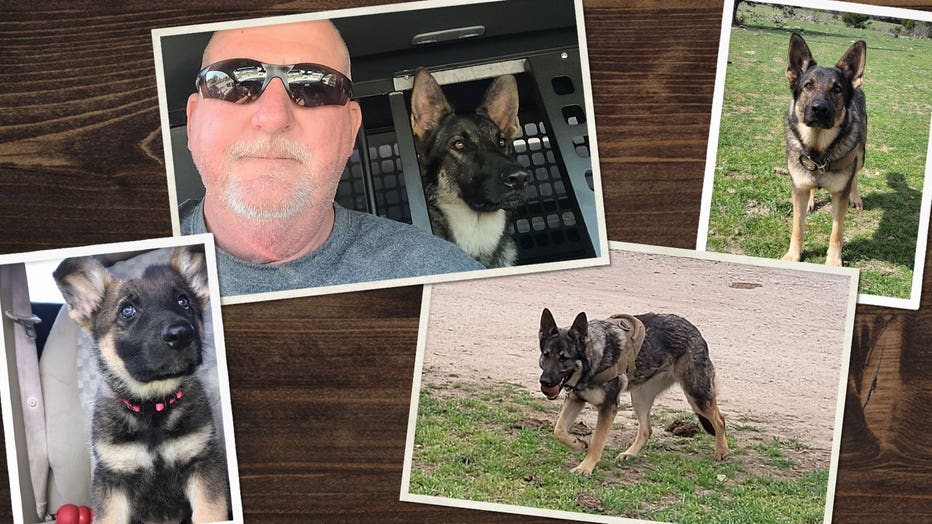 (Photo courtesy of Texas Department of Insurance)
Harley's mother "barked for help until the owners came to rescue her puppies" and didn't notice the German shepherd was stuck between a kennel and a fence until the flames were extinguished. She was the only pup hurt in the fire. 
SEE ALSO: Harris County police K-9 named after Mattress Mack
While Harley was getting treated for her burns, the owners reached out to Tommy, a friend and lieutenant with the Fire Marshal's Office about adopting her as a family pet. She turned out to be quite a handful. 
"She was like: Here, throw this toy; here, throw it again. She was always wanting to play," Tommy told the TDI. "She was always wanting to work."
He already owned a dog, Clear, his K-9 partner, who helped investigate with the Fire Marshal's Office sniffing out accelerants to learn what caused a fire. However, Tommy quickly noticed Harley had some qualities that might make her a good K-9 partner. 
"When you can leave a toy in the pasture for a week, and she can go search for 15 minutes and find it, you think," Tommy said. "Dog, you might have something here."
This was also coming on the heels of Clear getting older; he was 11 when Harley was 2-years-old. After proposing the idea to his captain, Tommy was able to begin training Harley in 2021 and three months later, they were certified as an "accelerant detection K-9 team."
DOWNLOAD THE FOX 26 HOUSTON APP
Handlers across Texas have been impressed with Harley and her ability to "sniff out" what causes a fire. 
"She puts her nose on a source and lays down as flat as she can and holds still, waiting for a command to come get her toy," said Tommy. "She really gets into her work."
Despite Harley's experience as a pup, she has fully recovered from the injuries she suffered and also seems to have moved on entirely. 
"She's done with that," Tommy concluded. "She has other things to do."
Learn more about the TDI and Harley's story by clicking here.