Pres. Obama commutes sentences for 22 federal prisoners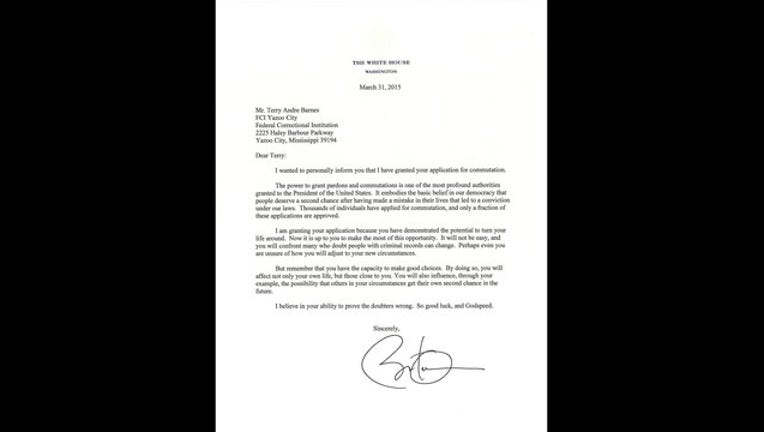 In a decision referred to as "Upholding the Principle of Fairness in Our Criminal Justice System Through Clemency," President Barack Obama has commuted the sentences for 22 people who were in federal prison custody.
The White House released the following statement on Tuesday:

Building on his commitment to address instances of unfairness in sentencing, President Obama granted 22 commutations today to individuals serving time in federal prison. Had they been sentenced under current laws and policies, many of these individuals would have already served their time and paid their debt to society. Because many were convicted under an outdated sentencing regime, they served years — in some cases more than a decade — longer than individuals convicted today of the same crime.
In total, the 22 commutations granted today underscore the President's commitment to using all the tools at his disposal to bring greater fairness and equity to our justice system. Further, they demonstrate how exercising this important authority can remedy imbalances and rectify errors in sentencing. Added to his prior 21 commutations, the President has now granted 43 commutations total. To put President Obama's actions in context, President George W. Bush commuted 11 sentences in his eight years in office.
To further this progress, the President has established a clemency initiative to encourage individuals who were sentenced under outdated laws and policies to petition for commutation. At his direction, significant reforms have followed, such as the promulgation of new criteria for potential commutation candidates to meet, including those who pose no threat to public safety, have a clean record in prison, and have been sentenced under out-of-date laws. In addition, the Department of Justice has raised awareness about how to petition for commutation to ensure that every federal inmate who believes they are deserving of this invaluable second chance has the opportunity to ask for it.
Underscoring the responsibility that a commutation brings, the President penned a letter to each of the 22 individuals receiving clemency today, recognizing their potential to overcome the mistakes they made and encouraging them to make good choices moving forward.
While today's announcement represents important progress, there's more work ahead. The Administration will continue to work to review thoroughly all petitions for clemency. And, while commutation is an important tool for those seeking justice and fairness in our penal system, it is nearly always an option of last resort, coming after a lengthy court process and many years behind bars. That is why President Obama is committed to working with Democrats and Republicans on sensible reforms to our criminal justice system that aim to give judges more discretion over mandatory minimum sentencing. As the Department of Justice has noted, mandatory minimum sentences have at times resulted in harsher penalties for non-violent drug offenders than many violent offenders and are not necessary for prosecutions at this level.
Already, one significant reform has become law. In 2010, the President signed the Fair Sentencing Act, which reduced the disparity in the amounts of powder cocaine and crack cocaine required for the imposition of mandatory minimum penalties. The President is encouraged by the bipartisan support for improving our criminal justice system, including promising legislation that would implement front-end changes in sentencing. In addition, he supports bipartisan efforts to provide back-end support through better education and job training for those currently incarcerated and to reform of our juvenile justice system to build on the significant reductions in the number of youth being held in secure facilities.
Ensuring fairness in our criminal justice system will require ongoing efforts to invest in the types of programs that help prevent individuals from turning to crime, like education and jobs, as well as changes to our sentencing laws to ensure that the punishment really does fit the crime. As we work to make those improvements, the President will continue to use his clemency authority in certain instances where justice, fairness, and proportionality demand it, and to give eligible and worthy individuals who have paid their debt to society a chance to contribute in meaningful ways.