'Pocket Square Pillager': 'Sharp dressed' man suspected in 2 Houston bank robberies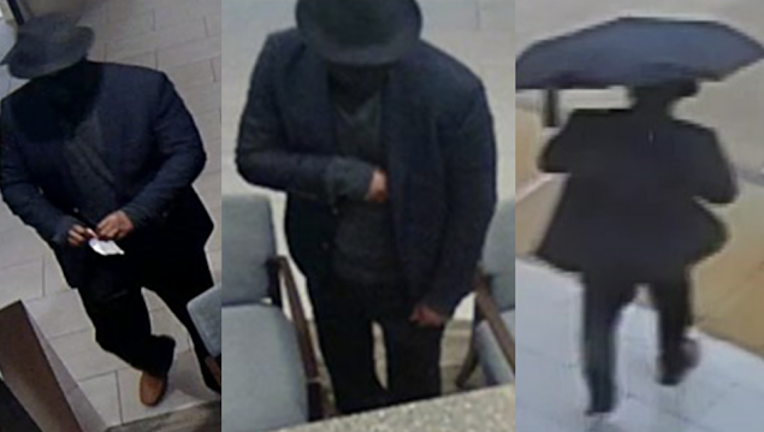 article
HOUSTON - Police are searching for a "sharp dressed" man suspected in two robberies at Houston banks this month.
The Houston Police Department released photos and a video of the man – with a dark sports jacket, dark pants, dark blue mask and black umbrella. They are asking for the public's help to identify him.
MORE: 'High-heeled hijacker' Houston robbery suspect facing multiple charges
According to HPD, one robbery occurred at a bank in the 1700 block of Fountain View on Jan. 24. Police say the man entered the bank around 2 p.m., walked up to an employee and presented a threatening note demanding cash.
Authorities say he gave the worker a bag to put cash in and displayed a handgun. The employee put the money in the bag, and the suspect fled in an unknown direction, police say.
According to police, the same suspect is believed to be responsible for another bank robbery on Jan. 5 in the 5800 block of San Felipe. Police say the suspect used a demand note and displayed a handgun during the robbery.
FBI Houston has dubbed the suspect the "Pocket Square Pillager".
The suspect is described only as a Black male, around 35 to 45 years old, around 200 pounds, and about 5'9" to 5'11" tall.
MORE: 'Big Shades Bandit' arrested by FBI for multiple bank robberies in Houston
Crime Stoppers may pay up to $5,000 for information leading to the identification, charging and/or arrest of the suspect in this case. Information may be reported by calling 713-222-TIPS (8477), submitted online at www.crime-stoppers.org or through the Crime Stoppers mobile app. Only tips and calls directly to Crime Stoppers are anonymous and eligible for a cash reward.