More than 32K customers still without power after Nicholas
HOUSTON - Hundreds of thousands of customers were left without power on Tuesday as Nicholas moved across Southeast Texas, and utility companies are still working to restore electricity to some.
CHECK THE LATEST RADAR AND TROPICAL WEATHER FORECAST
At one point on Tuesday morning, more than half a million customers were experiencing outages. That number dropped to about 115,000 by Tuesday night, and about 53,000 still didn't have power on Wednesday night.
OUTAGE TRACKER
Here are the latest power outage numbers as of 5:20 p.m. Thursday: 
- CenterPoint Energy is reporting 26,346 customers without power.
- Entergy Texas is reporting 1,160 customers are currently without power.
- Texas-New Mexico Power reports 622 Outages affecting 5,062 customers.
RESTORATION EFFORTS
Centerpoint Energy says they have made significant progress restoring power to affected customers in the Greater Houston area and surrounding communities.
At 10:30 a.m. Wednesday, the company said they had restored service to more than 380,000 electric customers, down from a peak outage count of 460,000 at 8 a.m. Tuesday. By Thursday morning, they reported less than 40,000 customers without power.
In a statement on Tuesday morning, CenterPoint Energy said its crews had begun their damage assessment and service restoration process. The company said electric system assessments would be completed Wednesday, and they expected outage numbers to continue to decline.
CenterPoint Energy expected to have the majority of the remaining customer outages restored by the end of the day Wednesday, and isolated outages should be restored by the end of the week.
RELATED: After the storm, utility companies work to restore electricity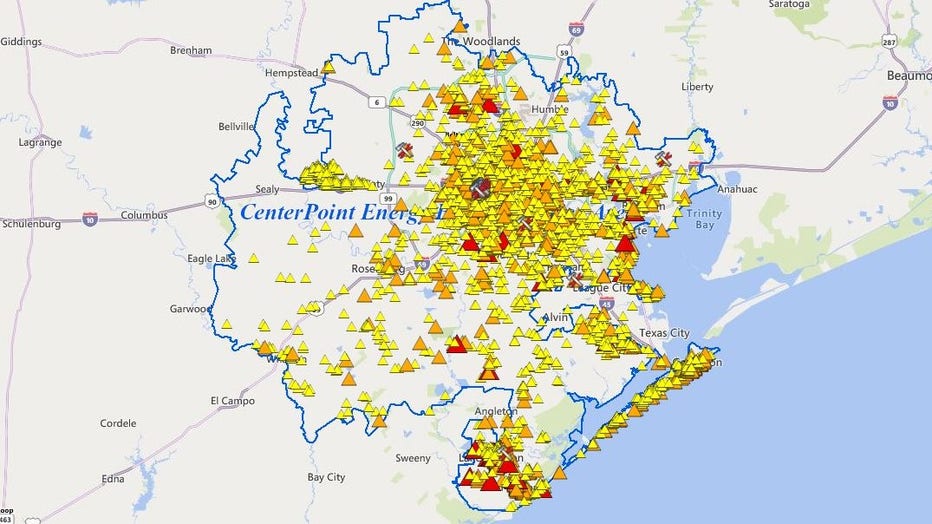 CenterPoint Energy said Tuesday that the restoration process would begin with facilities vital to safety, health and welfare, such as hospitals, water treatment plants, and public service facilities before moving on to other customers.
The company requested help from its electric utility mutual assistance program to assist with restoration efforts, which includes access to thousands of linemen and tree trimmers.
Meanwhile, CenterPoint Energy said customers do not need to call to report outages, but should call if they smell natural gas or see a damaged line.
CenterPoint Energy says the storm may have caused damage to customer-owned equipment, such as their meter box or weatherhead – the point where the line enters the home through a pipe. In those cases, customers will need to contact a qualified electrician to make sure the damage is repaired before the company is able to restore service to them. 
Ahead of landfall, ERCOT, the Electric Reliability Council of Texas, which manages the flow of electric power to more than 26 million Texas customers, was preparing the grid to maintain reliability in the face of severe weather conditions.
In a statement, ERCOT said power outages caused by the storm "will most likely be at the local distribution level. Local outages can be caused by factors ranging from high winds toppling power poles to tree limbs falling on power lines."
DOWNLOAD THE FOX 26 WEATHER APP FOR THE LATEST ALERTS IN YOU AREA