LEADING OFF: Houston Astros gear up for strong defense for Game 4 of ALCS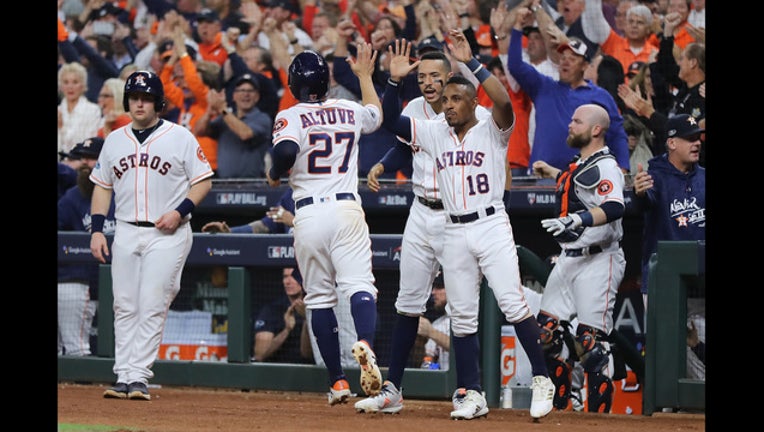 HOUSTON, TX - It was heartbreaking loss for the Houston Astros in Game 3 of the ALCS last night after the Red Sox defeated Astros 8-2.  They may be down in the series, but the Astros get another chance at the Red Sox tonight in Game 4 at 7:39 pm, home field advantage at  Minute Maid Park.
A look at what's happening around the majors today: 
SPYGATE, THE SEQUEL
The Houston Astros might find themselves defending more than their World Series title. The champions are under scrutiny after Cleveland filed a complaint to Major League Baseball about a man associated with Houston attempting to film in the Indians' dugout during Game 3 of the AL Division Series last week, according to a person familiar with the situation. The person spoke to The Associated Press on condition of anonymity Tuesday night because of the sensitivity of the matter. MLB also says it is aware of a report by Metro Boston that a man claiming to be an Astros employee was removed from a credentialed area near the Red Sox dugout during the AL Championship Series opener at Fenway Park.
In a statement, MLB said the matter "will be handled internally" and offered no other details.
Astros manager AJ Hinch was questioned about the Metro report following Tuesday's game and said he was aware of the alleged incident but said he hadn't been briefed. He's certain to be asked again, especially since the Indians' complaint was not reported until after Hinch had finished his postgame remarks.
LAST LOOK?
Clayton Kershaw starts Game 5 of the NL Championship Series at home against Milwaukee in what could conceivably be his final outing in a Los Angeles Dodgers uniform. The three-time Cy Young Award winner can opt out of the last two years and $70 million remaining on his contract after the World Series. Dodgers ownership has made it clear the team would like its longtime ace to stay. "I have not made a decision," Kershaw said Tuesday. The 30-year-old lefty acknowledged after his last regular-season start that he had considered the possibility of it being his last go-round with the Dodgers, the only team he's played for during his big league career. Wade Miley pitches for Milwaukee on three days' rest, with the best-of-seven series tied at two games apiece. "For me it's just trying to focus as much as I possibly can on the Brewers and getting ready," Kershaw said, "and putting everything else on the back burner as best I possibly can."
EXTRA REST
Houston hopes Charlie Morton won't be too rusty when he makes his 2018 playoff debut in Game 4 of the AL Championship Series against Boston. Morton, who spent time on the disabled list late in the year with shoulder discomfort, hasn't pitched since the regular-season finale Sept. 30. Rick Porcello starts for the Red Sox after appearing in relief in Game 2. Boston leads 2-1 after a grand slam by Jackie Bradley Jr., his second big hit in the series, broke open an 8-2 victory in Game 3.
GETTING DIRTY
Tensions could be on the rise in the NLCS after Dodgers slugger Manny Machado stepped into trouble again Tuesday night. Both benches emptied after Machado clipped the back leg of Milwaukee first baseman Jesus Aguilar while running out a groundout in Game 4. Aguilar left his foot on the base for a moment after Machado was already out, and the star shortstop appeared to show his displeasure by bringing his left foot forward and kicking Aguilar on the back of the leg. Aguilar looked annoyed and the two exchanged words, but no punches were thrown. "He's a player that has a history of those types of incidents," Brewers outfielder Christian Yelich said about Machado. "It's a dirty play by a dirty player." Aguilar, however, said the two talked it out after Machado singled in the 13th inning. "We're family. Things happen," said Machado, who scored the winning run moments later. "He's a great guy. We go way back since the minor leagues."
HELP WANTED
Milwaukee is expected to add a new arm for the rest of the NLCS after starter Gio Gonzalez left Game 4 in the second inning when he twisted his ankle trying to field Yasiel Puig's infield single. Gonzalez has a high ankle sprain and it's likely he'll need to be replaced on the roster, manager Craig Counsell said. Following the injury to Gonzalez, the Brewers burned through much of their bullpen during a 2-1 loss to the Dodgers in 13 innings. "We'll have to kind of put our heads together and look at what we've got," Counsell said. "We're in a little bit of a tough spot, for sure."
----------------------
ALCS CHAMPIONSHIP GAMES FOR ASTROS/RED SOX: 
Game 4---Wednesday, Oct. 17 in Houston at 7:39 p.m.

Game 5 if necessary---Thursday, Oct. 18 in Houston at 7:09 p.m. 

Game 6 if necessary---Saturday, Oct. 20 in Boston at 4:09 p.m.

Game 7 if necessary--- Sunday, Oct. 21 in Boston at 6:39 p.m
___
More AP MLB: https://apnews.com/tag/MLB and https://twitter.com/AP_Sports