Ke'Bryan Hayes, son of Charlie Hayes, follows father's footsteps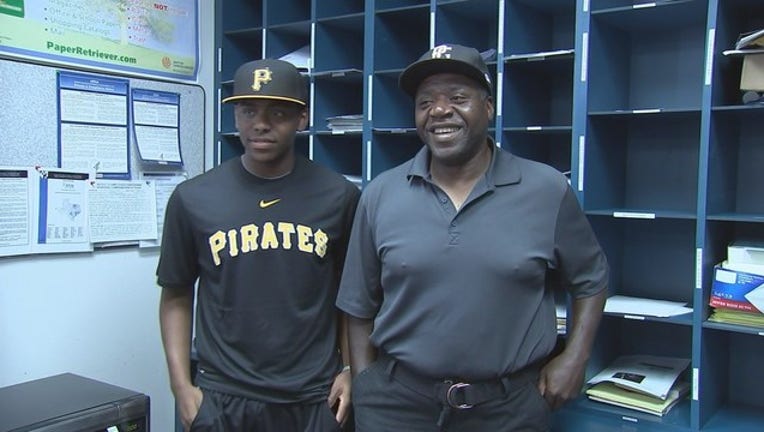 As far as he can remember, from the time he was four or five years old, Ke'Bryan Hayes wanted to be a baseball big leaguer.
Ke'Bryan wanted to be just like his dad, Charlie Hayes, who was a veteran of Major League Baseball for 14 seasons with seven different clubs.
Monday was a large step in that direction. With the 32nd overall pick, the Pirates drafted Ke'Bryan, a third baseman just like his father, from Concordia Lutheran High School out in Tomball.
"Whenever I got that phone call, a burden just flew off my chest," Ke'Bryan said. "Just being able to say I got drafted is very honoring.
"The Pirates are a good baseball club and history shows it," he continued. "Just to be able to wear the same major league ballclub team that my dad wore is really special and hopefully, I can get up there to the major leagues."
The Pirates indeed were one of the teams Charlie Hayes played on during his big league career. It was an unbelievable moment for a father, proud of his kid.
"I haven't cried in a long time and yesterday, I cried," the elder Hayes said. "I don't like telling people that because I think I'm very manly, but I cried yesterday - several times, even before they started the draft.
"I love the kid, man," Charlie Hayes continued. "I get emotional talking about him because I remember at seven or eight years old, he would hit home runs and he would fall coming around the bases and everybody would be jumping up and down. Me, standing back there understanding baseball, (I) was thinking, 'What am I going to do to stop my kid from falling?' He's been blessed. Everything has worked out up until this point. I'm excited for him to start the next chapter of his life. I think he's ready."
Ke'Bryan batted .436 this season with a 1.253 OPS in helping lead Concordia Lutheran to the TAPPS 5A state title. He was committed to play his college baseball at Tennessee, but being drafted in the first round has changed things. Ke'Bryan tells FOX 26 Sports he's now focusing on getting that contract signed and going wherever the Pirates send him to start his professional career. It's the culmination of countless swings in the batting cage, countless hours spent honing his craft.
"One thing that remained consistent was his work ethic," Charlie Hayes said. "No matter if he did good or bad, he always showed up to work. He took it seriously.
"He's going to make it," the proud father continued. "I got him to understand a long time ago that when you compete against others, you become bitter. When you compete against yourself, you become better. And he bought into it, so that's where we're at."
"It's just crazy, it's surreal, it's a dream come true," Ke'Bryan said. "I just want to thank the Pirates for giving me this chance and drafting me in the first round. It's awesome."