Jeremy Peña at Raising Cane's: Houston Astros star works drive-thru Monday
HOUSTON - Fans had already been waiting for hours to meet Houston Astros star Jeremy Peña, who was working the drive-thru window at Raising Cane's on Monday.
Peña was at the restaurant located at 7009 Gulf Freeway starting at noon, just in time for lunch. He became the first rookie position player to win a World Series MVP award. Peña also won a Gold Glove and was the AL Championship Series MVP.
The 25-year-old shortstop became the first hitter to win those three prizes in a career, according to OptaSTATS — and he did it all in his rookie season.
RELATED: Astros fan waits 36 hours in line to meet Jose Altuve following her final cancer treatment
Long before Astros Shortstop arrived to an enormous, excited crowd at Raising Cane's, fans actually began flocking to the chicken finger fast food shop hours before, some as early as noon the previous day.
 "We just wanted to be the first ones here. We were the first ones at the Astros parade and wanted to be the first ones here," smiled Nathan Doyle and his girlfriend Skylar Horn.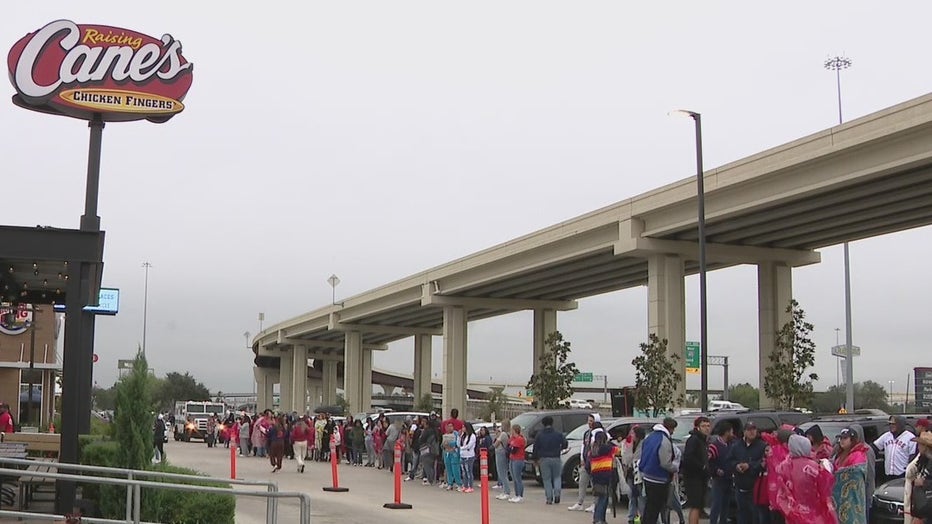 Fans lined up to see Jeremy Peña at Raising Cane's (Photo: FOX 26 Houston
"It's not every day where you're five feet away from an ALCS World Series MVP. So, to be this close to a guy of this caliber it's pretty awesome," said Adrian Verde. 
"I asked him (Pena) for a handshake, and he said yes," said mega fan Daniela Gulmar. 
Some asked for other things like "Will you go to prom with me" read one girl's sign and another lady held a giant heart with the words "Por tu, me divorcio". Translations? "For you, I'll get a divorce" and everyone wanted to see the superstar's signature hand-heart gesture.
And of course, Peña could not be happier seeing his fans. 
"I mean it's awesome," he said smiling. "We love doing things like this where we can connect with the fans."
As for his first and last day on the job at Cane's? 
"It was tough. I don't know how they do it," Peña said.  
Several other Houston Astros stars have been meeting fans following the team's World Series victory.
RELATED: Yordan Alvarez, Kyle Tucker, Cristian Javier meet with fans
Yordan Alvarez, Kyle Tucker, Cristian Javier, Jose Altuve and Alex Bregman held autograph sessions and meet-and-greets at Academy Sports + Outdoors and DICK'S Sporting Goods locations in the Houston area last week.
The Associated Press contributed to this report.