Hunt for suspect in Paris attacks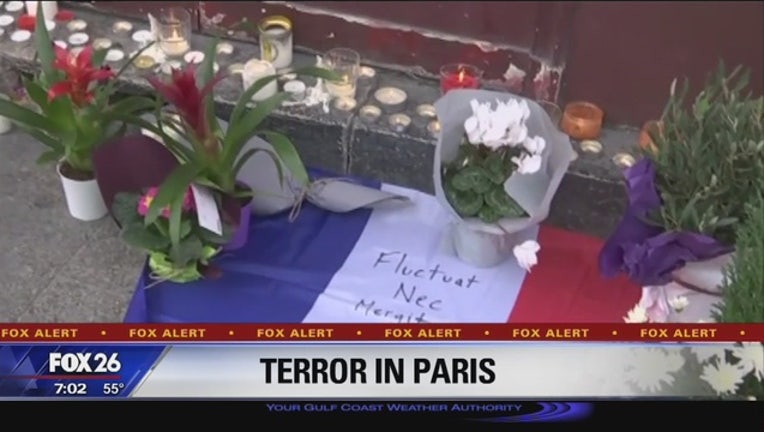 PARIS (AP) — French security officials say a manhunt is underway for a French man believed to have been directly involved in Friday's attacks in Paris. One official says the man rented a black Volkswagen used by the attackers who killed at least 89 people inside a concert hall. The official says one brother of the man being sought died in the attack and another brother has been arrested in Belgium.
PARIS (AP) — Investigators say three of the suicide bombers killed in the Paris attacks were French citizens, and so was at least one of the people who've been arrested in neighboring Belgium. A French police official says a suicide attacker identified by a skin sample had been living in a Paris suburb. A Belgian official says two of the suicide bombers were French men living in Brussels, and another French citizen has been arrested there for possible links to the Paris attacks.
PARIS (AP) — Former French president Nicolas Sarkozy is calling for a change in France's Syria policy and suggests working with Russia to "destroy" the Islamic State group. The conservative leader says "there can't be two coalitions in Syria." He spoke after meeting with French President Francois Hollande (frahn-SWAH' oh-LAWND'). France is part of the U.S.-led coalition that has been striking IS targets in Syria and Iraq for the past year.
JERUSALEM (AP) — Israel's prime minister is calling on the world to "wake up" to the threat of Islamic extremism after Friday's deadly attacks in Paris. Benjamin Netanyahu told his Cabinet that the world must join forces to confront the threat. He said the world should condemn deadly Palestinian attacks against Israelis the way it condemns attacks elsewhere. He also urged Palestinian President Mahmoud Abbas, who condemned the Paris attacks, to speak out against attacks on Israelis.
UNDATED (AP) — The head of the world's largest body of Muslim nations has condemned the terrorist attacks in Paris. The secretary-general of the Saudi-based Organization of Islamic Cooperation says the group firmly rejects terrorist acts that violate the right to life and seek to undermine the "values of freedom and equality." Sunni scholars with the Muslim World League in Mecca also condemned the attacks.