Houston-area mom pushes to get AED's in all schools to save lives from cardiac arrest
HOUSTON - October is Cardiac Arrest Awareness month, and a local mom wants to make sure you understand what that means and how to help save a life. She lost her teen son to the condition and has joined forces with Texas Children's Hospital to help make all Houston schools "heart safe."
Cody Stephens from Crosby was about to head to college on a football scholarship. His parents thought he was incredibly healthy, when the unthinkable happened to their high school senior.
"One Sunday afternoon, he sat down on the recliner, fell asleep, and never woke up. We found out that he had a sudden cardiac arrest and that was really the first time I'd ever even heard of that. He'd had all of his sports physicals and passed, and we never had any clue he had any kind of underlying heart condition, that could cause this," says Cody's mother, Melody.
CLICK HERE FOR MORE STORIES FROM MELISSA WILSON
The tragedy of sudden loss of life from cardiac arrest has happened to many families. Ten out of 100,000 children are at-risk of cardiac arrest and not just athletes.
"It's a condition where you have a sudden death and someone who was previously healthy, and it's usually with a terminal arrhythmia as their final event, and most likely something called ventricular fibrillation, whereas when the bottom chambers of the heart are squeezing in a matter that's too fast to be able to pump blood effectively to sustain life," explains Dr. Santiago Valdes, a Pediatric Cardiologist at Texas Children's Hospital.
After suddenly and unexpectedly losing her son, Melody and her husband decided to speak out to help spare other families a similar tragedy. Most cases don't happen during sleep, like Cody.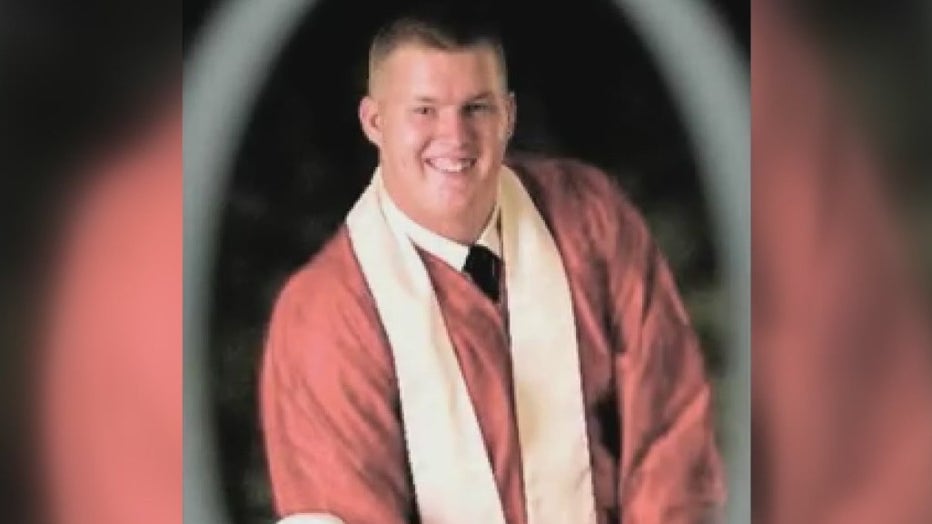 Cody Stephens was a teenager who died in his sleep of sudden cardiac arrest. His family is now working to make sure this doesn't happen to anyone else's child.
"The majority of cardiac arrest cases happen when someone is active, and so we want people to recognize and know what to do, know how to do CPR, know where and what an AED is and how to use it," states Melody.
An AED is an automatic external defibrillator that analyzes the heart rhythm in people who are experiencing cardiac arrest. Then, it delivers an electrical shock to restore the heart's normal rhythm.
RELATED: Heart tips on World Heart Day
Melody and her family joined forces with the national organization "Project Adam" to make sure schools have AEDs.
"They partner with children's hospitals, and it started in Wisconsin in 1999 with a kid named Adam that collapsed in a school gym, and they didn't have an AED, so his parents started Project Adam, by just placing AEDs in schools," says Melody.
This program can even help Houstonians.
About 60 students in the Houston area have the potential to face cardiac arrest every year. Texas Children's Hospital is at the forefront of this awareness campaign to work with local schools and help save students from cardiac arrest. Dr. Santiago Valdes says solid help for cardiac arrest has to take place before a patient reaches the hospital.
"When they come to Texas Children's, we manage their last part of the chain, the access to high-level quality care with all the necessary equipment from heart to lung machines and all the specialists, but any chain is only going to be as strong as its weakest link! If there's not early recognition at the beginning, when there's a cardiac arrest that happens, that people recognize it, start high quality CPR early-on and defibrillate early, it doesn't matter how good we are at the tail end of it, it's not going to help their survival," explains Dr. Valdes.
RELATED: Houston's first mobile stroke unit now helping local patients
Dr. Valdes and Melody hope every school, from elementary to high school will become heart ready and heart safe.
"We want a site coordinator at each campus, we want to have a plan for each campus of what their cardiac response is going to be, and we want them to do an all-staff awareness training, so that the whole staff knows how to recognize one if it happens in their classroom. Then we want to have a team of responders, so it's not just the nurse who knows where the AED is, or how to use it or how to do CPR, we have a team," says Dr. Valdes.
They have 100 schools in Houston working on this life-saving project. The goal is for schools to also do drills and have plenty of signs pointing to the AED's, plus signs that share steps about how to help someone in distress of cardiac arrest.
The Stephens family has worked tirelessly on other ways to help, including the years it took to get House Bill 76 to pass, named after Cody's football number.
Cody's Law allows parents to decide if their child should be screened for the #1 killer of student athletes, by adding an inexpensive heart test, an ECG, to their physicals, to better assess heart health.
RELATED: Houston Astros players back local boy with complicated brain tumor
This screening program has saved more than 113 lives since Cody died. Now the Stephens hope and know this latest awareness project, using AEDs, will save even more young lives.
Dr. Valdes says patients sometimes don't have any symptoms leading up to cardiac arrest. Cody had high blood pressure only one time and complained of fatigue, but that's often typical of a football player, so any signs can be misleading.
Other signs might be chest pain or discomfort, heart palpitations, shortness of breath, dizziness, or fainting. A family history of sudden cardiac disease should also be a red flag.
Cody's 28th birthday would have been today, October 21st.
For more information, visit Cody Stephens Foundation and/or Project Adam.