Severe weather moves out of Houston area
HOUSTON - The severe weather that blew through the Houston area brought up to 4 inches of rain along with high winds and incredible lightning.
The storms that moved across Texas produced large hail, damaging winds, and tornadoes in some areas.
Tornadoes were reported in North and Central Texas, leaving behind significant damage Monday afternoon.
MORE: Tornadoes reported in North Texas, leaving signifcant damage to homes, schools
In the North Texas city of Jacksboro, nine people were injured, and significant damage was let at the schools.
Classes are canceled for the remainder of the week in the Jacksboro ISD.
In Bowie, a tornado flattened homes and destroyed several buildings. At least four people had to be rescued from the destruction.
Luckily, no injuries were reported.
MORE: Multiple tornadoes cause damage across Central Texas
Throughout Central Texas, several tornados were confirmed on the ground Monday evening.
In Round Rock a tornado was spotted in the parking lot of a Walmart, spinning debris around and dragging people.
WATCH: Video captures tornado ripping through Texas Walmart parking lot
A confirmed tornado reportedly touching down in Snook, which is near College Station.
And further north, in the city of Madisonville, located just under 100 miles of Houston, many residents were left without power and storm damage. Just after 9:30 p.m., the National Weather Service warned that a tornado was on the ground there.
MORE: Power outages, storm damage after tornado reported in Madisonville
CLICK HERE FOR CONTINUOUS WEATHER COVERAGE
Tornado Warning vs. Tornado Watch
Areas in North, Central and Southeast Texas remain under a Tornado Watch with Tornado Warnings popping up in different parts of the state as the storm blows through.
What is the difference between a Tornado Watch and a Tornado Warning issued by the National Weather Service?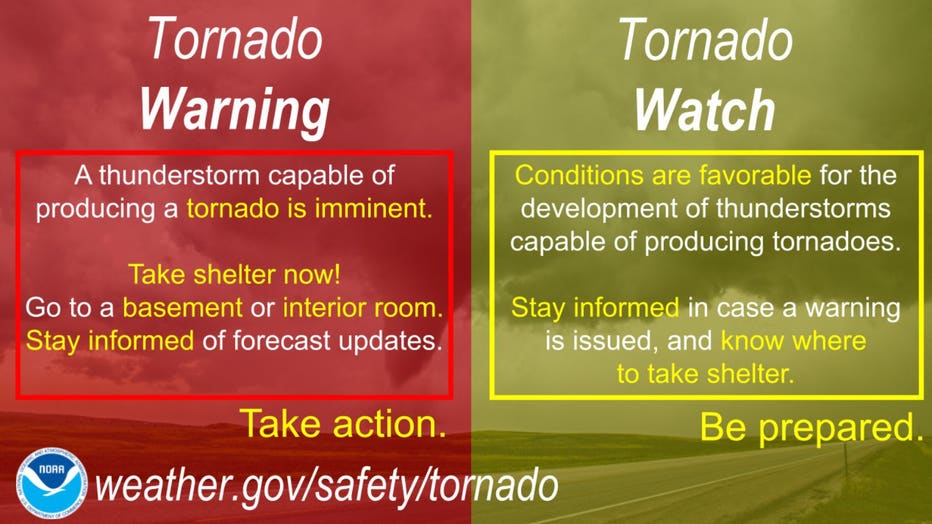 Tornado Watch: Be Prepared! Areas under a watch are experiencing conditions that are favorable for possible tornadoes. The watch area is typically large, covering numerous counties or even states. Watches are issued by the Storm Prediction Center for counties where tornadoes may occur.
Tornado Warning: Take Action! A warning is issued when a tornado has been sighted or indicated by weather radar. There is imminent danger to life and property. Warnings are issued by your local forecast office. Warnings typically encompass a much smaller area, like the size of a city or small county, that may be impacted by a tornado identified by a forecaster on radar or by a trained spotter/law enforcement who is watching the storm.
Future Houston-area forecast
The positive news is that once the cold front moves through around midday Tuesday, our weather will look amazing: sunny and dry for the rest of the week.
FOX 26 Meteorologist says the Houston-area is in for a series of clear and cool nights along with sunny, dry days. 
We'll have lows in the 40s and highs in the 70s with low humidity.
You can also stay up-to-date 24 hours a day by downloading the free FOX 26 weather app. You'll receive weather alerts for your location, along with video weather updates.