Harris County suing State of Texas over election bills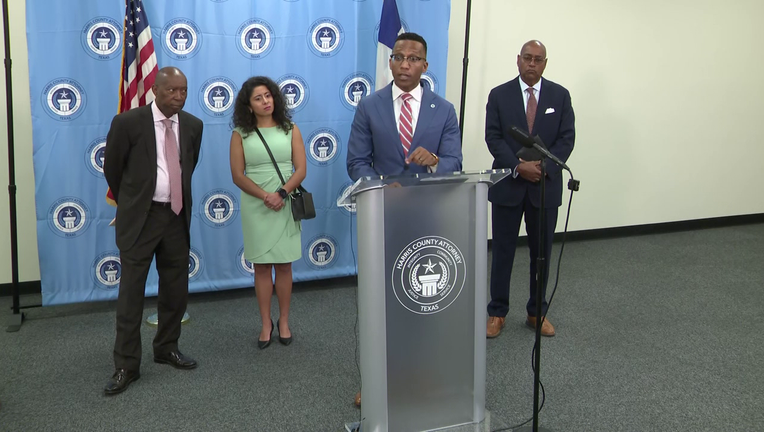 article
HARRIS COUNTY, Texas - Harris County Attorney Christian D. Menefee announced on Wednesday that the county will be suing the state regarding two Senate bills. 
Menefee was joined by Harris County Judge Lina Hidalgo, Houston Mayor Sylvester Turner, and Harris County Commissioner Rodney Ellis regarding Senate Bill 1750 and Senate Bill 1933.
SUGGESTED: New Houston ordinance cracks down on BYOB establishments, permits now required
According to a release, SB 1750 abolishes the election administrator office in only Harris County, placing the Harris County Clerk in charge of running elections and the Harris County Tax Assessor-Collector in charge of voter registration. 
DOWNLOAD THE FOX 26 HOUSTON APP BY CLICKING HERE
Senate Bill 1933 allows the Secretary of State to exert control over, and file lawsuits to remove, only two elected officials in the entire state: the Harris County Clerk and the Harris County Tax-Assessor Collector. 
"Texas lawmakers in Austin are undermining Harris County government and targeting three, Black Harris County officials. They're blowing up our elections office and setting the stage to remove two elected officials. This is more than just bad public policy, it's bad for our democracy," said County Attorney Menefee. "We're suing state officials because these bills are clearly unconstitutional – our state's constitution bars lawmakers from passing laws that target one specific city or county, putting their personal vendettas over what's best for Texans. Republican lawmakers are disregarding the will of Harris County voters. But to protect Harris County communities, our public servants, and our residents – we're going to fight."