Gov. Abbott holds roundtable discussion in Houston, provides COVID-19 update
HOUSTON - Texas Governor Greg Abbott was in Houston on Tuesday to hold a roundtable discussion with healthcare professionals and provide an update on the state's COVID-19 vaccination efforts.
In the Texas Medical Center, Gov. Abbott met with TDEM Chief Nim Kidd, Texas DSHS Commissioner Dr. John Hellerstedt, Executive Vice Chancellor for Health Affairs of the University of Texas System Dr. John Zerwas and Houston Methodist President and CEO Dr. Marc Boom.
"We did have a very productive conversation about things like the COVID response and about things like the way the vaccination program is working," Gov. Abbott said. "We also discussed some lessons learned from COVID to build a healthier Texas as we move forward through the course of this pandemic and importantly after the pandemic."
The governor says those conversations included issues such as insuring the capability to maintain the ongoing supply chain availability of PPE in the future, the value of telehealth and the mental health needs of Texans.
Gov. Abbott says Houston Methodist, which has been serving as one of Texas' mass vaccination hubs, has helped Texas become a national model for the vaccination program.
"Their exceptional work has led to the ability to be able to administer more than 4,000 vaccines in a single day in a single location," Gov. Abbott said.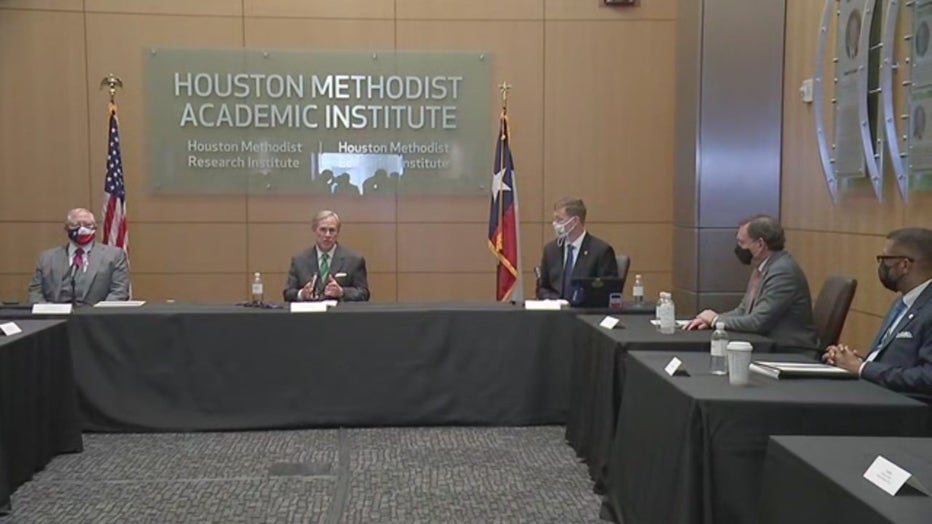 Texas Governor Greg Abbott holds a roundtable discussion with Houston healthcare professionals in the Texas Medical Center on January 19. 2021.
The governor said, as of Tuesday, the state had distributed 1,725,575 doses that were shipped to providers, and 1,358,678 of those doses had been administered to Texans.
In January, Texas established large vaccination sites or hubs around the state with the goal of providing more people the vaccine and a simpler way to sign up for an appointment. A list of hub providers can be found on the DSHS website.
Gov. Abbott said 28 hubs were open in Texas last week, and that number has increased to 78 this week.
"One way that Texas has been able to tremendously accelerate vaccinations is by opening up these large scale hub vaccine centers like what Houston Methodist has been able to accomplish," Gov. Abbott said. "What this does is it allows the community to have several locations capable of vaccinating thousands of people at each of those locations."
Altogether this week, the governor says there will be 260 providers in 122 counties getting allocations, in addition to providers in other counties still administering vaccines from shipments they already received.
Harris County has administered far more vaccines than any other county in Texas, according to Gov. Abbott. As of Monday, the governor says the county had administered 259,848 vaccines, almost double the amount by the second closest county.
Houston Mayor Sylvester Turner released the following statement about the governor's roundtable discussion:
"We welcome Governor Abbott to Houston today. Houston is the largest city in Texas and America without Medicaid Expansion, meaning that the public health infrastructure will face extremely difficult challenges in assisting vulnerable communities when it comes to vaccinations. With so many families without primary healthcare coverage, all levels of government must work together to serve our shared constituents. The Houston Health Department has been working tirelessly to vaccinate Houstonians. Both Houston Health and Harris County Public Health have the experience and a lot of insight to offer regarding vaccine distribution. We must work as a team and seek to be as inclusive as possible to get the job done."