Deputies: Janitor admitted to inappropriately touching 6-year-old student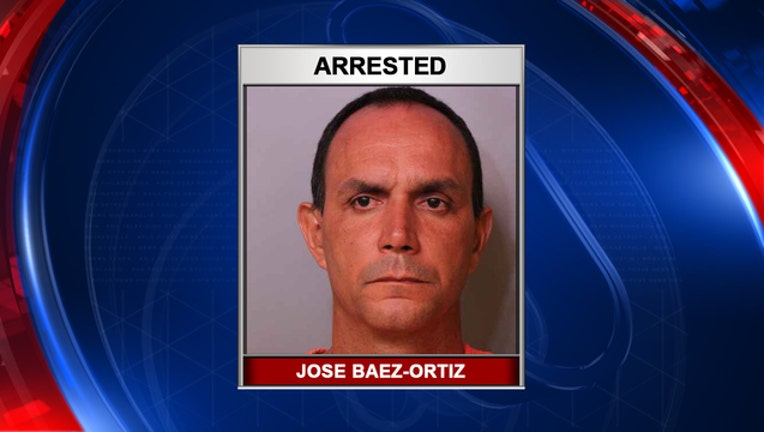 article
DAVENPORT (FOX 13) - The janitor at a Polk County school was arrested Tuesday after he inappropriately touched a 6-year-old girl, according to deputies. 
The Polk County Sheriff's Office arrested 49-year-old Jose Baez-Ortiz of Davenport, and charged him with one count of lewd conduct. Baez-Ortiz was working as the janitor at Davenport School of the Arts when he allegedly touched the student. 
Arrest records say Baez-Ortiz came up to the little girl while she ate lunch in the cafeteria. The girl told investigators the man put his hand under the skirt of her school uniform and touched her thigh. The report said the uniform skirt has shorts underneath.
The girl told investigators Baez-Ortiz's fingers were "scratching me." 
Records show a witness saw Baez-Ortiz sitting next to the girl, and was suspicious because he was not supposed to be sitting with the children. She told investigators she saw him rubbing the girl's leg. 
Investigators say video from inside the school shows the witness watching Baez-Ortiz from behind. After Baez-Ortiz left the table, the witness reported what she had seen.
Investigators said, after arresting  Baez-Ortiz, he told them he knew he was suspected of inappropriate behavior with a student. He told investigators three different stories, first claiming he accidentally touched the girl, but then admitted to rubbing her leg, although he said it was "over the clothing," according to the arrest report.
Investigators said Baez-Ortiz told them he "wanted to touch her like a woman." He also told them he was having trouble dealing with an ill family member and wanted to touch the girl to make himself feel better.
Investigators said Baez-Ortiz ultimately admitted the girl was telling the truth and he did place his hand up her skirt. He said he knew it was wrong to touch the girl.
He was booked into the Polk County Jail.
Davenport School of the Arts said Jose Baez-Ortiz's has worked at the school since 2011 and he has no prior disciplinary action in his personnel file.
The school said an automated telephone call was sent to parents and guardians of students at Davenport School of the Arts to make them aware of the arrest and investigation.
That message is as follows: 
Dear parents and family members,
This message is being sent on behalf of Davenport School of the Arts. We want to notify you that one of our custodial employees, Jose Baez-Ortiz, was arrested today by the Polk County Sheriff's Office on allegations of inappropriate touching of a student. We have notified the proper authorities and are cooperating fully with the Sheriff's Office as they continue their investigation. If you have any information to report, please contact Lieutenant Ian Rylott at 863-298-6327. We take these allegations very seriously and will work to ensure the safety of our students. Thank you.
Polk County Schools superintendent Jacquelin Byrd released a statement on the arrest. 
"The charges against this employee are disturbing," Superintendent Byrd said. "This type of behavior is totally unacceptable and will not be tolerated. I have reviewed information from the Sheriff's Office. I am immediately suspending this employee without pay and will recommend to the School Board that his employment be terminated. Our students' wellbeing and safety is our primary concern. We are cooperating fully with the Sheriff's Office in its investigation and urge anyone with relevant information to contact law enforcement."