2-year-old seen walking around busy parking lot alone, mother left her to get waxed
HOUSTON - A woman was arrested after leaving her child unattended in a car to get a wax, officials say.
Dashayla Allen, 28, was charged with Abandoning a Child with Intent to Return after she left her 2-year-old alone to get her body waxed.
On Friday, deputies with Harris County Constable Mark Herman's Office responded to the 21100 block of Kuykendahl Road in Spring after they received multiple reports of a child walking around a busy shopping center parking lot alone.
SUGGESTED: Biplane crashed in Conroe after pilot lost power, 2 people in stable condition
Deputies say they found Allen when they arrived. She admitted she left the child in the car unattended and out of her view while she went inside a waxing center to get her body waxed.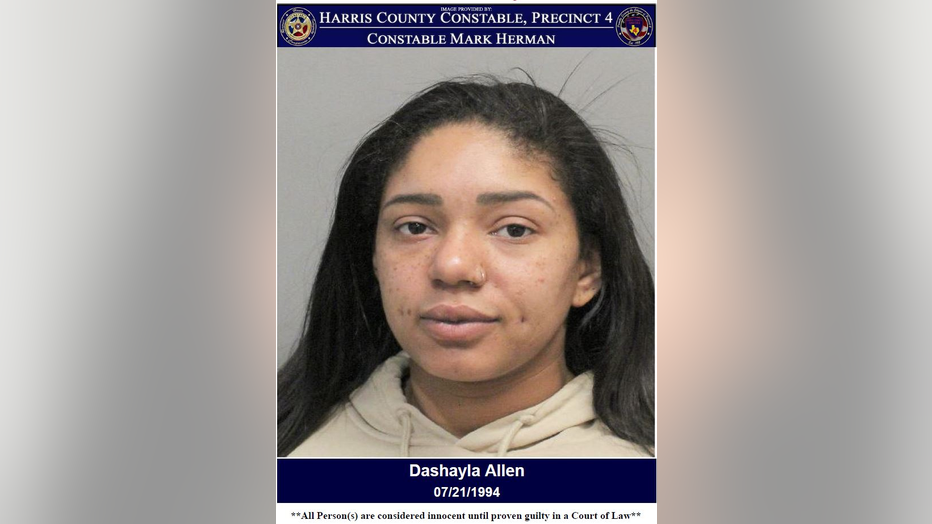 Dashayla Allen (Photo Courtesy of Harris County Constable Precinct 4)
Allen also said she thought she left the child lock on.
MORE STORIES IN CRIME AND PUBLIC SAFETY
Reports say Child Protective Services was contacted and informed of the facts of this case.
The child was then said to be released to another guardian who arrived on the scene
Allen's bond was set to $2,500.