COMPLETE LIST of closures caused by 610 East Loop water main break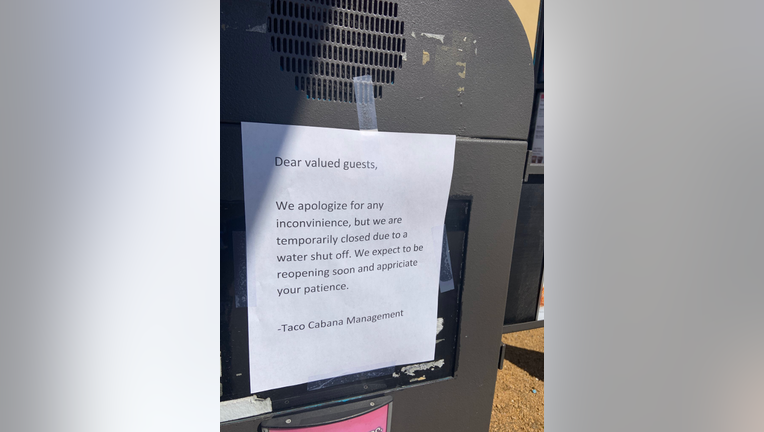 HOUSTON - CLOSED ON MONDAY:
- Harris Health System will close the following clinics on Monday: Thomas Street Health Center, Monroe Oral Surgery and all dental clinics.
- Harris Health System's Same Day Clinics will remain closed on Saturday, February 29: Margo Hilliard Alford Clinic, Sunset Heights Clinic, Monroe Clinic, Robindell Clinic
A water main break on the I-610 East Loop is shutting down businesses and schools across the Houston area.
CLOSED ON FRIDAY:
The following schools are closed on Friday:
- Aldine ISD schools and offices, as well as weekend activities and events
- Channelview ISD
- Fort Bend ISD campuses, faculty will report to alternate locations: Willowridge High School, McAuliffe Middle School, Ridgemont Elementary, Early Literacy Center at Ridgemont, Briargate Elementary, Ridgegate Elementary, Blue Ridge Elementary
- KIPP Texas Houston schools
- HISD schools and office, make-up day on Monday, June 1
- Humble ISD campuses, students should stay at home, faculty must report to school: Summer Creek High School, Humble Middle School, Woodcreek Middle School, Westlake Middle School, Atascocita Springs Elementary School, Eagle Springs Elementary School, Fall Creek Elementary School, Groves Elementary School, Lakeshore Elementary School, North Belt Elementary School, Park Lakes Elementary School, Ridge Creek Elementary School, Whispering Pines Elementary
- Pasadena ISD schools
- Galena Park ISD schools and offices
- Sheldon ISD schools and offices
- Spring Branch ISD
- St. Anne Catholic School
- Provision Charter School
- The Monarch School
- Rhodes School for the Performing Arts
- Houston Community College campuses: Coleman College, Felix Fraga Academic Campus, Central Campus, Eastside Campus, Northeast Campus, Northline Campus, District Office
- PVAMU College of Nursing in the Texas Medical Center
- University of Houston, Main Campus and Downtown. University of Houston will open only to resume classes, CASA testing and Women's Basketball with limited basic services Saturday, February 29. The City's Boil Water Notice remains in effect. UH at Katy and UH at Sugar Land remain fully operational.
- University of St. Thomas
Other Closures
- All Harris County courts will be closed on Friday, as well as the District Attorney's office. The Houston Municipal Courts Department is open.
- Houston Zoo will be closed on Friday.
- Hospitals in the Texas Medical Center including Memorial Hermann campuses and Texas Children's Hospital are discouraging visitors for the time being. 
- MD Anderson is implementing emergency response measures and releasing employees not involved in patient care, bringing portable toilets and handwashing stations, and distributing body wipes and hand sanitizer to inpatient areas. Patients with procedures that need to be rescheduled will be contacted. 
- Harris Health System will close eight outpatient clinics on Friday: Casa de Amigos Health Center, Gulfgate Health Center, Harris Health Dental Center, Martin Luther King Jr. Health Center, Monroe Clinic, Pediatric and Adolescent Health Center-C.E. Odom, Sunset Heights Clinic, Thomas Street Health Center
- BakerRipley is partially open. The following locations/programs will be closed: All Promise Community Schools, All City of Houston Head Start Centers, Ridgemont, and Savoy Head Start Locations,  All Senior Centers, The Dementia Day Center, Leonel Castillo Community Center, Harbach Community Center, All After-School Programming. The following locations will be open: Early Voting at Ripley House and East Aldine,  Tax Preparation Sites,  Workforce Solutions Offices, BakerRipley Central and Aberdeen Administrative Office,  Adult Education Testing Center, and Fort Bend Head Start Locations.