Category 4 Hurricane Delta on course for Mexico's Yucatan then U.S. Gulf Coast
HOUSTON - Hurricane Delta intensified to a Category 4 hurricane Tuesday morning on a course to hammer southeastern Mexico and then strike the U.S. Gulf Coast later in the week.
As of 10 p.m. Tuesday, Delta was located about 135 miles east-southeast of Cozumel, Mexico. The hurricane has maximum sustained winds of 130 mph.
Hurricane Delta is forecast to bring 4 to 8 inches of rain to the central Gulf Coast this weekend with higher amounts of up to 12 inches possible per the National Hurricane Center.
The National Hurricane Center said extremely dangerous hurricane conditions are expected for the northeastern Yucatan Peninsula starting early Wednesday.
The current forecast track then shows Delta making landfall along the U.S. Gulf Coast later this week. Houston is not in the cone of uncertainty, which stretches from Louisiana to the Florida Panhandle.
Although the Houston area will most likely avoid a direct impact, the impacts for southeast Texas remain possible. Elevated tides, high surf and coastal flooding. Showers will be possible on Friday from wrap-around moisture from Delta.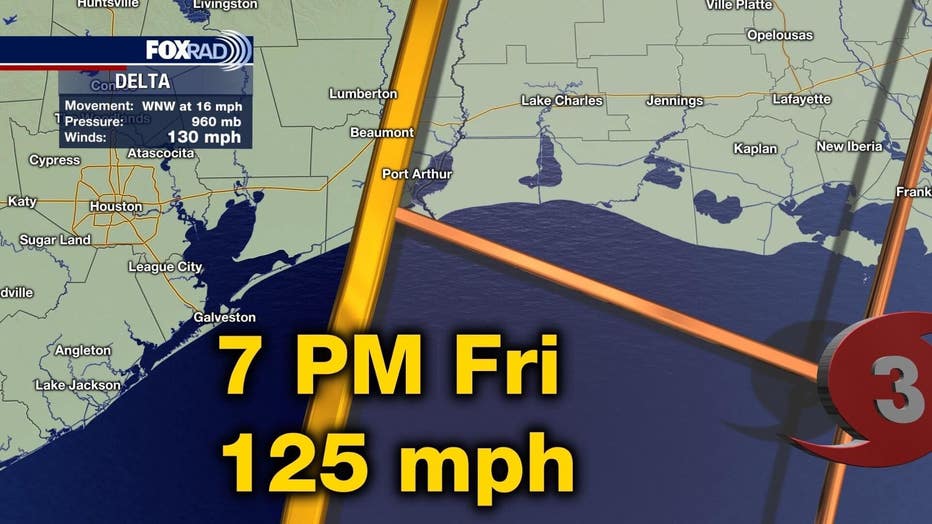 Delta is moving toward the west-northwest near 16 mph, according to the NHC. A west-northwestward to northwestward motion is expected over the next day or so.
A slower northwestward to north-northwestward motion is forecast to begin on Thursday, and a northward motion is expected Thursday night and Friday. On the forecast track, the center of Delta will move over the northeastern portion of the Yucatan Peninsula early Wednesday.
The NHC says Delta is then forecast to move over the southern Gulf of Mexico Wednesday afternoon, be over the southern or central Gulf of Mexico through Thursday, and approach the northern Gulf Coast on Friday.
Little change in strength is expected before the center reaches the coast of the Yucatan peninsula early Wednesday. Although some weakening is likely when Delta moves over the Yucatan peninsula, re-strengthening is forecast when the hurricane moves over the southern Gulf of Mexico Wednesday night and Thursday.
RELATED: Hurricane Preparedness Shopping List
The worst of the immediate impact was expected along the resort-studded northeastern tip of Mexico's Yucatan Peninsula, where hurricane conditions were expected Tuesday night and landfall early Wednesday.
From Tulum to Cancun, tourism-dependent communities still soaked by the remnants of Tropical Storm Gamma could bear the brunt of the storm.
In Cancun Tuesday, long lines stretched at supermarkets, lumber yards and gas stations as residents scrambled for provisions under mostly sunny skies. Officials warned that residents should have several days of water and food on hand. Boat owners lined up at public ramps to pull their boats out of the water.
Mexico began evacuating tourists and residents from coastal areas along its Riviera Maya Tuesday. Quintana Roo Gov. Carlos Joaquin said that buses were already carrying people off Holbox Island and hotels in Cancun and Puerto Morelos were busing their guests inland to government shelters.
Some hotels that had exemptions because their structures were rated for major hurricanes were preparing to shelter their guests in place and testing their emergency systems.
The FOX 26 Weather Team is closely monitoring developments. They will continue to keep you up-to-date online, on-air, and on social media. You can also stay up-to-date 24 hours a day by downloading the free FOX 26 weather app. You'll receive weather alerts for your location, along with video weather updates. 
The Associated Press contributed to this report.