Alleged abudction attempt at Frisco stadium a hoax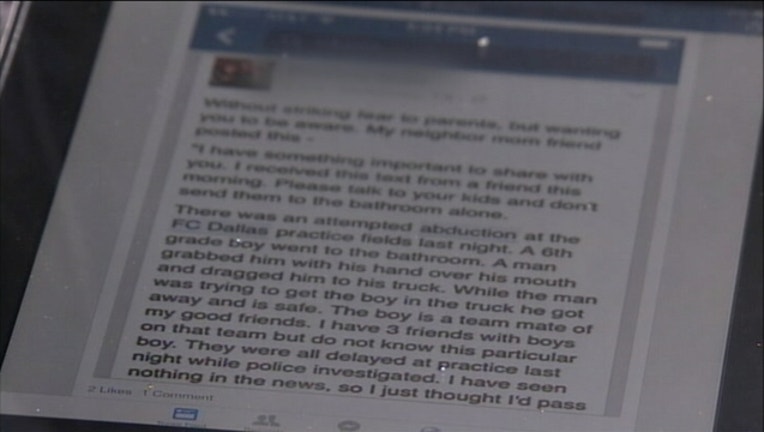 article
Frisco police confirmed Monday an attempted abduction on Friday was a hoax.
But before detectives could thoroughly investigate the claims the story took on a life of its own on social media.
Posts rapidly multiplied on Facebook on Friday about an alleged attempted abduction at practice fields adjacent to Toyota Stadium.
According to the posts, a sixth grade boy went to the restroom and a man grabbed him with his hand over his mouth and dragged him to his truck. According to the story, the boy was able to get away.
Over the weekend police asked for anyone with information to come forward, but said little else.
Police station phones were ringing throughout the weekend with questions from concerned parents desperate for more information and wanting to know if a suspect was on the prowl.
But then on Monday there was confirmation the attempted abduction story was made up. Police said not only did the boy admit lying, but surveillance video confirmed he was never in any danger.
Frisco mother Jenn Mick said parents often share information online out of concern, but need to keep things in perspective.
"You can't believe everything that you read online, or everything that you hear or everything that you read. You can't know that it's true," Mick said. "Just make sure you teach your kids good values and the importance of being honest."