Disturbance in the Gulf has 90% formation chance
A low in the far southern Gulf is likely to organize and head toward the U.S. Gulf Coast this week.
The National Hurricane Center gives the disturbance a 90% chance of formation through the next 48 hours and the next five days.
DOWNLOAD THE FOX 26 WEATHER APP
According to NHC, a tropical or subtropical depression is likely to form over the west-central Gulf of Mexico Thursday night or early Friday.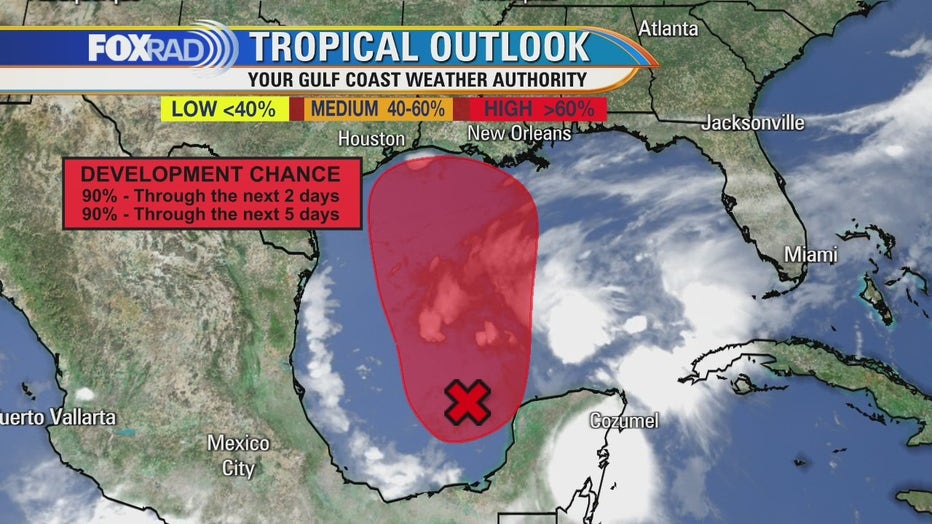 It's still unclear where the low will go at this point, but models are indicating the heaviest rainfall may be east of the Houston area over the next few days.
It looks likely that heavy rain will move into Louisiana and Mississippi this weekend. Even if a tropical depression or storm forms, it is not expected to be a strong wind storm, so its effects on our area are mostly increasing chances for rain late this week.
The developing low in the Gulf will bring more clouds in the forecast for Friday and increased rain chances for the weekend.
GET THE LATEST TROPICAL WEATHER UPDATES
Most of Houston will see 1-2 inches or less of rain but parts of Mississippi and Alabama could see 6-12+ inches of rainfall.
MORE: Hurricane Preparedness Shopping List