Howard's Rockets return to come after season opener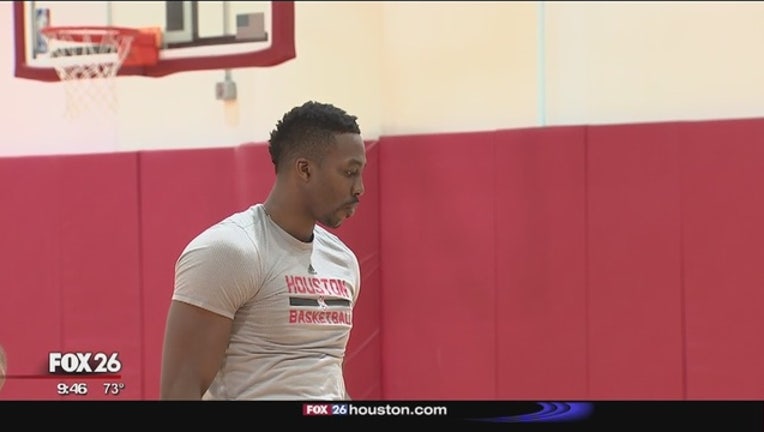 HOUSTON (FOX 26) - Dwight Howard won't be returning to the Rockets lineup until at least the second game of the regular season.
The center said he's targeting his return date to be the Rockets' second game of the season, when Houston hosts the Warriors on October 30. He will not be playing in the season opener October 28 against the Nuggets after he received a one-game suspension for excessive flagrant fouls from last year's postseason.
"I really don't like the ruling, but there's nothing that I can do about last season," Howard said. "That happened. So I've just got to pay the consequences, get it done, and trust my team."
Howard did go on the practice court for a little bit on Wednesday.
"I'm feeling pretty good," Howard said. "Today, I did a lot of stuff on the court. a lot of conditioning, a lot of stuff, a little contact, so I feel pretty good."
His head coach, Kevin McHale, wants to see more contact before he's convinced Howard is ready.
"I know he's getting a lot better, I know he's starting to amp it up, his next step is going to have to be out with the team for some five-on-five contact because he's built up to that point," McHale said.
Howard has been recovering from a back injury and hasn't played since the preseason opener on October 6. This Friday's game at San Antonio will be the Rockets' next and final preseason test. Howard will sit out that game to get things right for the regular season.
"I think we'll probably have to fly up to play San Antonio the day of the game," Howard said. "I don't think it'd be smart for me to try to get on the plane, fly in and play, so the best thing I can do is get myself ready for Game Two because Game One is a no go for me.
"I think the main thing is just making sure I'm in good enough shape to where I can come back and play as many minutes as I can."