Houstonian DeAndre Jordan returns home as member of Team USA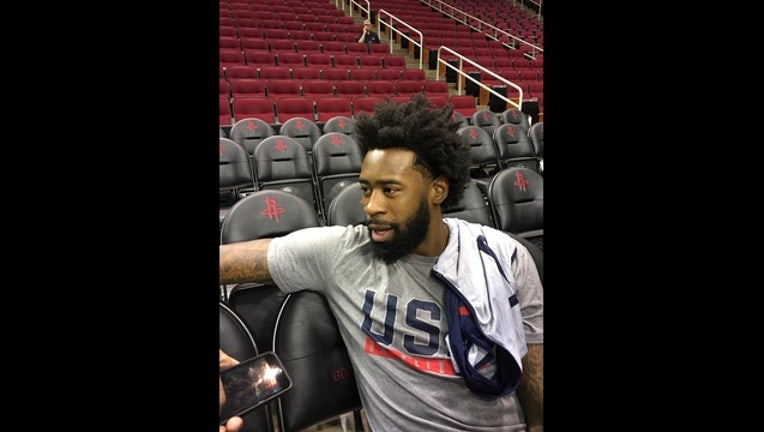 article
HOUSTON - DeAndre Jordan is back in Houston, this time as a member of the Team USA. The Clippers all star and first team All-NBA center is looking to help the men's basketball team bring home a gold medal for the third straight year. The team worked out on Sunday ahead of a Monday night exhibition with Nigeria.
"I think that's huge, just being able to represent my country," Jordan said. "It's bigger than all of us. Just to be able to have the opportunity to compete for a gold medal and represent our country, the way that our country is right now, it's great."
Jordan, 28, played at Episcopal high school in Bellaire before transfering to Christian Life Center Academy for his senior season. He played college basketball at Texas A&M.
While the goal of every NBA player is to win a championship, Jordan says playing for a gold medal and representing the United States puts things into perspective.
"I think this is bigger than all of that," Jordan said. "There's NBA champions every year. But this is every four years. This is something that people work three years for, and it's a long journey. It's a process and to be able to be one of the twelve guys in our country to represent our basketball, it's huge. I can't put it into words."
The homecoming is a welcome one for Jordan. The stop in Houston allowed him to invite the team over for a home-cooked meal.
"We had some soul food," Jordan said. "The thing about this team is: it's guys who I probably would think, three months ago, that I would never invite to my house."
"It was great food," Warriors forward and Team USA teammate Draymond Green said. "We just had a good time spending time together watching TV, playing cards, playing Taboo, doing family stuff."
Jordan says his teammates have become like brothers in the last two weeks. Green shares that feeling.
"That's one of those things that when you look back at this trip... you say: man, I remember when we went over to DeAndre's house and we did this," Green said. "In every journey there's staples and I think that'll be one of those staples."
Jordan is not the only player on the team with Houston ties. Guard Kyle Lowry played two stints for the Rockets. He jump started his career during his second tour from 2009-2012.
Team USA will practice again on Tuesday before leaving Houston. The American will face China in the first game of Olympic play on August 6th.
For Jordan, it's a chance to enjoy being home before leaving for one of the biggest events of his life.