Houston City Hall honors Houston Dash World Cup champions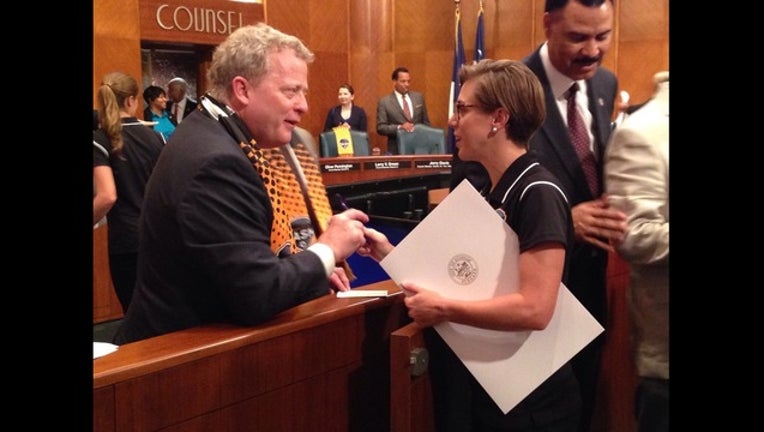 article
HOUSTON (FOX 26) - The accolades keep coming for Houston Dash players Carli Lloyd, Meghan Klingenberg, and Morgan Brian.
This is what happens when you're part of a team representing the country that wins on the World Cup stage. All three played major roles in Team USA's title run.
On Tuesday, the trio were honored with proclamations from the city in the City Council chambers. The day was proclaimed as "Houston Dash Women's World Cup Day" and featured comments from the city councilmembers, all proud for the ladies' accomplishments.
And even though the players have been showered with parades and rallies, this latest proclamation was pretty big in itself.
"Today was a really big honor," said Carli Lloyd, who was chosen the best player during the Women's World Cup. "Receiving this proclamation is definitely something that's near and dear to my heart. I really appreciate it and I'm just looking forward to getting after it again on the field this Sunday."
"Obviously, being a World Cup champion is good enough for all of us because that's what we strive for and that's what we play for," Morgan Brian said. "But to be honored by the mayor and here in Houston, especially being so close and we play here for the Houston Dash, it's a really cool honor to be here."
As comments were made by the City Councilmembers, they each had a familiar theme - of how much the Dash players were role models for the next generation.
"You know, I just think of myself as a soccer player, someone that really loves to play and who's passionate about my sport and I try to be a good person while I'm doing that," Meghan Klingenberg said. "And I think as long as I can keep doing that, I can be a good role model."
"I pride myself day in and day out about being a good role model," Lloyd added. "It's really important to be a good example of how hard work can help get you to the top and keep you there."