Harden scores 27, leads post-'Melo' Rockets over Warriors 107-86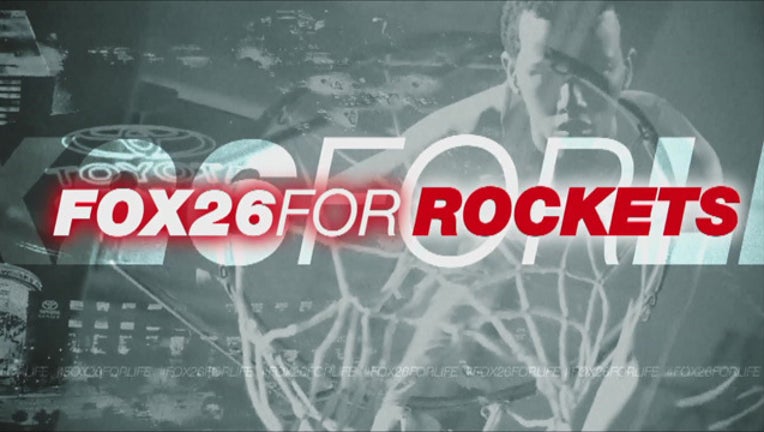 HOUSTON (AP) - James Harden scored 27 points and the Houston Rockets routed the Golden State Warriors 107-86 on Thursday night in a rematch of last season's Western Conference finals.
The Rockets (7-7), who announced before the game that they were "parting ways" with 10-time All-Star Carmelo Anthony, have won three straight and six of their last eight games after starting 1-5 to reach .500 for the first time since they were 1-1.
The Warriors, who were without Stephen Curry for the fourth straight game, have lost two of their last three. Curry has already been ruled out for Golden State's next two games because of a groin injury.
Houston had a 13-point lead at the end of the third and opened the fourth quarter with a 12-2 run to make it 88-65 and spur Golden State coach Steve Kerr to call a timeout. The Warriors had two shots blocked and committed two loose ball fouls in that span to help Houston pad the lead. The Rockets got 3-pointers from James Ennis and Isaiah Hartenstein to cap the run.
The Rockets then scored the first nine points after the timeout, with six from Ennis, to make it 97-65 midway through the quarter and put the game out of reach. Both teams cleared their benches a couple of minutes after that.
Kevin Durant had 20 points for the Warriors on a night they were just 4 of 18 on 3-pointers.
Draymond Green had five rebounds and five assists in his return after serving a one-game team-imposed suspension for a dustup with Durant in Monday night's overtime loss to the Clippers. Green addressed the situation for the first time after shootaround but did not apologize for his actions in the heated exchange.
He said he and Durant had spoken and that they were "moving forward."
"I think there's no secret that I am an emotional player," he said. "I wear my emotions on my sleeve. I play with that same emotion. Sometimes they get the best of me. And (if) it doesn't work to my favor I'm going to live with that."
While the Warriors dealt with the drama between Green and Durant, the Rockets were left to answer questions about the decision to move on from Anthony.
Anthony played just 10 games for the Rockets after signing a one-year, $2.4 million deal during the offseason.
"In the summer we tried to hit a home run and it didn't work out," coach Mike D'Antoni said. "He tried everything he could. He was great while he was here. It just didn't work out for whatever reason. I just thank him for his professionalism. It was good. He tried everything he could to make it work and it just didn't work out."
The Rockets led by six at halftime and opened the third quarter with a 7-2 run to stretch the lead to 54-43.
Harden scored five straight points to make it 63-47 after his 3-pointer with about 5 1/2 minutes left in the quarter.
Golden State got going on offense after that, using an 8-2 spurt to get within 65-55 a couple of minutes later.
Gary Clark ended the run with a 3-pointer, and two more 3s by him within a minute of each other late in the third extended the lead to 76-59. It was 76-63 headed to the fourth.
TIP-INS
Warriors: Curry was with the Warriors on the trip but it's unclear when he'll return. "We're going to be very, very careful, and obviously he's going to need plenty of court time before he returns," coach Steve Kerr said. "When I say court time, I mean live action. He hasn't had that."... Kevon Looney scored a season-high 12 points.
Rockets: Gerald Green returned after missing the last two games with a sprained ankle. ... Ennis finished with 19 points and Eric Gordon had 17 off the bench. ... Houston made 16 of 47 3-pointers.
UP NEXT
Warriors: Visit Dallas on Saturday night.
Rockets: Host Sacramento on Saturday night.