Bob McNair feels fans' pain, expects better results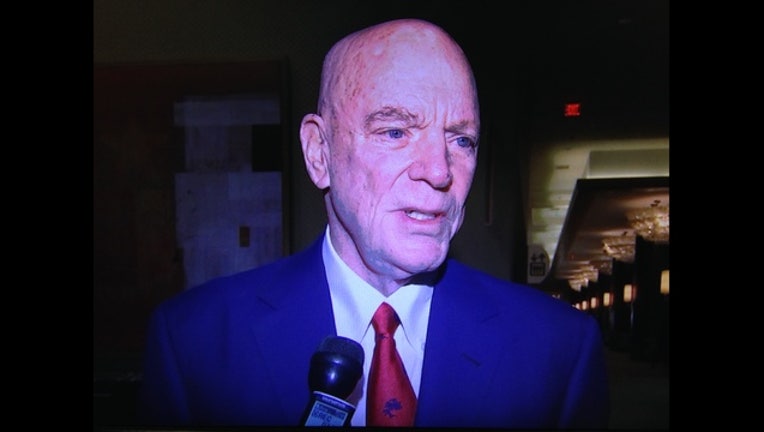 HOUSTON (FOX 26) - While encouraged by his team's win over the Tennessee Titans, Houston Texans owner Bob McNair wants his team's fans to know he feels their pain.

"I'm just as disappointed as they are," McNair said at the Hilton Americas Hotel where he was honored Wednesday night during an M.D. Anderson fundraiser as a Living Legend.

"We've been surprising, to say the least," he added. "I think the last game was encouraging to see our defense play the way it did. That's what we thought we'd have, but we didn't have it."

McNair knew from the beginning of the season the Texans would only go as far as their defense would take them.

"We knew our offense was not going to be a high-powered offense, but we felt our defense would be one of the top-five defenses, and we've been far from that," McNair said. "The good news is that this is a new season, and we're tied for first. The Colts have to play Denver, and we might be in first place by ourselves."
 
McNair said the Texans' plan for this season can work.

"The strategy that we have is a good strategy, and that is if we have a strong defense that holds the scoring down on the other side we'll score 20, 21 points, 22 points," McNair said. "We just got to keep the other team under 20. If we do that we'll be successful."

No one was more upset than McNair when his team was down 41-0 at the half to the Miami Dolphins.

"Miserable," McNair said. "Everybody was (embarrassed). It was pathetic. We can't have that sort of thing.

"Yeah, I was mad. I was unhappy. We didn't put out the effort we should have. Everybody recognized it, and next game, they turned it around."

And despite local and national reports that have said otherwise, McNair pointed out there is harmony within his organization, and that executive vice president and general manager Rick Smith and head coach Bill O'Brien have a good working relationship.

"I don't know where those reports came from," McNair said. "They're totally inaccurate. There's nothing to it. They work well together. If they disagree on something they come to me. They've never come to me.

"I don't like to have these anonymous sources, people saying something and they don't know what they're talking about. That bothers me. I don't like it. We've got a good organization. People work hard. They're going to continue to work hard, and we're going to get good results."

Like after every season, McNair will evaluate his organization from top to bottom, and that includes Smith and O'Brien.

"Everybody is evaluated at the end of each year, and yes we'll evaluate them," McNair said. "Just like our draft. We have some outside people come in. They evaluate our team. Just have somebody give us a third-party opinion as to what we have, what we might need. We do that every year, and we'll continue to do that. We analyze our draft and compare it to other teams. So everybody is evaluated. We all have to perform every day and try to get better."

Meanwhile, McNair wants Texans fans to know they mean a great deal to him.

"I appreciate the support of the fans," McNair said. "The fans have been great, and I know they've been disappointed. I've certainly been disappointed. Bill O'Brien's disappointed. Rick's disappointed. (Son) Cal, we're all disappointed. The players are disappointed.

"I think they've got it together in the last game, and if we keep playing defense the way we did in that last game, we'll give everybody a hard time, and that's where we want to be."