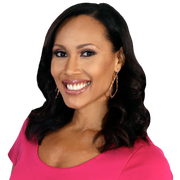 Lina deFlorias
Morning Anchor
Lina de Florias joined FOX 26 Houston in September 2018 as the co-anchor of Wake Up! with Sally Mac & Lina. Before moving to Houston, Lina worked as a morning anchor in her hometown of Phoenix, Arizona for three years. Her junior year at Arizona State University, she represented her home state at the Miss USA Pageant. After graduating, she started her news career on the Gulf Coast, working as the primary anchor in Pensacola, Florida for five years.
Lina has covered tropical storms in Florida, immigration controversy in Arizona and has broken the sound barrier flying with the Blue Angels. Lina and her husband are "pup parents" to a Cavachon named Gertie Belle and enjoy running, music and food!
The latest from Lina deFlorias
The newly-formed ERCOT Board Selection Committee is appointed by the governor, lieutenant governor, and speaker of the Texas House. We take a look at how much these political appointees donated to the very officials who appointed them.
Panelists and other FOX 26 viewers share their perspectives on how George Floyd's death and legacy has affected us in different ways.